18:55, November 26, 2011
Lilit began to cry when I asked about her friends.
No one in the class wanted to be friends with her. The others didn't even want to sit next to here.
Most probably the parents of the others kids told them to keep their distance from Lilit – she was sick, after all. This is what makes the 10 year-old most sad.
We had returned to the village of Sipanik to follow up on the original story that appeared in Hetq.
I realized that I had asked the wrong question but I didn't know how to stop her crying. I tried to change the subject by talking to Lilit's brother Benik, but all the boy could say was "yes" or "no". He too is sick, being diagnosed with inflammation of the kidneys.
Living in such a damp and cold tomik, getting sick is par for the course. Then too, there's the malnutrition to throw into the negative mix. The fate of this family seems to be spiralling backwards.
| | |
| --- | --- |
| | |
| Lilit's mother, Karineh Sargsyan | Lilit |
Karineh, the kids' mother, sat in a corner and remained silent during our entire visit. Her husband had died, leaving her the full task of taking care of the children and house. Her sister Narineh filled us in on the details of the family's struggle – the doctors, medical bills, petitions to the government and charitable organizations, etc.
It seems that Narineh is the driving force keeping this family together and with hope towards the future.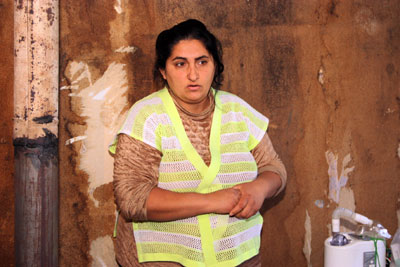 Lilit's aunt, Narineh Sargsyan
"I will do everything I can to save her childhood," Narineh says. And Lilit's childhood is full of constant pain, difficulty breathing and pills. Lilit was curled up on the bed looking at us with a measure of fear.
Maybe she wanted us to leave as quickly as we came. It was hard for me to read her thoughts.
When you read the responses of various officials and our 1,710 year-old church to the letters written by the family for help, it makes you cry out in disbelief and shock.
I had already stopped listening to Narineh's stories. How could I as a reporter help if what I wrote didn't change the young girl's life?
Yesterday, the results of the All-Armenian Fund Telethon were announced – almost $$12 million was raised.
Lilit's family has racked up a 300,000 debt at the village store and they have no money for heating. There's nothing to eat. Isn't there anyone at the Fund willing to respond to the pleas of this family? I then realize that if such a person existed, he or she would have acted by now. The Fund deals with "global" matters, after all.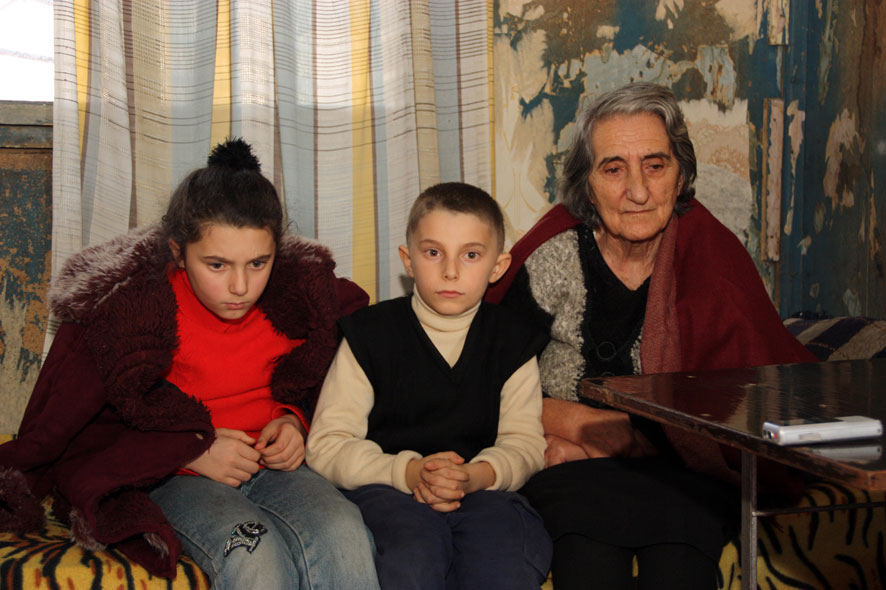 Lilit, 8 year-old Benik and grandmother Nina Babakhanyan
Scores of Hetq readers have responded to Lilit's plight, asking how they can assist. But even this outpouring of goodwill isn't a solution. Talking clothes and some food will keep the family going for another few weeks or a month or two at best.
The government must be forced to assume its obligations. The government could have allocated housing to this family years ago because their former home was engulfed in rising groundwater; a natural disaster. The foundation gave way and one of the walls collapsed. The Regional Authority condemned the house as uninhabitable and gave the family two old trailer wagons to live in. The family's health has suffered mightily as a result.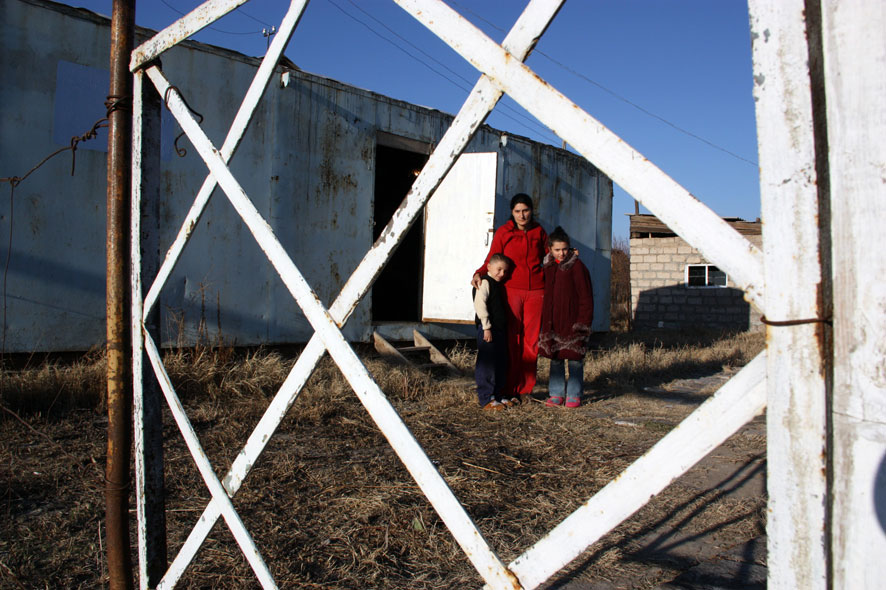 Lilit and her family live in this trailer
All the government had to do is grant a piece of land and some money to build the family a new house. And the government could have done it. But it didn't. Regional and state officials are too busy with other matters – big business matters. What do they care about the plight of a destitute family – Lilit, her brother, mother and grandma? There's too much paperwork involved and officials would rather spend their precious time expanding their businesses.
Before leaving the tomik, I again try to talk to Lilit.
"When you graduate from school, what would you like to do?" I ask.
"Become a doctor, like my doctor," Lilit answers.
The girl has grown attached to her doctor Satik Haroutyunyan. Lilit's eyes light up when she talks about Doctor Satik.
This is a good sign and the source of hope.
Photos: Hakob Poghosyan
P.S. After Hetq's coverage of Lilit and her family, we received letters and phone calls from people wanting to help. Lilit's aunt Narineh told us that representatives from the Ararat Regional Governor even paid a visit. They stayed for less than 5 minutes.
One of the reps, Garik Vardanyan, asked the family which reporters had arrived and what had the family told them. Vardanyan then told the family that the Regional Governor's refusal to help had been an oversight on their part. He ordered the family to hand over the refusal letter. He pocketed the letter and then handed the family 30,000 AMD ($85). They immediately left.
Two days later, the village mayor asked Lilit's mother to pay him a visit. She went to his office and was given 30,000 AMD.
This is how regional and local officials try to cover their tracks once the press covers their inaction and indifference.
Dear readers, if you want to help Lilit and her family, please, contact Grisha Balasanyan: author of the original article. Mobile: (+374) 93822680 E-mail: balasanyan.grisha@gmail.com Facebook: https://www.facebook.com/grisha.balasanyan