16:45, February 20, 2017
Today, residents of the village of Odzoun buried Lernik Osyan, one of their own,
The news of the February 18 death of 19-year-old Lernik Osyan, while serving as a soldier in the Artsakh Defense Army, came as a shock to residents in the Lori Province of Armenia.
The Artsakh Ministry of Defense reported that Osyan's body was found with a bullet wound to the head and that an investigation into the incident had been launched.
Later, staffers at the military commissariat told Osyan's mother Sousanna that her son was killed when his rifle discharged while he was cleaning it.
The mother of the dead soldier, who turned nineteen on February 2, find that hard to believe.
Funeral services were held yesterday at the Odzoun church, with Father Vrtanes Baghalyan officiating.
To say that the family of the Lernik Osyan lived a hardscrabble life would be an understatement.
"She raised the boy by working the land for others and by collecting berries. This is their house. They have no wood and receive no assistance. She didn't have a job and was ill. One day she ate, and the next she didn't. She had the one child. She would clean the homes of others just to make 1,000 AMD to put some food on the table," says Sousanna's elderly aunt Araksya.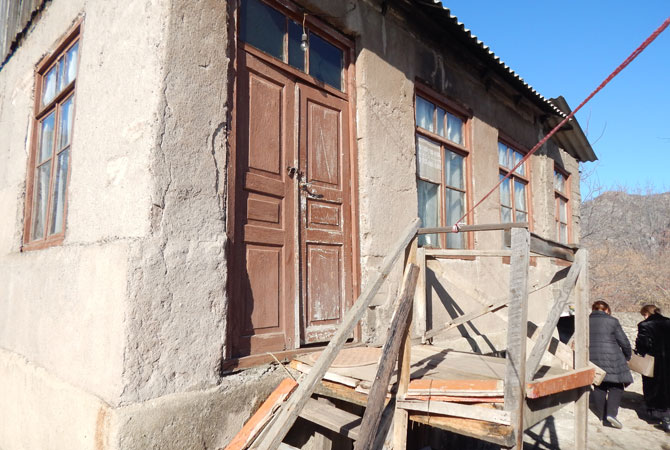 Sousanna inherited the dilapidated house from her parents, never having the means to repair it. The wooden steps are crumbling. A few worn-out metal bedframes can be seen inside. Sousanna lived in the downstairs cellar.
When this reporter visited the house, some relatives and women neighbors were sitting next to the grieving mother. They told me that Sousanna had raised Lernik on her own, giving the boy her last name.
"Lernik came from a very impoverished family. But, they survived by dint of hard work. It was their destiny, perhaps, that they had such bad luck. Sousanna is well-respected in the village and dedicated to her family. Lernik's father is also a hard worker, but was known to hit the bottle. Lernik was a smart, modest and industrious boy. They're good people," said Odzoun Mayor Arsen Titanyan.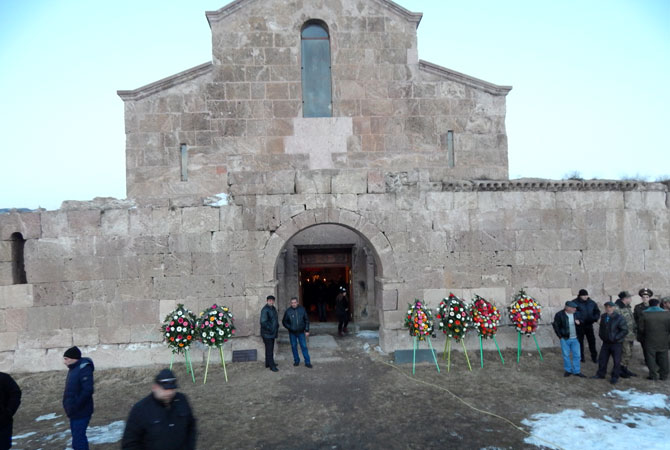 Lernik began military service seven months ago. He got five days leave on February 4, never telling his mother. He wanted to surprise her.
"It was as if he was another person. He really changed in those seven months. He put on weight and got taller. My dear soldier's character had changed. While at home on leave, he'd sweep the house just to help out. I just want to hear my boy's voice, saying mom, what have you eaten, how are you?" Sousanna says.
Anahit, a neighbor, says what happened to Lernik is a tragedy. "Why do they take any only child to the army? They took him from his mother. Who are they replacing with such boys? What will his poor mother do know?"
Sousanna whispers, "How did this happen. I lived for that one child."
Felix Yengibaryan, deputy commander of the military base, says that Lernik was stationed at a unit in the south of the country and serving in a defensive capacity.
"Lernik Osyan didn't have much military experience. He recently was give leave for the first time, and was characterized as an average soldier with positive aspects. He carried out his duties in good measure and had no violation citations. The soldier died at a combat posting," says the deputy commander of the military base. He says that an investigation will reveal the circumstances of Lernik's death.
Sousanna doesn't believe that her son died while cleaning his weapon.
"Everyone says something different. I don't know what exactly happened. My boy was a good soldier. Even the commander telephoned me and said that Lernik was one of his best soldiers. The commander wished me a Happy New Year. He was a young officer. He said, auntie, everything is good; Lernik's a good kid."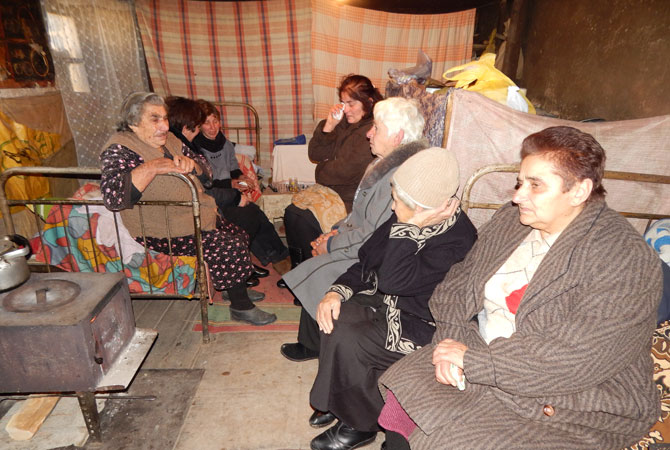 Sousanna says that Lernik was in good spirits when he came home on leave.
"It's the first time I saw a soldier who was very happy and satisfied with the army. Three days ago he called to tell me everything was O.K. He didn't complain about army life. He was waiting to get new boots. The soles on his boots had worn out. His feet were red and he had a few blisters on his hands. I rubbed some salve on them. He was in good spirits. I washed his clothes. I asked him if he wanted that I try to get him stationed closer to the village, since I'm an only parent. At first he agreed, but then told me not to, that he'd already got used to the base where he's stationed," Sousanna says.
Yengibaryan told Hetq that by law, the army issues new boots every eight months.
The last time Lernik spoke to his mother by phone was on February 15, three days before he was found dead.
"I asked him how he was. He said, I'm good," Sousanna recounts.