14:04, March 9, 2017
There's a sign in the village of Khashtarak, in Armenia's Tavoush Province, announcing that the Hayastan All-Armenian Fund is planning to renovate the local school, medical unit, and cultural center.
The faded sign has been there for ten years.
While the school and medical unit have been renovated, the cultural center remains untouched.
The center has been stripped bare, and is in bad shape. Nevertheless, the village continued to spend 4.5 million AMD yearly to pay the staff of the non-working center.
For several years, the center's director, librarian, cleaner and guard were receiving 60,000 AMD monthly.
Residents still hold out hope that the cultural center will one day be renovated. After all, they say, it's the All-Armenian Fund that's promised.
Khashtarak Mayor Andranik Virabyan is also hopeful that the center will be up and running soon.
"We're grateful that the school and out-patient clinic were beautifully renovated. But nothing's been done on the school to date," Virabyan told Hetq.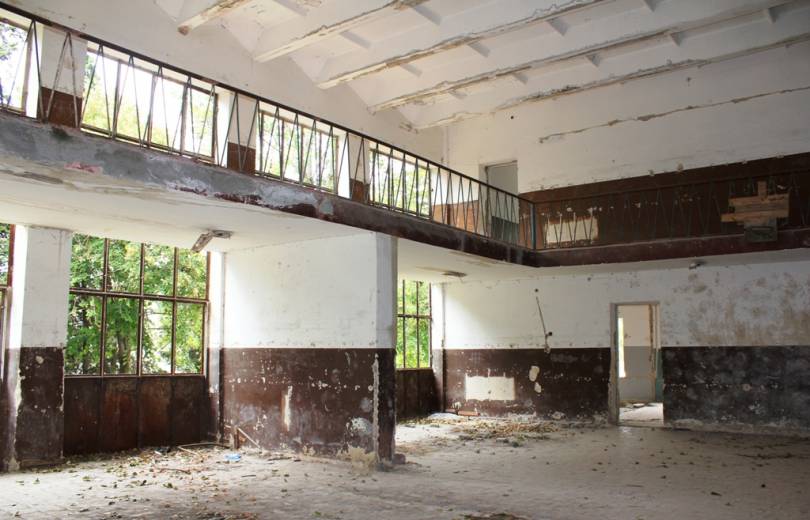 Resident Seryozha Kamalyan feels bad that children in the village don't have a place to go to perform plays or have music and dance clubs.
"Culture is something vital for all villages. It's the highest form of a person's internal world. Cultural centers, along with schools, are the life of a village," Kamalyan said.
Hasmik Grigoryan, the Fund's public affairs director, told Hetq that the delay in renovating the cultural center is because no interested benefactors have been found.
She notes that the project to renovate the center is still on the Fund's agenda.
Armen Ghoulakyan, the famous director and dramatist, is a native of Khashtarak. Many notable artists have performed in the cultural center back in the day, including Gohar Gasparyan, Sos Sargsyan and Gevorg Emin.
The much beloved "We Are Our Mountains" HayFilm was shot in the village. The film's production crew even made the cultural center their base of operations.
In 2015, newly elected village mayor Andranik Virabyan dismissed the staff at the non-working center.
The following year, a criminal investigation of funds' embezzlement was launched, but later dropped. They couldn't find a prime witness to testify.