21:27, March 20, 2017
Hetq has revealed that no soldier injured during last year's July '4 Day War' on the Artsakh frontline has been treated abroad with assistance from the Armenian government, despite a series of official decisions that such aid would be forthcoming.
On April 21, 2016, after fighting ceased in Artsakh, the government of Armenia passed Decision 410-N, specifying that soldiers injured during conflict would be treated abroad with government assistance.
According to data provided Hetq by Armenia's defense and health ministries, only three soldiers have received such assistance.
In 2016, a mere 0.02% of Armenia's national budget was allocated to cover medical expenses for two soldiers. To date, this year, one solider was sent abroad for medical treatment at a cost of 1.3 million AMD (US$ 2,689 at today's exchange rate).
The three soldiers sent overseas received gunshot wounds while on military patrol duty in 2013 and 2014.
For injured soldiers to be treated abroad at government expense, the government set up a committee of experts to evaluate each case. The committee includes specialists from the Ministry of Health, the Ministry of Defense, and representatives from the National Security Service. When necessary, doctors treating an injured soldier are invited to participate in the evaluation.
Rehabilitative treatment abroad, according to the government decision, is only permitted when such treatment is unavailable in Armenia. This was the clause cited by former health minister Armen Muradyan when asked why soldiers injured in the April 2016 conflict and being treated in Armenia weren't being sent overseas.
Armenia's Ministry of Health says that 159 soldiers were injured in the '4 Day War'. According to data received from the health ministry, it received only five applications for overseas treatment. Three were approved. The ministry refused to provide Hetq with the names of the soldiers turned down, arguing secrecy.
The Ministry of Defense also only provided Hetq with the names of soldiers approved for medical treatment overseas. The three -Ashot Grigoryan, Mher Petrosyan and Ruzvelt Torosyan – received gunshot wounds in 2013 and 2014 while on military patrol.
In all, the government allocated some 28 million AMD ($57,909) to treat all three. In 2016, Grigoryan went to Russia, and Petrosyan to Germany. Torosyan went to Russia for treatment in 2017.
The Ministry of Defense says that three soldiers injured during the April 2016 conflict are currently overseas. Two left with funds collected on their behalf and the third is being assisted by a charitable organization.
That's to say that the evaluation committee found that all three could be treated in Armenia, and thus refused them government aid. In their responses received from the health and defense ministries, the names of the soldiers now overseas due to fundraising aren't mentioned.
One of them is Arman Lazgiyan. Arman's father, Mikayel, was finally able to get his son transferred to the Asklepiosklinik Barmbek Hamburg clinic in Germany. Despite being promised state aid by former health minister Armen Muradyan, Arman is being treated in Germany due to fundraising and charitable donations.
Ruben Arakelyan, also injured during the '4 Day War' is being treated at a Bonn hospital. He too hasn't received any state aid. Ruben and his mother Anahit travelled to Germany again due to charitable donations. Anahit told Hetq that a portion of her son's 100,000 Euro medical treatment was donated by government officials, out of their own pocket, and the rest came from individual donations.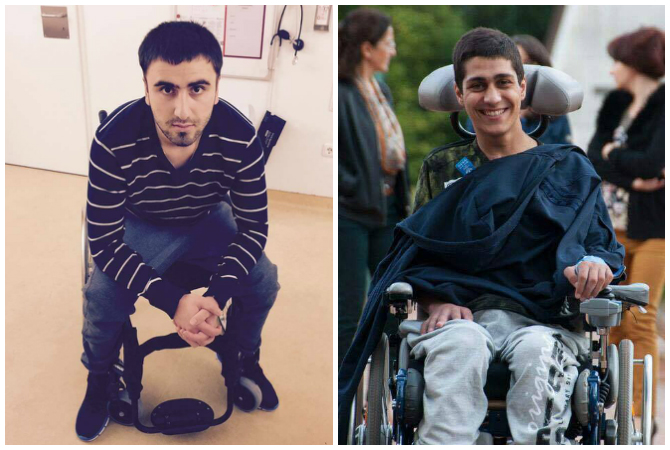 From left: Arman Lazgiyan and Ruben Arakelyan in Germany
Parents of the two soldiers believe that being treated overseas has produced positive results. Mikayel Lazgiyan says his son is improving daily. Anahit wonders whether such treatment is available in Armenia, since it requires state of the art equipment.
Ruben Arakelyan now uses an electric wheelchair for mobility and can now move his hand. He couldn't while being treated in Armenia.
The parents say they are not inclined to raise the issue of the lack of state assistance for their sons. They've raised the necessary funds and the rehabilitation process is underway.
The lack of state aid, however, left Anahit at the mercy of a mediating agency to organize travel to Germany for her and her son.
She told Hetq the entire process was like entering a den of thieves. Hetq will provide details at a later date.
Top photo courtesy of Hakob Poghosyan