15:21, March 30, 2017
Two days of campaigning are left before the April 2 election that will decide the make-up of Armenia's parliament.
Arakel Movsisyan, a candidate of the Republican Party of Armenia running to represent Armavir Province, has pulled out all the stops in the last days of the campaign.
Movsisyan, currently serving as a MP, has been making promises left and right in a bid to sway local voters to support him.
He has personally financed the renovation of several provincial and community roads. Movsisyan has work crews out filling potholes in the roads leading to the communities of Aghavnatoun and Doghs.
A few days ago, a provincial roadway winding its way between the communities of Hovtamej and Tziatzan was resurfaced with blacktop.
Tziatzan Mayor Vachik Grigoryan told Hetq that he didn't know who was paying for the roadwork.
"The money didn't come from our community budget. We can't asphalt the road with our meager budget. We can barely repair our local streets," Grigoryan said.
Officials from the Armavir Provincial Government also said that the roadwork wasn't paid from state money.
Arakel Movsisyan also made a promise in the community of Tzaghkalanj to renovate the road.
"Call that bum up right now, the asphalt guy. I want the entire village to vote for me. But before voting for me, you'll see the result," Movsisyan said.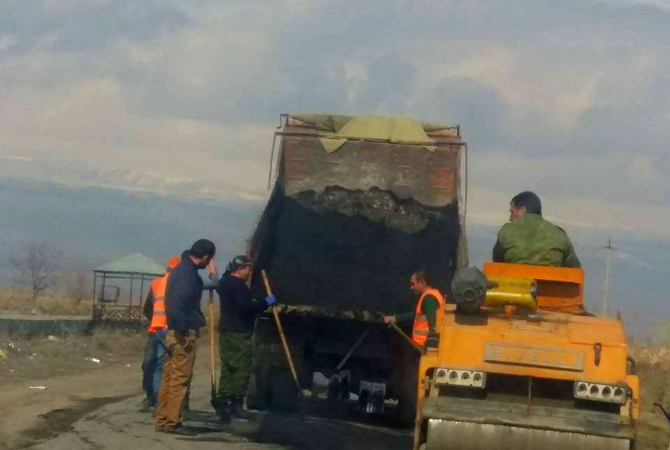 After the press picked-up on the story, the Central Electoral Commission stated that Movsisyan violated Article 19, Part 6 of the electoral code during his meeting with Tzaghkalanj residents. The article states that candidates and political parties cannot make promises of free services during the election campaign or on election day.
When roadwork was underway in Tzaghkalanj, Hetq asked mayor Manvel Mkrtchyan what funds were being used.
"We are very happy that at least one person promised to do it. But they created so many problems for him that the guy pulled out," said Mkrtchyan, referring to Movsisyan.
Mkrtchyan said that a Tzaghkalanj native now living in Russia financed the roadwork.
"It wasn't Arakel Movsisyan," the mayor said.