Asya's White Lavash: Yezidi Mother Seeks Respect for Son Injured in Artsakh's 2016 Four Day War
19:30, May 12, 2017
Nazrvan is a village in Armenia not too far - just twenty bus stops - from the capital Yerevan.
On May 9, Victory Day, Yerevan was noisy. In Nazrvan, the silence was such, it seemed as if all were asleep. A soldier lives there, wounded during April 2016 Four Day War in Artsakh.
May 9 didn't come to Nazrvan this year.
Injuries make people behave alike. In all the village houses, where there are injured soldiers, mothers behave the same way. Fathers do the same.
Mothers of injured soldiers struggle and cry alike. Clutching documents, they run to and fro,to assert the rights of their injured sons. Fathers remain quiet for a long time. Mothers demand respect for their sons, while fathers become invisible, disappointed with themselves.
Gevorg Khudoyan, his father, Vazir Khudoyan and mother, Asya Khudoyan, live in a big house, engulfed in lilacs. I don't know why Yezidis seem so beautiful to me, but they are indeed beautiful. Tired, sunburnt, but honest and beautiful.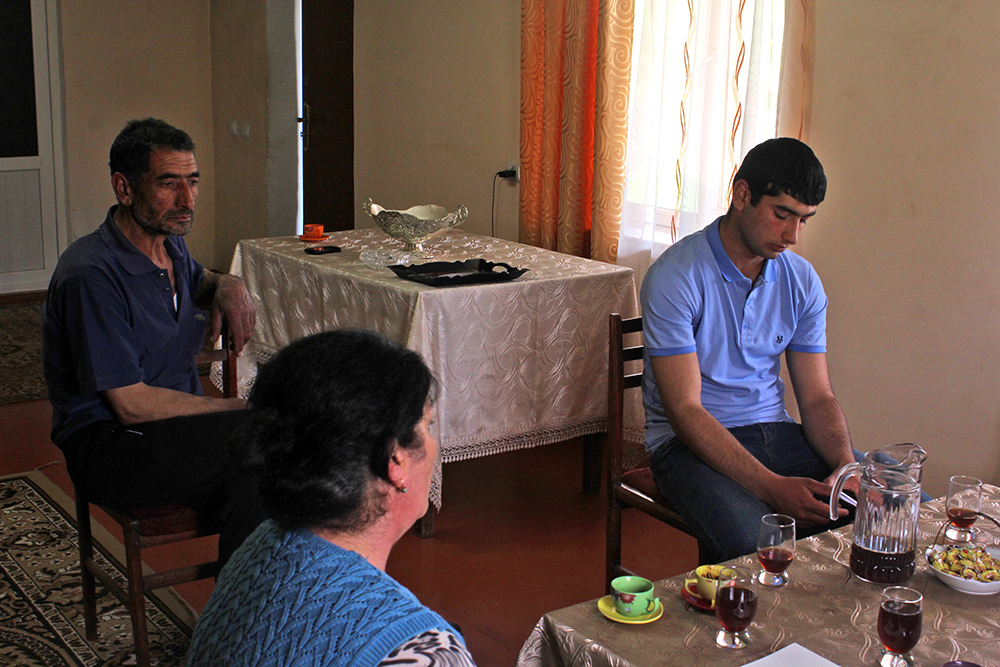 Asya was in pain when we visited, and she had sent her son for some medicine. Gevorg called, asking the name of the medicine. I saw nothing strange in it, but the mother became emotional. She said he couldn't concentrate after being wounded in the head - he forgets things.
A rocket fragment killed two of the three friends, Aram and Aramayis, while encamped at posts in Jebrayil, and sent Gevorg Khudoyan to the Stepanakert hospital with a severe skull injury.
On that day, April 2, his mother, sitting on a bus, going to the market,was oblivious to what was taking place. Her son called, preparing her for the worst if she heard bad news on TV. He told her not to worry, that he was safe. Asya didn't comprehend all that he said, but hearing her son's voice was enough for her.
Asya says that when she arrived at the market in Ashtarak, she felt something was wrong. From every corner, the word "war" was being repeated. It was like a scene from an old movie, where, during a performance, someone announces 'war has broken out'. At first nobody hears what's said. They laugh. The noise around them prevents the significance of the word from getting through. Then, when it does reach their ears, life comes to a halt.
Asya says, "At that moment, I realized why my son had called. I called him back. He picked up the phone. It was very noisy out there, and when I asked what was going on, he just replied, nothing, we are digging a trench." It was war.
Asya is literate, though without any higher education. She admits that although she had heard the name of Jebrayil, she couldn't really understand what was south-east and what was south-west.
When she received a call at 2 am from Gevorg's number, she was surprised, but replied confidently, "How are you, boy?" On the other end, there was a question in reply, "Are you the mother of Gevorg Khudoyan?"
"Even the cruelest person shouldn't hear such a thing," Asya says.
The village, all villages, have a specific tradition. Whatever the hour, if a tragedy has befallen someone, everyone gets up and gathers. That night, several men, together with Gevorg's father, set off for Stepanakert. Before arriving, they were informed that Gevorg was being taken to Mouratsan Hospital in Yerevan by helicopter.
In the hospital, mother and father took turns nursing their son; and not only him. They also cared for another boy from Artsakh, whose mother reached the hospital only on the fourth day. There was no difference between their son and someone else's. All parents caring for their kids become part of a larger family.
Gevorg's father says that when his son was shouting at nights, getting up to run away, it was more than he could stand. He would ask the hospital nurses to take his place at his son's bedside and would go for a smoke.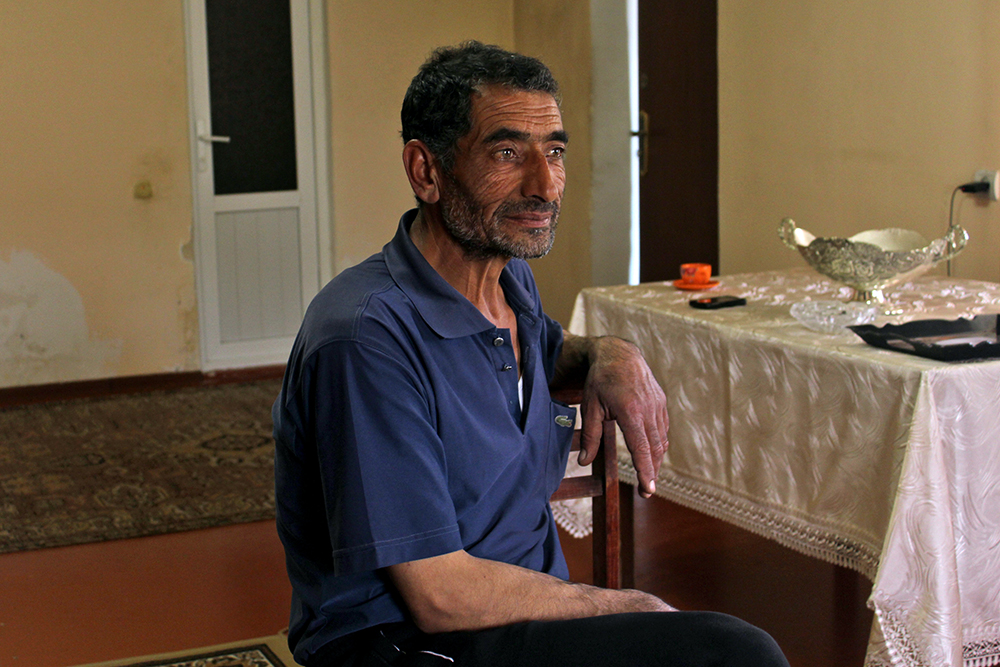 Asya remembers other important facts from those days of the April inferno. For instance, how strangers would come along, offering to do laundry for them, or how they would leave some money without saying their names, or bring food… Human beings were being humane.
Gevorg recovered, more or less, and they all returned home.
But he's not in good health. He has headaches and memory lapses. He cannot work. He sleeps a lot, but quickly tires. But he's got a smile on his face. He's a good boy. In the hospital in Stepanakert, in a semi-conscious state, he got angry with the nurse for telling his mother that he had been wounded. Mother says she heard his voice on the phone and that was the only consolation for her; the fact that he could speak. Gevorg is a good boy.
Due to Gevorg's condition, his mother got operated on for free. Doctors removed her thyroid gland. Stress had its consequences. Months later, when Asya Khudoyan returned for some blood tests, she was told to pay. Each hormone analysis for the thyroid gland costs around 10,000 AMD (US$ 20). They have no money. Nazrvan is not Monaco. It's an almost empty village.
The family roots of Gevorg's mother, whose maiden name is Snjoyan, go back to Kars. Not only Armenians migrated from there in 1915. The Snjoyans were a Yezidi family living in Kars. They came to Amasya (present-day Armenia), and then moved to Nor Gegh.
Asya is a Kars girl at heart. She doesn't like mobile phones. She says people used to talk to each other more in the village, when there were no mobile phones. "For every little thing, we would visit each other, to say what we had to say." Now they either don't speak at all, or talk on the phone, without seeing each other for months.
Every family has their own understanding of help. One needs his loans to be closed, the other one needs something else. Asya is only upset for being neglected. The government hasn't awarded her son any medal. Asya wants to see her son, wounded in the head, appreciated. She was and still is waiting for people to come visit them.
During our whole visit, her husband was silent. Silent and very sick, having an issue with cerebral circulation. But after Asya's last words, he intervened, "Today you came and made our day." People don't need much to be satisfied. And the day we came was May 9, Victory Day.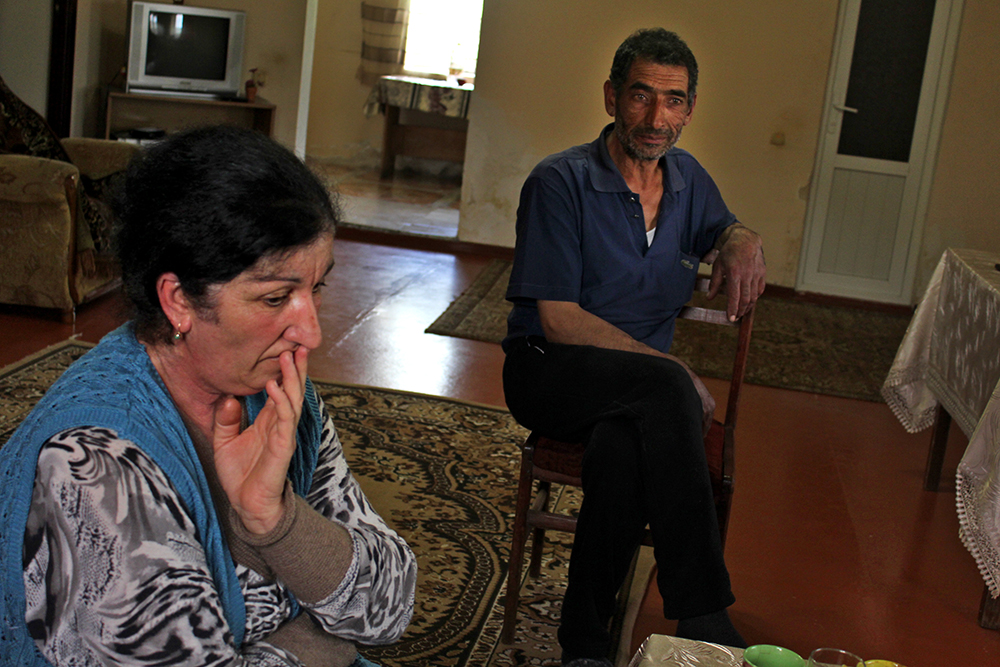 We ask for a photo from Gevorg's Facebook page, where he is in a military uniform. I read in his bio that he's graduated from School N114. To double check, I ask him if it's true. A guilty smile appears on his face, "No, I just wrote it". We smile at each other, and Gevorg admits that girls like it when you say you've graduated from N114.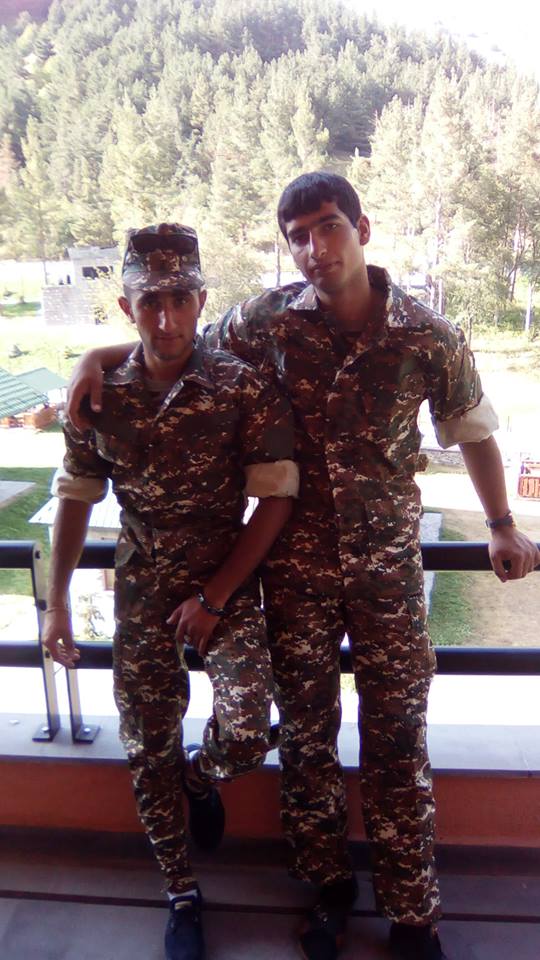 - Gevorg, dear, you defended our positions. You were a sniper, you were on the front line during the war, you called your mother not to be afraid, you were wounded in the head, and, being wounded, you got angry with the nurse for terrifying your mother, and you still write that you've graduated from N114, as if that would be a big honor? You don't know your own worth, dear.
Our morals and our mottos seem to be antonyms.
- Gevorg, how do you picture your future?
- I might leave for Russia.
- What will you do there?
- I'll do something. Still better than doing nothing.
- But, in Russia, there won't be men like those in your village, who would get together, if needed, to accompany your father in case he needed to reach you.
- Yes, I know, there won't be such things…"
Nazrvan is located at the foot of Mount Aragats, the tallest in the country. Vazir and Asya built the big house they live in.
Today, their only son, wounded in the head by a rocket fragment, now wants to leave the country. Such a chain of events is not fair.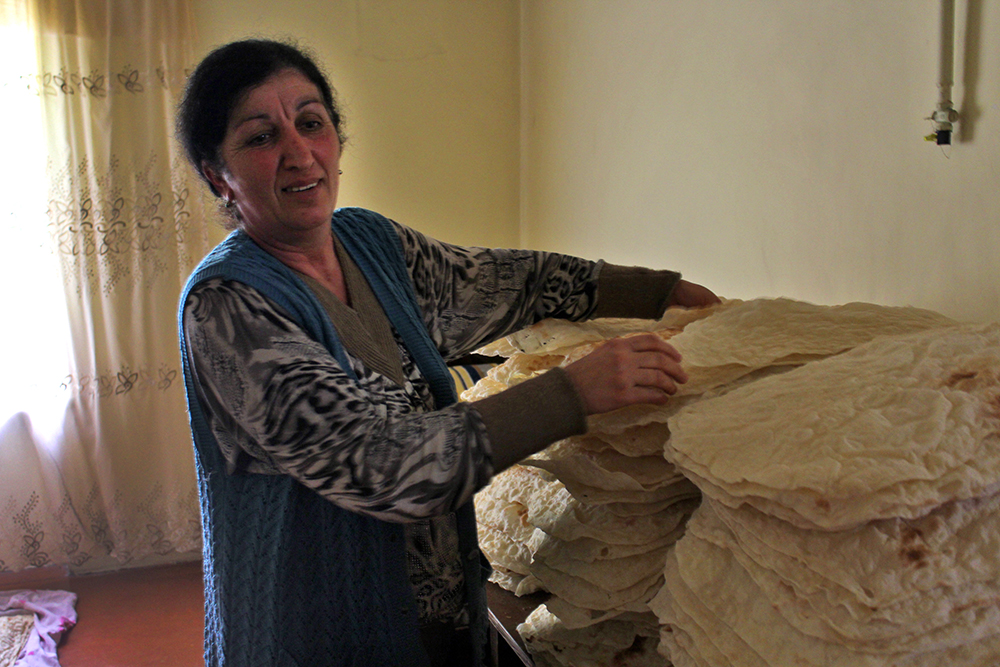 A door was ajar, and behind that door, one could see rows of white lavash bread. Hundreds of white, pretty lavash flat-breads rising to the ceiling.
Photos: Edik Baghdasaryan