14:18, July 10, 2017
Vachagan Vahramyan, a 57-year-old resident of Tchotchkan, a village in Armenia's northern Lori Province just might be the envy of his neighbors. The man is growing kiwis in his garden.
Planted three years ago, the vines will bear fruit this year for the first time.
Vachagan knew little about growing kiwis and sort of played it by ear. He cultivated the kiwifruit, native to parts of China, as if it were grapes. He soon realized that the fruit requires constant watering and spring trimming.
There are others in the village who have also planted kiwis. While their vines have blossomed, the flowers were damaged and fell off.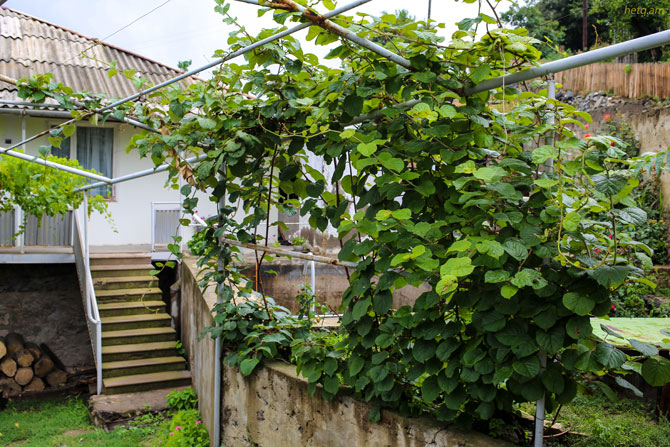 Debate as to the best method of growing this foreign species is a hot topic for village residents.
Vachagan says he'll give his kiwi vines a few more years. If they start producing, he'll dig up his grape vines and allocate the entire garden to kiwi cultivation.
Family and friends had little faith in Vachagan's new enterprise. Laughing, he says, it's become something of a mission for him, a matter of principle.
Dubious neighbors, upon seeing that some of Vachagan's vines have produced fruit, expected the man to invite them over for a taste. They were denied the pleasure. Vachagan saved the fruit for his son, now working in Russia.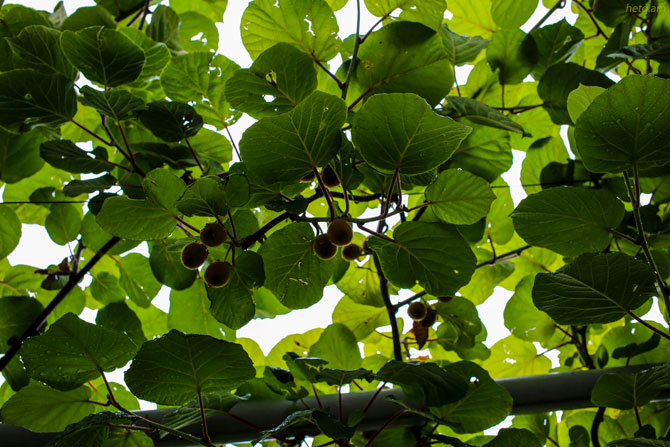 Vachagan is waiting for his son to return in the fall, when the kiwis will ripen and get bigger.
The kiwi 'craze' has infected many in Tchotchkan. Potential growers are pestering Vachagan for advice.
Vachagan has branched out to growing mandarins. The unripe fruit hangs from a few trees in his garden.
Describing Vachagan as a man with a green thumb may be something of an understatement. He been cultivating various fruit trees since the early 1990s, when village lands were broken up and allocated to residents.
Today, Vachagan grows 24 varieties of fruit trees.