Armenian Composer Stepan Shakaryan: "Artists Should Live in Their Homeland"
20:12, July 28, 2017
Stepan Shakaryan is a famous jazz and classical composer who studied at conservatories in Yerevan, Moscow and Leningrad (St. Petersburg). Shakaryan is the only Armenian student of Aram Khachatryan. There's a star in his name on Yerevan's Teryan Street.
Regardless of the weather, you can meet the 81-year-old composer walking briskly down the streets in the center of Yerevan. He strikes an imposing figure with his Caucasian eagle nose, large eyeglasses and inviting smile. If he sees a smiling face, he greets them like an old acquaintance and keeps on strolling.
Shakaryan's gait reminds one of the Vinik penguin, from the famous Armenian Pingvinashen cartoon, walking in the cold Antarctica. Shakaryan wrote Vinik's song.
Stepan Shakaryan is frank, like a child in a conversation. He recounts, in all humility, that he wrote one of his famous works, Retro Quintet, for just $500.
I agreed to meet the composer at Yerevan's Mashtots Avenue, not far from his home. He comes 3 minutes earlier the agreed time and jokes, "I want to become a German."
We talked about the following topics.
Yerevan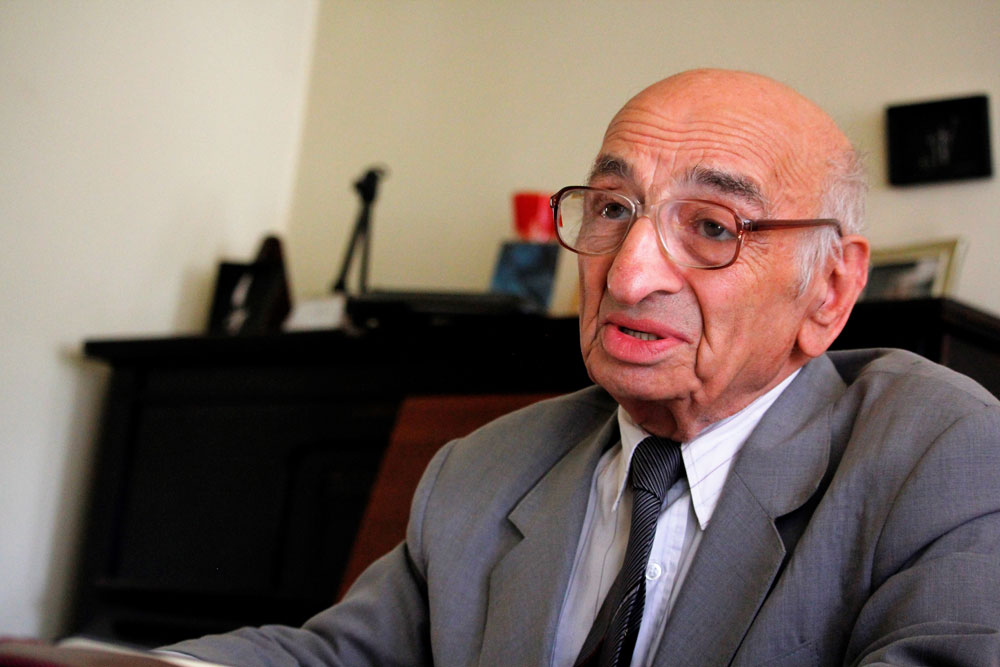 "The past-present-future ties are broken in Armenia. Our nation survived in the USSR; Yerevan became a city.
When my mother brought her three children from Baku to Yerevan, there were only three streets here - Astafyan, Alaverdyan and Nalbandyan. There was no city as such. There were separate buildings - the Opera House, the current National Assembly building, the Matenadaran, and so on.
Tamanyan was building a museum town from Armenian tuff stone. Foreigners were impressed. They were coming from different countries to see what the tuff stone was.
Then everything changed. I don't want to criticize, but. There's too much noise in the city now. The buildings are heaped one atop another. The yards are filled with cars. Walking has become difficult.
90% of the city's residents, with their mentality and perspective, are villagers. And the real residents of the city - the educated and intelligent ones - have emigrated. "
Self-Education
"I have received an excellent academic education. At the same time, I believe that self-education has given me more. Today, the youth is being preached about academic education.
To get a real education, you need to learn the history and find yourself there. In Moscow, there was a library named after Lenin, formerly the house of Count Razumovsky. There were books that were not given to anyone. Then, they saw that I was a crazy person and allowed me to take those books. I gave chocolate bars to the library staff as gifts. They allowed me to enter the library on my own to study those forbidden books.
I don't say that today's youth isn't educated. But times have changed, and we live in the 21st century with the approaches of the 19th century. It's unacceptable. "
The Homeland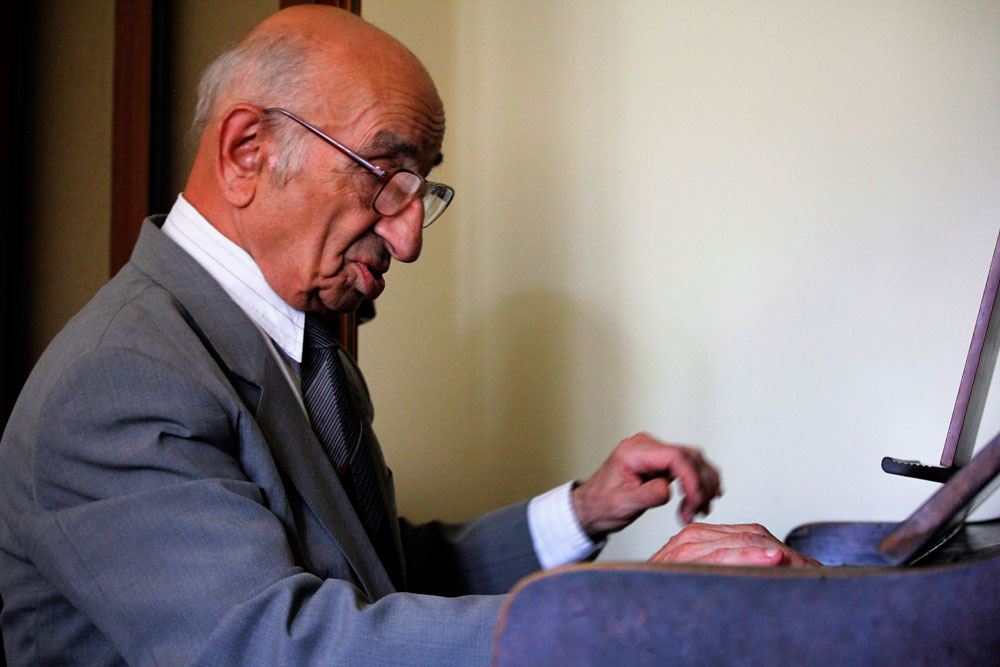 Emigration is similar to genocide. It's not the same thing, but it's just as sad.
When I told Aram Khachatryan that I was coming back to Armenia, he got enraged and said I couldn't do that. Because he was а clairvoyant. He could foresee the present. [Khachatryan was born inTiflis, Shakaryan in Baku]
Today's students are still young, but after receiving their diplomas, they have to make a living and survive. Many people want to leave Armenia. But I think artists should live in their homeland. They shouldn't become captives of another country. Many have gone, living in different ways, just to survive.
I have been invited to many different places - Washington, London, Luxembourg. I was even invited to lead the Georgian jazz band. I refused. I have my own country.
Josef Strzygowski was a famous Polish-Austrian art historian who wrote a few volumes about Armenian architecture. He has an article in which he says that the influence of the Armenian architecture on the world architecture is infinite. Now we are like a patchwork.
Honorifics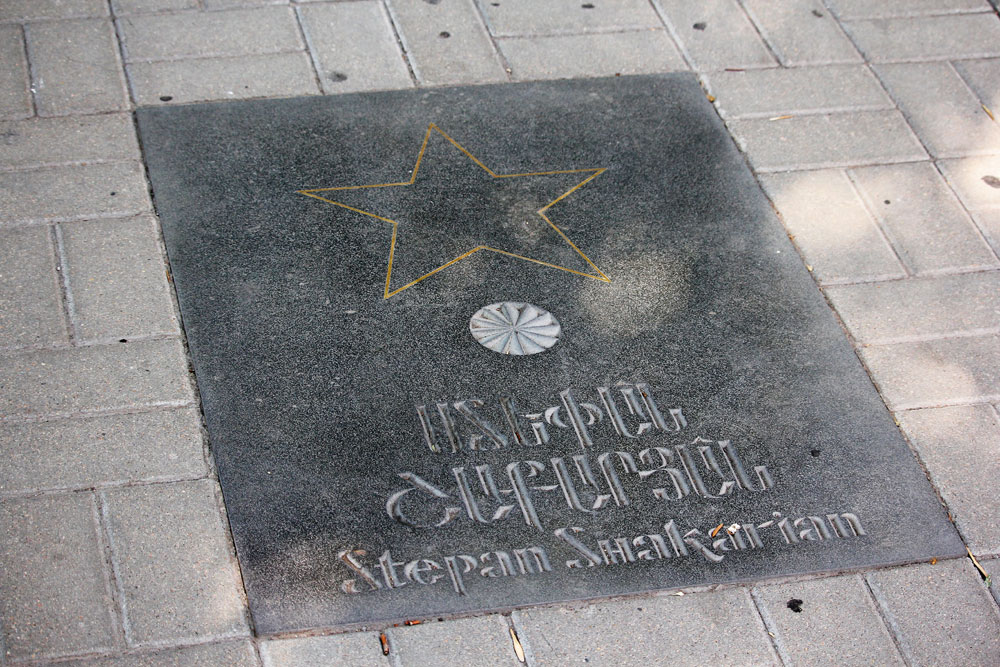 I am surprised that I still bear the title of Distinguished Artist. Those having a level far below me have that title too. I don't care about titles. The continuation of art traditions; that's what's important to me.
I feel bad when I visit Yerevan's Vernisage open-air market. Our artists resolve their financial issues there. Isn't it dreadful? For years, our culture ministers have ignored art.
Penguin Vinik's Song
In 1970, the director of the cartoon, Stepan Andranikyan, called and asked me to go to their house. He lived next to the Pioneer Cinema.
When I went there, he said he needed a song for Pingvinashen. He showed me the words. I took out my notebook and immediately wrote down the notes. That was 47 years ago. Children still sing it.
The Creator
Every morning I approach the window and say thank you to the Creator. People call him God - let it be so. The Creator gives me oxygen every day, he solves the issue of survival. I have become a religious person, because when a window closes, another one opens up. I am grateful. Do you know how many kind telephone calls I've received today? I'm grateful for that kindness.
What Fascinates Stepan Shakaryan
Village women fascinate me. They boil the milk, add some starter culture, and it turns into yoghurt. This is a philosophy, you know. Adding some yeast turns the milk into yoghurt. This is a symbol of solidarity. I wish we had some starter culture in our country to make yoghurt.
Kindness
People even dream about money. If we have no more oxygen tomorrow, what will happen to us? We hear about catastrophes taking place every day.
There are silver and gold mines everywhere.
Evil destroys the world. Jesus Christ says, "But if anyone slaps you on the right cheek, turn to him the other also." This is a philosophy, not a religion. Only kindness will save us. Nothing else.
From Stepan Shakaryan's works: