Artist Artyom Sargsyan: "The apricot pit symbolizes the enduring quality of Armenians."
17:43, August 26, 2017
The pit of Armenia's most beloved fruit, the apricot, has become an emblem for painter Artyom Sargsyan from Gyumri. Its images are everywhere - from the entrance door to earrings, leather belts, necklaces and paintings. The avant-garde artist has been in search for his unique style for a long time.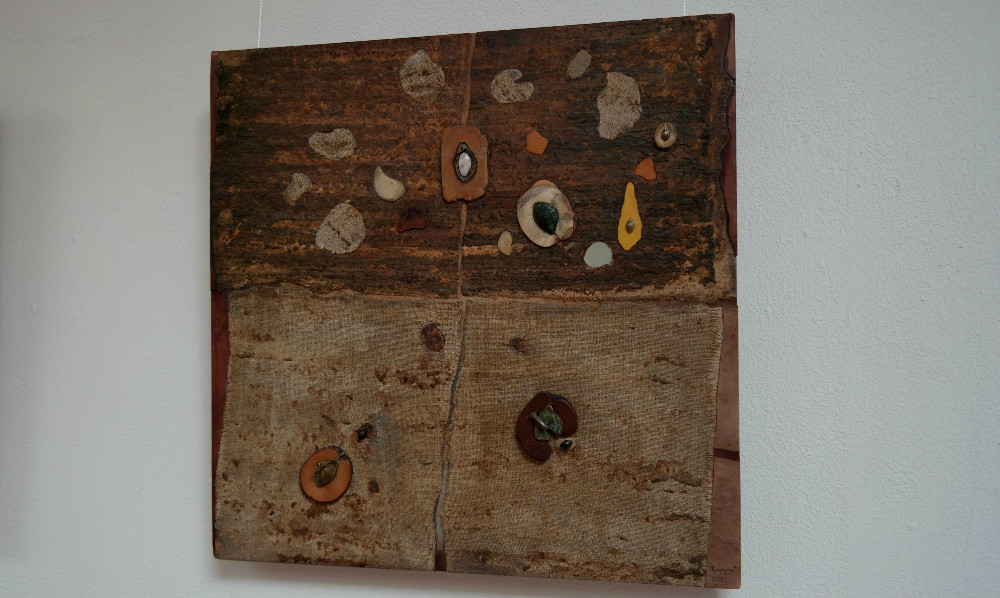 Seven years ago, when he finally decided to make jewelry from brass, bronze and silver, he realized that combining metal, leather and even wood with oil paints, displaying the apricot pit as a constant theme, would become his way to present himself and his country to the world.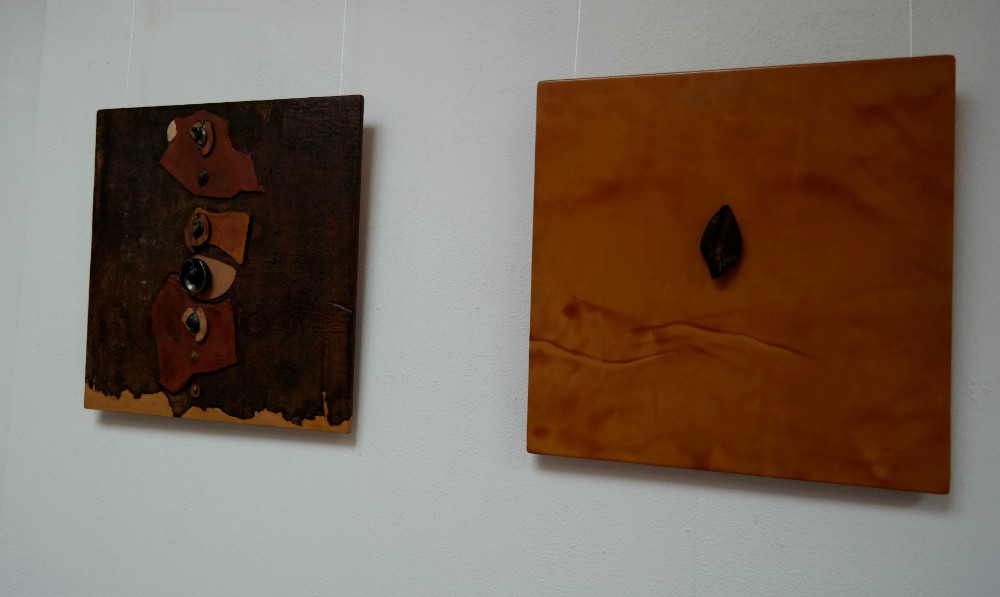 Artyom was born in a family of a jeweler and a teacher. He inherited his love of painting from his father, Edik Sargsyan. He says that as a child he covered all the walls of their family house with his paintings. "Now, if we scratch the renovated parts of the walls, you'll see my "masterpieces" beneath," Artyom jokes.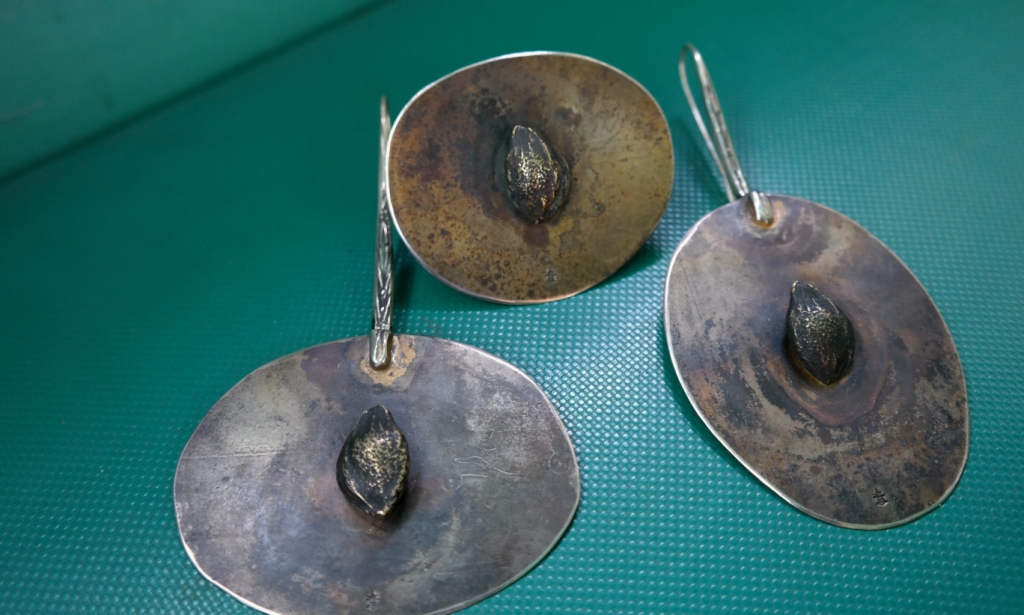 At the age of ten, he attended the Merkurov Art School in Gyumri. He'd been a student there for a year when the 1988 earthquake struck. The school had to move to domiks (containers). "I had good teachers, Mirzoyan Sergei, Tsoghik, Ninel and Gasparyan Hovhannes. I also had good teachers in the Academy, and my dad, who was my main teacher," Artyom says.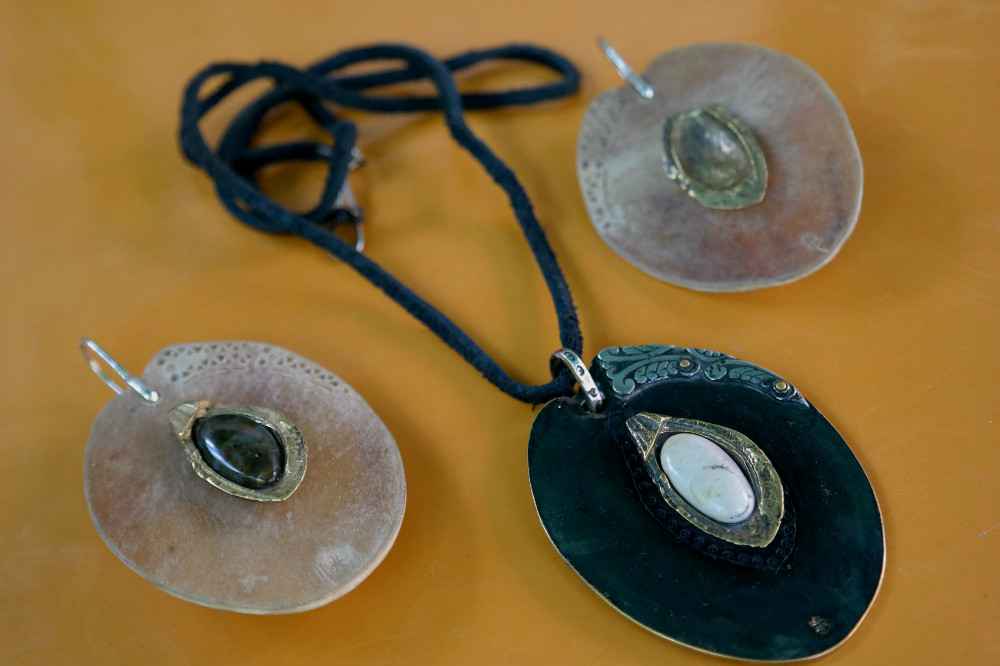 Artyom started studying in the Gyumri State Academy of Fine Arts, Faculty of Painting, after returning from military service in 1998. Being qualified as an artist and a teacher, Artyom taught for one year at the National Aesthetics Center in Gyumri, and three years at the Haybusak University.
"It's not only painting that I like. We always made something at home, with my father, using our hands. From the beginning, I've always strived for creating something new and unique," Artyom says with a smile, arranging the jewelry he's made on the table.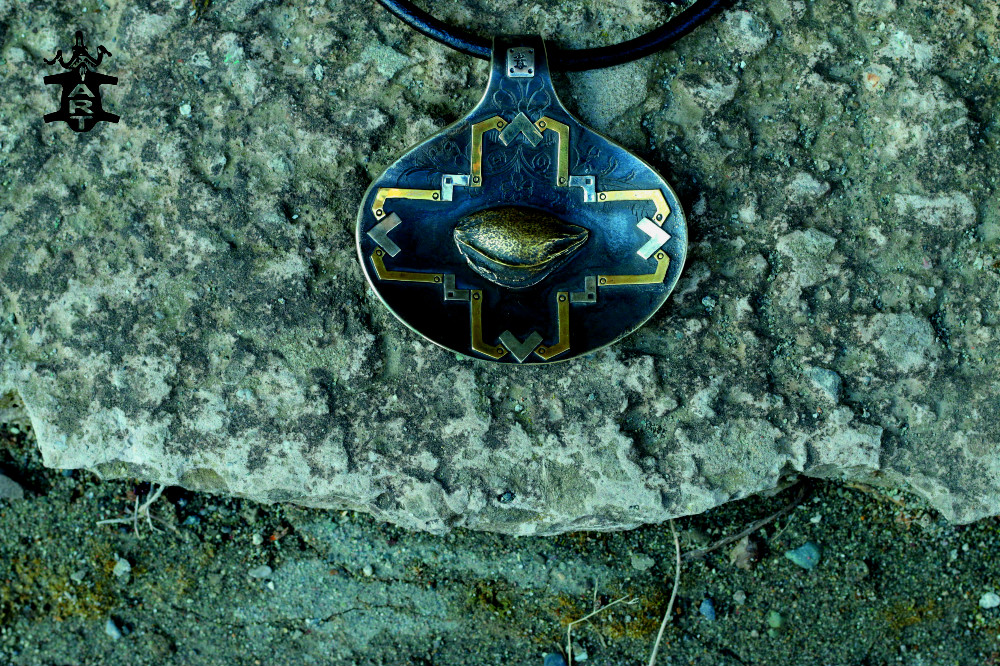 "If you look closely, you'll see that there are no duplications in my work. Even the pairs of earrings are different. We know that if there are earrings, they should be symmetrical and resemble each other. All my creations contradict those norms. "
"I read somewhere that some Japanese made a large laboratory to grow apricots. They spent seven million dollars and even took Armenian soil from here. They considered everything - conditions of cultivation, the sun, the heat, light duration, direction of winds, quantity of water and God knows what else, so that they can get Armenian apricots. Well, they've managed to get apricots that look like apricots but don't taste the same. Metaphorically speaking, the apricot pit symbolizes the enduring quality of Armenians."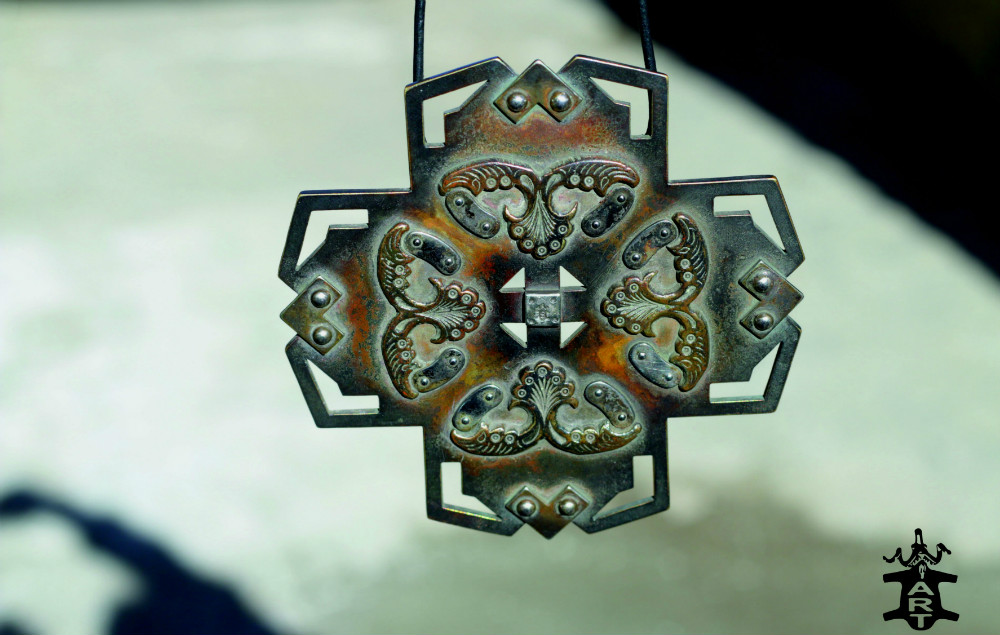 Artyom's jewelry is mostly in favor with young and middle-aged women. Men can choose among a variety of leather bracelets. Their prices are not affordable for many (they range from 35 to 300 thousand drams).
"My work isn't intended for a wide range of people. It's a matter of preference, appreciation, and financial opportunity," Artyom says. "Somebody might appreciate them but have no money to buy. Those who buy, do it consciously, as this is neither gold nor silver. It's unusual to our eyes. "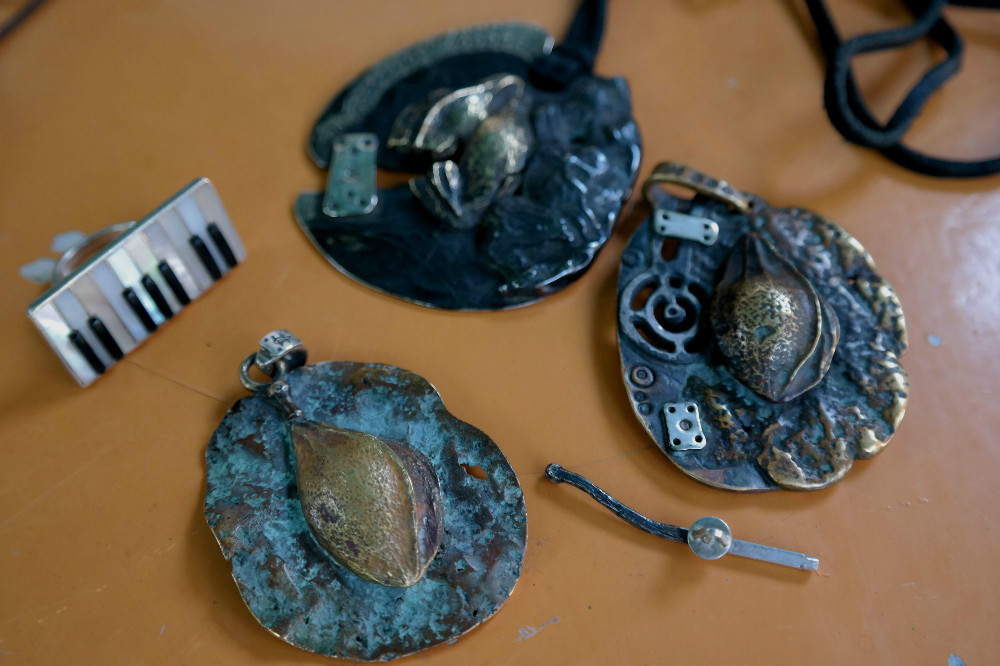 In the autumn of 2016, Artyom Sargsyan was invited to take part in the Armenian Fashion Days exhibition in Moscow. Designer Edita Grigoryan from Gyumri, who was working in Moscow and was aware of Artyom's work, had invited him. "After the show, some works were sold, and I also got acquainted with new people. It's important to be recognized, by your work, outside of your country. It's a pity that there is no such tendency in the field of painting yet," Artyom says.
His jewelry is mostly sold online. His sister, living in the U.S., helps him a lot, especially when communicating with English-speaking buyers.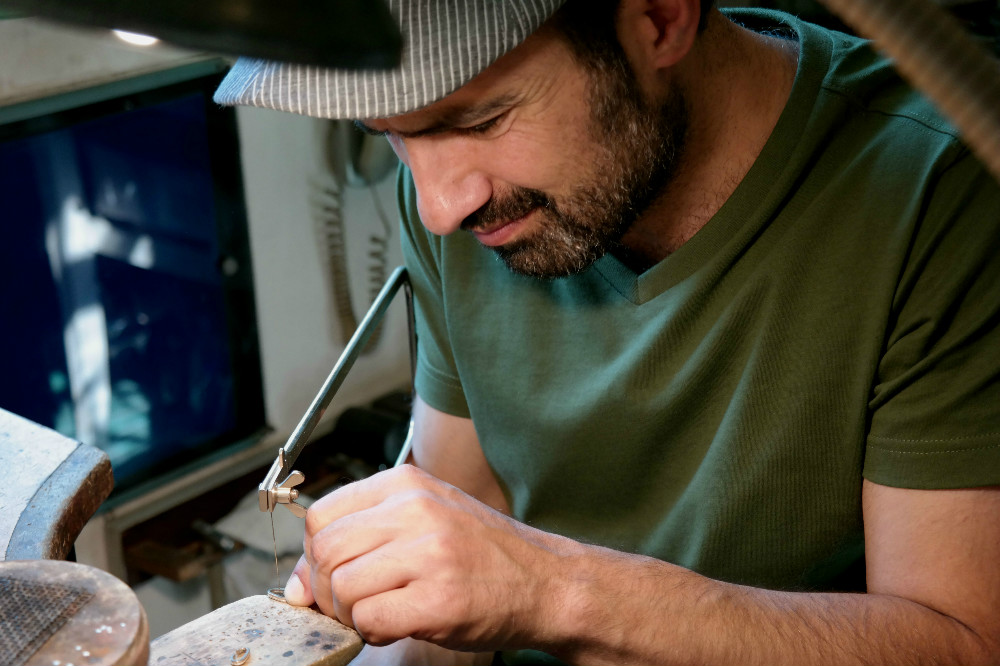 Like many other artists in Gyumri, Artyom also has a problem with selling paintings. Recently, he has participated in three national exhibitions and all six exhibitions of the Real Art project, based in Gyumri. "An artist is recognized and somehow accessible via these exhibitions, but they aren't frequently organized," Artyom says.
"To have an individual exhibition, each artist must have at least 30-40 works, and they aren't created in a day or in a few months. I've now got 18 works ready, and I'm working on four or five other things simultaneously. I'm thinking of reaching forty. I don't know how much time is required for that, especially when I'm making some jewelry as well. I hope I can present myself to the Gyumri public with my own exhibition in a year," Artyom says.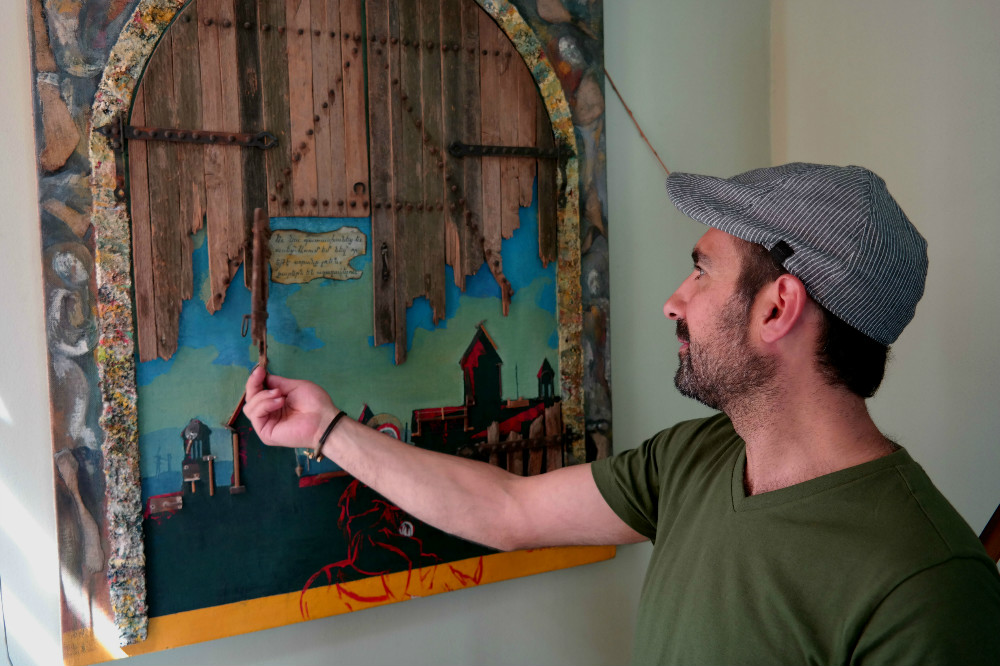 Being an avant-garde artist, Artyom Sargsyan has participated in international biennales in Gyumri only once. It was in 2000, when the Second International Biennale was held in Gyumri, where students from the Academy of Art, participated. Artyom's composition, a combination of wood and oil paintings, was called "The Entrance of Christ to Gyumri."
Artyom and his friends decided to create a group, that would later serve as a basis for a school, where children would learn pottery, painting, make-up, sculpture, design and more.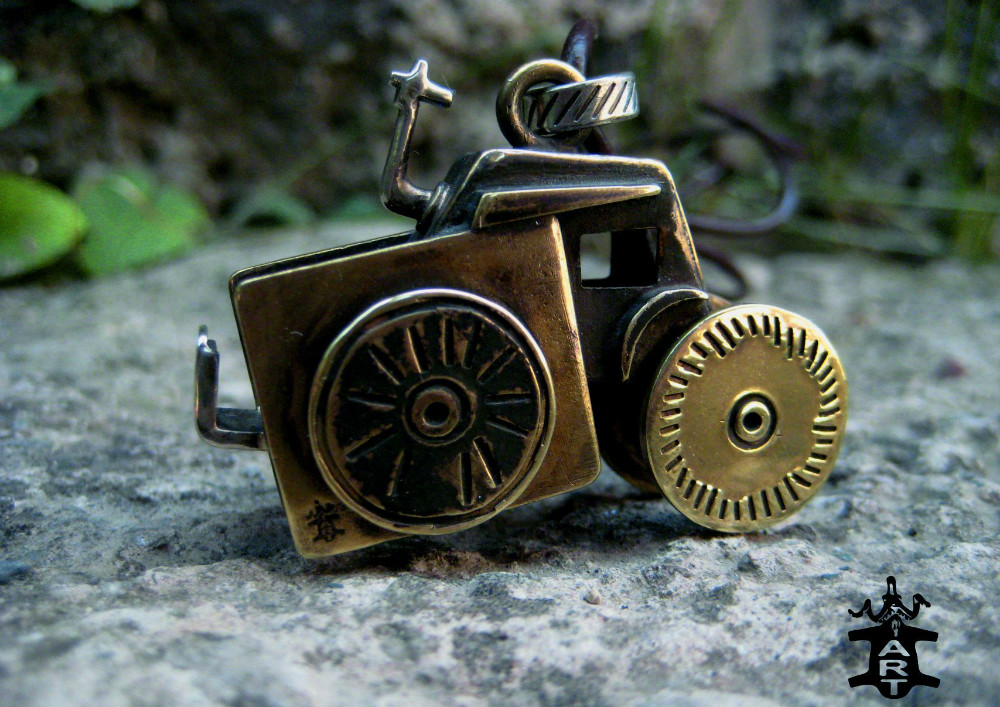 The group included sculptor Mikayelyan brothers, artist-ceramist Vazgen Gevorgyan and graphic painter Karen Tovmasyan. Artyom was the author of the initiative, and the group was called ARATTA.
The collaboration lasted less than two years. They were all too busy doing other things, Artyom says, but hopes they'll reunite one day to establish their dream school.
Photos from the personal archives of Yeranuhi Soghoyan and Artyom Sargsyan