Mongolian Cuisine in an Armenian Village: Bayina and Family Are Officially Citizens
02:23, November 4, 2017
Bayina is a woman from Mongolia who lives in Antaramej, a village in Armenia's Gegharkunik Province.
Hetq visited Bayina's house two years ago. To celebrate our revisit, Bayina treated us to buuz, a Mongolian steamed dumpling filled with meat.
The family moved to Armenia, because Bayina's husband Hrahat, a native of Armenia, was ill. He died in 2015 of a heart attack.
During our last visit, Bayina and her two children, Varsik and Arshak, had no Armenian citizenship. The issue has since been resolved.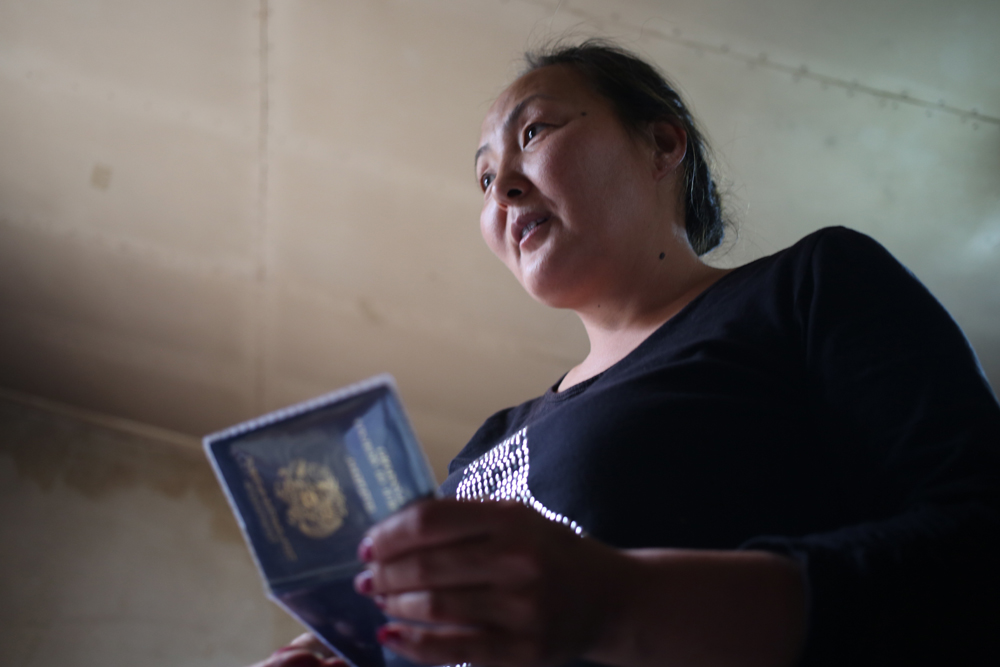 Bayina holding her new Armenian passport
Antaramej is difficult to reach. Road conditions make reaching it by car a real challenge. The alternative is going by horse or a donkey, or on foot. The village is in a forest. People say, in winter, they're completely cut off from the rest of the world because of the road. There are 39 families living in the village.
Varsik meets us. We walk across the forest to reach the house. Varsik tells us about her school. She and her brother are in the seventh grade. She says she has already decided what to become, a singer and a nurse.
She explains the logic of combining such different professions. "Well, if I'm a singer, I can make a lot of money, and then I'll be able to treat people for free," Varsik says. Bayina hears the conversation and smiles, interjecting, "I say, Varsik, you won't manage like that."
In Mongolia, buuz is prepared mainly in the lead-up to holidays. It's prepared in hundreds, frozen, and quickly cooked and served to arriving guests.
Bayina has already prepared the meat filling and dough. "It is quick to make. When we have guests, it takes maximum one hour to prepare and cook, "she says. We just wanted to talk, and didn't want to burden Bayina with preparations, but the cooking process becomes more and more engaging.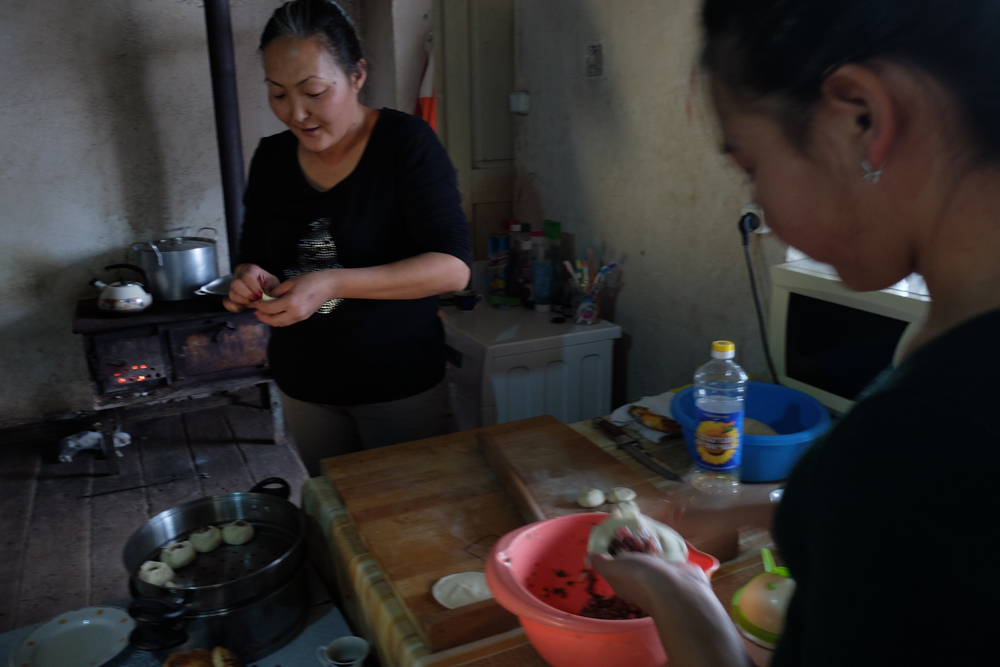 Mother and daughter preparing buuz
Bayina cuts the dough into pieces and starts rolling them. She moves her hands so smoothly, as if playing an instrument. It's not easy to repeat her deft movements. "I'm used to it, I've started making them since I was seven or eight years old. We make at least 500-1,000 pieces on New Year's Eve," Bayina says.
Buuz dough consists of salt, flour and water. Bayina says the water should be warm, otherwise the dough will crack. Buuz are filled with minced mutton or beef, which is flavored with onion, black and red pepper, salt and greens. Adding greens is not traditional in Mongolia, Bayina does it specially for Armenians, as people in Armenia love greens.
The smoke emanating from the wood stove imparts a delicious smell.
They do not have firewood for the winter yet. Bayina and Arshak will go to the forest soon to collect wood. Buuz is usually cooked on a liquid gas cylinder. They fill the cylinder when somebody goes to the city. There is no natural gas in the village.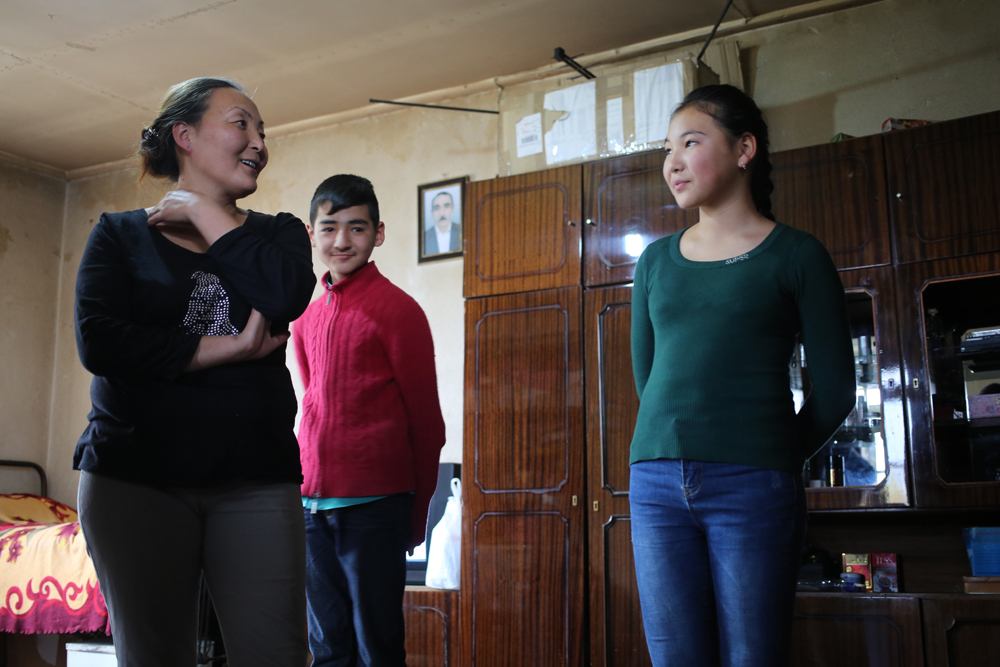 Bayina, her son Arshak, and daughter Varsik
As Bayina promised, we smell the cooked buuz in twenty minutes. "I love making various and new meals. I want them to be tasty and appetizing," she says. Then, she takes the dumplings out of the saucepot and arranges them in a bowl. "Use your hands to eat them", Varsik advises us, "the juices stay inside."
To prepare buuz, one needs to have a right pot. Bayina got hers as a present from one of her relatives in Mongolia. She says it's hard to find the right one in Armenia. Depending on how many you want to cook, the buuz can be arranged in layers. Water boils on the first layer, and steam cooks the others.
"Arshak, you haven't told us what you want to become," I ask. Bayina immediately replies instead, saying he will become a psychologist, since he can immediately "read" a person.
A Mongolian dish made in Antaramej
Arshak used to keep a diary, but one day Varsik discovered it and took it. Varsik justifies her action saying she wanted to protect Arshak's thoughts from potential thieves.
Arshak says he is often embarrassed. He's thought of a method to overcome that feeling. He holds a leaf and thinks about things that embarrass him the most. He thinks long and hard. So much in fact, that there's nothing left to think about. In the end, if he hasn't squashed the leaf, then the next time he doesn't need to worry about thinking the same thing.
After dinner, Bayina shows us their Armenian passports. Bayina says they have already received the other documents that required citizenship papers.
Even though the house was theirs, they couldn't register the property because of the lack of citizenship. Now, the house is officially theirs. Varsik and Arshak receive state allowance, and Bayina works as a school guard.
Photos and video: Saro Baghdasaryan, Hrant Galstyan