14:06, June 14, 2004
Edik Baghdasaryan
Liana Sayadyan
See also In the center of Berd, poverty has settled in
There are ten families living in the hotel in the town of Berd in the Tavush Marz, five of them refugee families from various regions of Azerbaijan. There is a rumor going around Berd that the hotel has been privatized, which has spread panic among its residents. The fate of these ten families is uncertain.
Anichka Alaverdyan's husband, Vardges Antonyan, died in 1997 when the Idjevan Police Department burned down. He had been arrested for stealing cattle. "He was supposed to be put on probation for one year and then set free," his the wife recalls, "Was it my children's fault that their father died? We would not be living here if this accident hadn't happened."
In 1997, they were renting an apartment in Berd. After the accident, the town administration lodged them at the hotel temporarily. Anichka lives here with her three children, 17-year-old Anahit, 15-year-old Arthur and 13-year-old Artak. She is disabled and out of work. "I was a laboratory assistant, I worked at the winery. But now I can't work because of my eyesight; I can't work with a magnifier, and there is no other job." According to an agreement with the town administration, they pay a discounted rate of 1,500 drams a month to stay in the hotel. Anichka has written to President Kocharyan for help twice, the last time when he was in Berd during the election campaign. On March 3, 2003 she got a reply from the office of the marzpet (governer) of Tavush: "We have reached an agreement with the management of the Berd Hotel to allow you to stay at the hotel until your housing problem is solved. At the same time we would like to inform you that you will be rendered material assistance by a proper humanitarian organization." Anichka still hasn't figured out what the last sentence means; no "proper humanitarian organization" has ever helped her out.
"Anahit wants to continue her education but we can't afford it. Arthur is a good student. I would like him to get an education, too, but I don't know what will happen. You have to have a job to get anywhere. What should I do, where can I work with my health? I get 3,500 drams in disability pay. I just pray that one day a door will open. When anyone asks me questions, I get so happy, I think maybe something will come of it, but nothing does. We just get exited that someone is listening to us, and finding out about our problems. It's nobody's fault that we're in this situation," she says.
Forty-year-old Andranik Sargisyan has been living in the basement of the hotel with his wife Zoya and their three children since 1993. Both of them work for the communal-general service, as refuse collectors. "We get sick because of this concrete floor. Our salaries are paid two or three months late. So how are we supposed to live? We don't receive any allowance. We used to live in a village, but there was no room in our house and we left. We were given lodgings at the hotel for free, as town employees," Andranik says. His oldest son, Karen, is seventeen, Armen is fifteen, and Arsen is twelve. Karen went to school up to second grade.
"Can he read and write?" I ask.
"He can write his name," Zoya says.
Andranik earns 14,000 drams a month, Zoya 11,000. "We haven't been paid for two months again. Who should we go to?" Zoya asks. Karen helps out at a local café-he makes a little money, and gets free meals.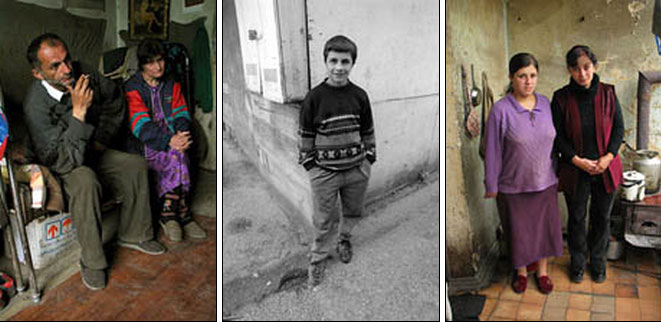 The Berd Hotel currently belongs to the town administration. The town council could formally decide to grant these ten rooms to the families permanently. Then perhaps a philanthropist or an international organization can be found to repair the rooms. The mayor of Berd, Andranik Sharyan, says that there are twenty-five or thirty families in town with serious housing problems. "We just need to build one apartment building to solve the problem. I have negotiated with various international organizations, so far unsuccessfully, but I keep trying. The hotel building has not been privatized yet. If it is privatized, these families' housing problems must be solved. We won't put anyone out on the street, that's for sure. There is another possibility too, to privatize the building, except for one wing, which will be left for these ten families," the mayor explains.
P.S. How much money would it take to solve the housing problems of the thirty neediest families in Berd? A year ago, the Norwegian Refugee Council built forty-six small houses for refugees in the Silikyan district of Yerevan. They spent $6,500 on average on each house. Thus, it would take about $195,000 to build thirty houses. If the international organizations that spend large amounts of money in Armenia on various (not always very efficient) projects worked in this direction, problems like this could be solved. For example, about $7 million is to be spent for a World Vision project to fight AIDS. When you look at this project in detail, it becomes clear that parts of it are inevitably inefficient. There are thirty families in Berd who represent the most vulnerable layer of society. It would be more appropriate to spend the money designated for part of the World Vision project to solve their housing problems.
The government is working on a strategy for reducing poverty; now is the time to implement this strategy.
The country is allegedly moving forward - each year, two-digit economic growth is registered, and Yerevan is choking with ever-increasing numbers of jeeps, cafés, and private houses. And the number of projects aimed at reducing poverty is growing; different organizations are getting grants to study poverty, to fight poverty. But they don't know what poverty is. They have never faced it. They can't really see it. They live in another dimension, in another world, by other laws.
Photos by Onnik Krikorian