15:11, November 24, 2004
We have reported that Member of Parliament Gagik Tsarukyan has illegally built two houses in the recreation areas and forest reserves of Tsaghkadzor (See also: Illegal villas in Tsaghkadzor). We have also found out that although these buildings were legalized and Tsarukyan was given ownership documents for 1.4 hectares of land, his territory, in fact, is twice as big as the land plot legalized by the decision of the Tsaghkadzor Mayor's Office. Gagik Tsarukyan has expanded his territory into the forest and built subsidiary constructions and walls a few meters high that are not included in the design approved by the Mayor's Office. To dispel any doubts that Tsarukyan has broken the law, we propose that a parliamentary commission be set up to examine the facts on the site itself.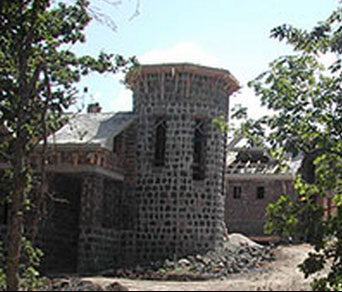 At the same time that his illegal structures were going up, Tsarukyan purchased the Tereshkova Children's Camp in Tsakhkadzor. Twenty-six cottages are being built there today. During construction, dozens of trees have been cut down. The camp used to occupy 3 hectares; now, according to Tsaghkadzor Mayor Garun Mirzoyan, it amounts to 4.4 hectares. The plot was expanded by a mayoral decision. All the paperwork, the mayor said, is "normal". He explained, "In order to dispel all gossip I want to say of the Tereshkova camp that it was sold for the highest price among other privatized Tsaghkadzor camps; naturally we all know who it was acquired by. The state was paid $120,000. There has been no other privatization in Tsaghtadzor for such a price. And one can clearly see the investments there; they are visible and it will operate as a vacation resort. The enlargement of the property has been made in the recreation area. And the land has already been allotted, though the construction there is not finished yet. It was a lease agreement, but the land has already been allotted and it is Gagik Tsarukyan's property," Garun Mirzoyan said.

We tried to find out from Tsaghkadzor residents whether there had been any public hearings, whether they had been informed in advance about the planned enlargement of the territory of the camp. Many of the people we spoke to had no idea what public hearings were. When we explained that before approving the design of any construction in the forest, the mayor's office is required to organize public hearings, they were surprised that any one was supposed to ask their opinion about allocating land to Tsarukyan. "Are you so naïve, or do you think we're so naive?" a thirty-year-old woman asked angrily.
During our meeting with the Tsaghkadzor mayor, he said that his office had allocated an additional 1.4 hectares of land to Tsarukyan to enlarge his vacation house. We should point out that in fact, the territory was enlarged not by 1.4 hectares but by 2.4 hectares. We again suggest that those in doubt to go and take measurements on site. After that, it will be clear that this deal was not as profitable as Mayor Mirzoyan insists. As to why all the doors are open to Gagik Tsarukyan, the answer is equally clear - he has the support of President Robert Kocharyan.