15:43, January 19, 2005
Bash, whose real name is Samvel, died on 14 January 2005 . A week earlier while preparing the first draft of an article about him on the occasion of his birthday, I had written that this was definitely his last. My colleagues, however, suggested that to say such things about the living was inappropriate and so, I took the line out.
Nevertheless, the feeling that Bash had only a few days left to live still remained with me. Not unexpectedly, Bash died in hospital.
His body was languished. For eighteen days he hadn't eaten anything. In hospital Bash couldn't even sleep on a bed. Instead, he put the bedding on the floor and lay there. This person, who had slept on the ground for nine years, couldn't even lie on a bed. "I am falling down from the bed on to the floor without even trying," he said.
Yet, on his last day on earth he finally lay on what would become his death bed. Gasping and helpless without any energy at all, doctors tried to revive him so that they could operate on his frozen feet which needed amputation, but with no success.
On that same day I had been writing an account to represent to the New York Armenian Student Association who had donated $200 to help the homeless in Yerevan . I had already bought underwear and clothes for Bash and had taken food for him to eat at the hospital. Unfortunately, he still wasn't eating and he only wore some of the clothes I had brought only once.
All our attempts to save him were in vain.
Later, I didn't know what to say to Ruzan, Natasha, Rafo, Noro, Miko and Gor who were sitting in the park near the Chamber Music Hall. I didn't know how to tell them the news and so I started talking to Natasha who had bruises under her eyes. According to Natasha, a friend had told her not to have any connection with "that prostitute, Ruzan" and when she defended her friend's reputation she was beaten. She had come to the park to spend the night.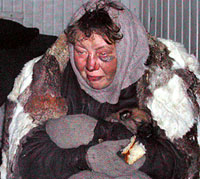 "Bash died today," I finally said. Nobody said a word as they looked grief-stricken in my direction. "You know, I spent five years with him," Gor eventually cried out loudly, breaking the silence.
And then, everyone started to remember Bash, sharing their memories with each other and with me. He was a kind person, they agreed, who helped everyone and was well respected. He had a son, they said, although none of them knew how to find him. Now, if his son isn't found, Bash will be buried alongside the other unclaimed dead in the cemetery for the homeless in Yerevan and all that will mark his grave will be a number.
"A few days ago he said that he'll live to be 104 years," said Noro before the group drank to their dead friend's memory and so that his soul would finally find some rest. "Please, take me out of this and help me overcome this situation," said Rafo as he took me to one side. Bash's death had sobered him up but all I could do was say goodbye and promise to visit the next day.
As I left, the group continued to drink vodka to resist the evening cold and also, I suspect, to come to terms with the death of their friend.
Photos by Onnik Krikorian and Edik Baghdasarian