16:21, January 12, 2005
Yerevan, Armenia.
The public park near the Chamber Music Hall
December 30, 2004. 5 p.m.
Ruzan
"Policemen kidnapped my daughter," a woman was weeping in the park. "Officers from the Shengavit Police Department took my five-year-old child away."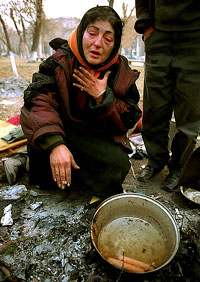 The woman's name was Ruzan Aidinyan. She was sobbing loudly and cursing the police, who had forcibly taken her daughter, Marianna Petrosyan. Ruzan had been making the girl beg, and the police had come and taken her to an orphanage. Other homeless people were consoling Ruzan, saying that her daughter was in a safe place.
In general, the easiest way for the Armenian authorities to deal with the problem is to take a homeless child away from its parents. There is an order from high levels that there should be no homeless or beggar children on the streets, and that's the way it is.
"I don't have much time left and I want my child to be with me!" Ruzan shouted, when I tried to comfort her.
Miko, Natasha, whose mother is Russian and father is a Cossack from Kuban, and Alga, who is Lithuanian, were sitting around the fire and Ruzan, weeping, was standing at a distance. She was in an emotionally unbalanced state and said later in the conversation that she had been in a psychiatric hospital and was in fact registered there. But it was impossible to find out how she ended up on the streets - all she would talk about was her daughter.
Bash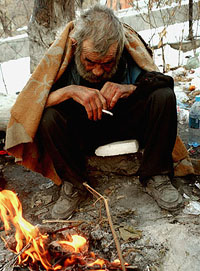 The homeless people were gathered under the trees. Bash, the city's most famous bomzh, and the most respected, according to many homeless people, was among them. People say Bash was well known in central Yerevan in the past, before he began living this life. "He was a hospitable man," say Yerevan residents, who still come to see him from time to time.
Bash was one of two people lying down wrapped in old clothes, with their arms around dogs. The other was his best friend, Noro. At that moment a police car with its siren on entered the yard of the Chamber Music Hall accompanying the car of Speaker of Parliament Speaker Artur Baghdasaryan. Baghdasaryan emerged, and with Minister of Culture Hovik Hoveyan entered the hall, for a holiday concert, I suppose.
All the tramps sitting around the fire were shouting and trying to silence Ruzan, but in vain. Then Bash woke up and joined in the clamor. "Stop talking! That's enough! Keep quiet!" But no one paid attention to what Bash was saying. They had drunk a lot of vodka and every one wanted to talk. They drink every day, because if they don't, they can't stand the cold.
When we visited them again on January 2 nd , it was Bash's birthday and we celebrated it sitting around the fire. Bash was feeling very bad. He said his entire body was aching.
Noro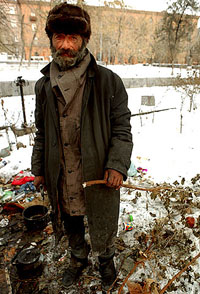 Noro is from Yerevan. He was living in the Zeytun District until a few years ago. "My younger brother had a gambling debt and I had to sell my house. My family - my wife, two daughters, and a son are in France . They live in Strasbourg . They have a decent life there, and they even watch Armenian TV channels there," Noro said, uttering the last sentence with pride.
"Don't they help you?" I asked.
"I don't need their help," Noro said abruptly. I realized that they didn't help him, and I sensed resentment in his voice.
"Don't they want to invite you there?"
"I don't want to go," he answered.
Noro faught in the war in Karabakh, in Zhirair Sefelian's detachment.
Miko
32-year-old Miko is from Spitak. His real name is Vahan Shiroyan. He has Familial Mediterranean Fever (the Yerevan Disease).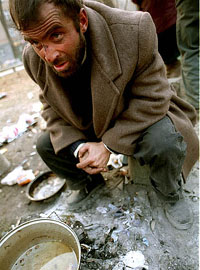 He is registered as a patient but cannot get his medicine. "I went to the hospital, but they want money. They don't give me medicine, because they say I have to bring a transfer assignment from Spitak. But they won't give that to me in Spitak, because they ask for some social security papers which I can't get."
Miko has been living in the Yerevan streets for five years. "At first I was staying at my friend's apartment, but he got married. So I found myself on the streets. I was an athlete. I was Armenia 's champion five times. In the triathlon." Miko receives no pension although he is a third degree invalid. They keep sending him from one place to another, but he can never get the papers he needs, since he is registered in Spitak.
"If you can, help me get admitted to a hospital. I don't feel well. I have pain in my heart," Miko said, visibly short of breath.
When we visited him a second time he was lying on the ground wrapped in old clothes, moaning in pain.
Alga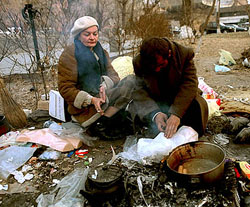 Alga is not homeless. She is a doctor who comes sometimes to visit the people who live here. "As a doctor I can say that these people are all sick and they should all be receiving pensions," Alga said. "These officials only think about lining their own pockets, and they do so at the expense of people like this. I worked as a doctor and know what goes on. They demand numerous papers, and references; they drag out the process in order not to help these people. Why has the number of tubercular patient increased by 17 percent in our country? How many of these homeless people have tuberculosis? Who knows? Who has examined them? I can't walk by these people indifferently. Today I brought a box of chocolates to wish them a Happy New Year. What else can I do? I sit with them, have a glass of wine and relax. Spending time with them makes me feel better," Alga explained.
"You know, most of them are on the verge of death, and it is senseless to blame them. You shouldn't blame them-look how they take care of each other. They cover each other up, give each other water. Don't look for the guilty among them. It's not their fault; it's the state's, the government's fault. I'm Lithuanian, my husband is Armenian, I have lived in Armenia for twenty-five years, and now I'm a grandmother. I'm a cardiologist. My mother lives in Lithuania and receives eighty dollars a months in pension. She told me about it with pride, because the state has appreciated her work."
"Are your children here?" I asked.
No, thank God! They're not here. They live in Palanga. Take a walk around the streets of Yerevan . There are restaurants, saunas, bars, and gas stations at every turn, but Armenia has become a worthless beggar. It begs from every country," Alga said, already feeling the wine.
Photos by Onnik Krikorian