18:38, January 12, 2005
A woman completely covered in soot was dragging two huge bags toward a half-built structure. We approached her. Cursing somebody, she kept dragging her bags full of plastic bottles, bits of paper, scraps of food. Only the whites of her eyes stood out against her soot-blackened skin. She was one of about a dozen homeless people in the vicinity of the Yerevan Railroad Station, Gohar from Sevan.
On January 13, 2005 , Gohar will turn forty-five. Her seventeen-year-old son lives with his grandmother - Gohar's stepmother - in Sevan. Gohar is unemployed, but receives no government allowance. She worked at various jobs for 25 years. But today she is a vagrant, living on the first floor of this partially constructed building.
Gohar got married in 1980. "We used to live in the Erebuni district of Yerevan. My husband died in 1993. I sold our house to move with my son to Russia , where my sister lived. At that time Russian currency was still in circulation in Armenia , but a month later the Armenian dram was introduced and all my money became nothing, and I was left without a penny to bless myself with," Gohar recalled.
She took her son to her stepmother's in Sevan, and began looking for a job in Yerevan . Some time later she realized that she had nowhere to go except the streets. "I barely manage to gather fuel-my legs are weak. People from the bazaar help me; they give me some food and money. There are so many empty dormitories, why can't they let people live in them, even if they charge us for it?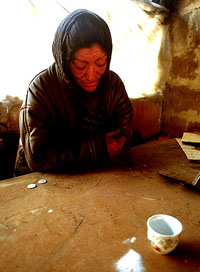 They call me a bum [ bomzh] . People who call me that should understand the meaning of the word first. I'm not a bum, I'm a wanderer. I delve into garbage cans to find some fuel, even food to survive. They live in houses, so they think they're not bums? They're bigger bums."
"Why don't you go and live with your son?" I asked.
"I will go. I can't hold out through the winter here. I will go to stay at least for the winter. But you know what? You have to understand a person correctly. You can't just read one side of the page. It's possible to read both sides, isn't it? I don't have parents-she is a stepmother. I just can't get used to that."
"Maybe you like this life better," I said.
"No. If you lived like this for just one day you wouldn't be able to bear it. I even wonder at myself that I left my home there and live through such suffering and sorrow here. My friends are my dogs. This is my Blacky, he always follows me. And my Ginger is wandering around. They sleep with me and warm me. If they hear a rustle they start barking."
"If you found a job in Sevan, would you stay there?" I asked.
"Sure. My son came a couple of times to take me with him. But how could I go? I would be a burden on them. They can barely take care of themselves. No matter how many times you write about me and take my picture, my situation will not change."
"Gohar, when you are alone what do you think about?"
"My brain doesn't obey me. Thousands of thoughts go through it at the same time. But most of the time I think, I wish I could sleep and never wake up."
Photos by Onnik Krikorian