19:26, January 12, 2005
Vagrants Robert and Gayane are escorting us to show the life of the homeless in Yerevan . Gayane says that in the past week 12 bomzh have died from the frost. Walking on a little further, we can see an old man, Misha, sitting close to a fire lit on the pavement.
Misha is sitting at the bottom of the stairs leading up to the St. Gregory the Illuminator Cathedral. Plastic bottles and papers are strewn all around him. He is spending the night here.
He is from the village of Dzorap near Ashtarak and is 68 years old. He receives 8500 dram as his pension. His disabled son and daughter-in-law live in Dzorap. "I collect money to look after them," he says. "Depending on the day I collect 700, 800,or 1000 drams but it depends."
His two grand children are in the Gavar Children's Home while Misha spends the night on the pavement in front of the "Ayrarat" cinema.
We continue walking along the centre of Yerevan . "How is it that you are on the streets?" I ask Gayane as Robert continues to drink spirit diluted in a 'Jermuk' bottle. He is already drunk.
"My family is difficult," she responds. "It is difficult with them and as I can't live with them, I need to start everything again. I am on the streets and it has become a habit. I am used to life on the streets although I can cultivate the land. I just want somewhere to go to start a new life".
For two years she is on the streets.
Robert gets angry at Gayane again and tells her to go to their shelter. He'll join her later, he says as Gayane obediently leaves. "Wait", shouts Robert. "Take these cigarettes so that you have something to smoke."
Gayane takes a few out of the box which she puts in Robert's pocket before leaving. Then, Robert leads us to one of the new buildings being constructed on Northern Avenue . "A few people live in the basements of this and the next buildings," says Robert. "Now you'll see what life they lead."
As we descend down into the basement it is dark and silent. Following Robert we illuminate our way with a lighter. Robert starts shouting for someone called Gor but there is no answer. However, after a while we turn a corner and in the distance we can see Gor sitting next to a fire.
A dog starts barking but Gor is motionless and indifferent. "Go away. Why are you disturbing me? Let me breathe my oxygen," he says without looking in our direction but by this time we are already next to him and Robert squats next to him and plays with the dog.
Gor ignores Robert's questions and tells him again and again to go away.
"Gor, what was your profession?" I ask.
"Self murderer," he strictly responds while Robert interrupts by asking his own questions.
"I pray that you don't speak," he says to Robert. "Please don't speak. I have run away from this to listen to myself. I hear other voices".
We understand that it was useless to come here with Robert. Gor can't stand him.
"Guys, I am thankful that you came," he says, "but I am not happy that Robert is speaking too much. I don't like people who talk too much. His presence is unpleasant for me. For hours he talks but says nothing. He talks but says nothing."
Gor is a film producer and an actor. He starred in two films (he acted in the film, "Dzori Miro") and has staged tens of performances in different theatres. For nine years, however, he has led the life of a vagrant.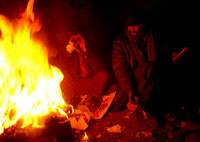 As Robert continues to talking simultaneously as I continue to ask questions to Gor, he reluctantly answers them.
"Eh, you know how tired I am of gravity," he says. "For a long time I haven't been able to sleep. Instead, something like meditation happens. My friends are producers, cameramen, artists and physicists. In one word they are talented crazies. I just don't like it when people start talking. I lose my place, my gravity. I am not saying I am a misanthrope but I don't like people who speak".
Robert's continuing questions made Gor angry and he tries to find a way to get rid of him, "Robert, go and bring me some water, ok? If you do, that will be your way to heaven," he says. However, Robert keeps on talking and Gor, in response, starts whistling.
Robert listens for a few seconds. "Your ghost is on your neck, Gor, it is me, Rubo. I am sitting on your neck like a ghost."
Robert then tries to bite the face of Gor's puppy. Gor gets angry. "Don't bite, idiot, I am tired of this gravity. Shut up. Your talent is your stupidity. Shut up!"
"In this solitude I feel my soul and who I am," says Gor. "Not what I have lived as that's a matter of nostalgia but rather, who I am. The thing is about the establishment of an unestablished person. Not that you must establish yourself or that you are already established but who you are. The thing is about the establishment of an unestablished person. The thing is about the zero moment. Why toileteis marked with two zeros? It is rubbish," Gor thinks loudly.
"Why do you want to live alone and not hear people?" I ask.
"Because they don't say anything. What shall I listen to? What can I listen to?
"Gor do you have a family?
"You know, there are things that can't fill a mental peace. The child is not filling either. You come to this world and you must have two to three kids but the child is not completing you, he is he. My son is my son, he is he. My wife is my wife, she is she."
Gor also took part during the war in Karabagh war and is registered disabled of the second group but during this conversation Robert asks "Gor, don't you now love me?"
"Listen, idiot," he answers. "When I hate myself how I can love you?"
"Feel sorry for me. " he says, unable to bear Roberts questions any longer. "Hey, can't I live even in this hell? Shall I go and live in a caravan? No question has either an answer or solution".
As it is impossible to talk in Robert's presence any longer we say goodbye to Gor and Robert takes us elsewhere but in the rugs there was no one. At four o'clock , and with great difficulty, we leave Robert although he didn't want us to go.
I want loneliness
The second time we visited Gor he left his shelter to buy candles and en route to the local shop, maestro Loris Tjeknavorian was walking the other way. Upon seeing each other, Gor and the maestro let out an exclamation and hugged each other. As it turned out, they have known each other for many years.
After Gor bought his candles we went down to Gor's shelter. This time, no one else was there to disturb our conversation.
"For how many years have you been living outside?" I ask Gor.
"I am not outside. I am inside. This is not the outside. It is possible to be in a five star hotel and be outside but this is not the outside. I am not alone. I am with my dog, my candles and my thoughts."
Relatives are constantly calling him home but he doesn't want to go. Gor has three booklets of poems and even here he continues to write. From time to time during our conversation I ask him to recite some poetry and he does so with great pleasure.
...
The day when our king ripped the cross from the sword,
All our days became a retreat.
During the retreat we didn't get Manana but stone,
We gathered all there was.
We gathered so much that we became a spot
On the pile of stones we gathered.
We had our backs together but were never a support.
It seemed to us that the space is always beating like a heart.
Turned out the further you go the bigger it gets so we tried to go further.
We got smaller, paradox of mistakes.
Some medicine is needed for our big nose.
From whatever point of view we consider we became a crowd.
Whose house shall we demolish to put up a cross, my King?
No place to retreat,
A handful of land is needed
For god's son.
...
"What do you want from life?" I ask Gor. "You'll exhaust yourself like this. You already feel bad and you are ill."
"I don't want anything from life," he responds. "Life wants something from me. I have nothing to be afraid of. I wasn't afraid even in the trenches. I was in Karabagh with the "Artsiv-2", "Artsiv-4", "Sasna tsrer" groups.
"You took part in war? Maybe war is the reason that you are on the streets?"
"No," he retorts before continuing. "One of my friends asked me if I am on bad terms with my wife. I laugh at people when they can think only to that extent. In reality this is not my tragedy, this is a large, national tragedy. Do you understand? I am glad that I am here but what about those who are in Los Angeles , are they not unhappy? Or let's say in Lyon ."
...
I wish there were a warm sun to eat this boring suddenness,
My conscience would have forgiven me and I could go home relaxed
And with hand and fingers of wind
Let the golden tree bow.
My lonely, why did you make me mourn?
...
"Ok, Gor, if you are saying that this is the right way to live, what shall we do? Shall we come here too?"
"It is not the right way to live. Maybe this is a hotel," laughs Gor. "It depends on your psychology. I want loneliness. Now I am talking to you. Someone else wouldn't have stayed more than a minute. I kick them out. I take my bottles, a piece of bead, come here and lie for twenty hours. I am not lazy. The state can provide me with a pension but I am not taking it. For ten years I received it but now I don't want it. I tell them to give it to someone who can't live. I collect bottles, dry bread. Five kilos of bread is 250 dram. The bottles I collect are worth money. Every night the residents of the building put them somewhere near. They put out bread and clothes. Sometimes they give money although I try not to take it. I am even offered work but I don't want it. I don't need anything. I don't have friends and I can't even stand the vagrants (homeless). They have nothing to say and I have nothing in common with them. I don't sleep with my clothes on. I take them off otherwise I'll freeze. Now my closest friend is this dog and I won't lose him. Before I had two -- Hamlet and Ophelia -- but they married and left. I won't lose this one. It was paralyzed as a puppy and left somewhere. It couldn't walk. I took it to a veterinary surgeon and after treatment, it recovered slowly".
...
The bread blossomed.
Bone smelled of knife, man, shut the door.
Recollections heavier than metal,
Put in the suitcases so light shines on them,
And like a chess soldier walk always towards the kingdom.
...
"The misfortune of people is that they say "akh" only when you press the place that hurts. That 'akh' is needed when everything is ok but that is also relative. Einstein has nothing to do here with his theory of relativity. The thing is that only in loneliness can you feel the whole material space and what is happening in general but before that it should have been in you. Otherwise I shouldn't make it up, you must have your own potential to form a conclusion. It means you must know around 40% so the remaining 4-5% to find on your own".
"How do you start your day, Gor?"
"I start my day with blessing, thanking the Lord and whoever will be the lord. Juda, Krishna or Jesus, it doesn't matter, I thank the Lord.
...
My back is itching,
My hand can't reach,
I am rubbing it against the wall,
The wall says - animal!
...
"May be you have a complex of a not established person? Last time you said something but maybe I misunderstood you." I say to Gor.
"No, what are you saying? The human being never gets established but there are people who understand their unestablished state. One can have millons, live in villas but not understand its "unestablishedness." But man exists. There are people who feel that they are unestablished but also feel that they can establish. Because of certain circumstances they didn't get established. The circumstances are not social. There are issues of time there. You know what is offensive? Humans always blame circumstances, time, accident but it is not so. If you want to get established you will succeed but if you don't want to get established you won't. What is needed to get established? Concretely, why am I here? To acknowledge your own sins is very little. To correct oneself? That is also nothing. Sevak was right to say "while correcting each mistake unconsciously we make new ones." It is not pleasant to live here, of course, it is unagreeable to live here".
48 year old Gor spends summers in the Hrazdan gorge on the banks of the Hrazdan river.
"How are you going to spend the New Year?"
"I'll have a New Year tree and will be with my dog. He likes it when I stroke his head so I'll stroke his head."
"How much do you drink?
"One bottle a day. I feel the cold from the frost so I drink half a glass which keeps me warm for one hour. During the day I don't drink at all. I only drink at night."
Gor has four children and two grandchildren. The eldest is in the Gavar theatre and the second eldest is at the Engineering University . His daughter is in the 10th form while his youngest son is in the 8th form.
"You know values are not in conditions but in spiritual aspect. For exactly one year and two days I haven't seen my family. Why I don't see them? It is not difficult to do so -- they are only half an hour away. I just don't want to see them. I miss my children but I don't want to see them. Don't take it that in a bad sense. I don't want to see anyone. My biggest friend is silence".
Gor is different from all the other bomzh in Yerevan . He lives however he wants to live.
Photos by Onnik Krikorian