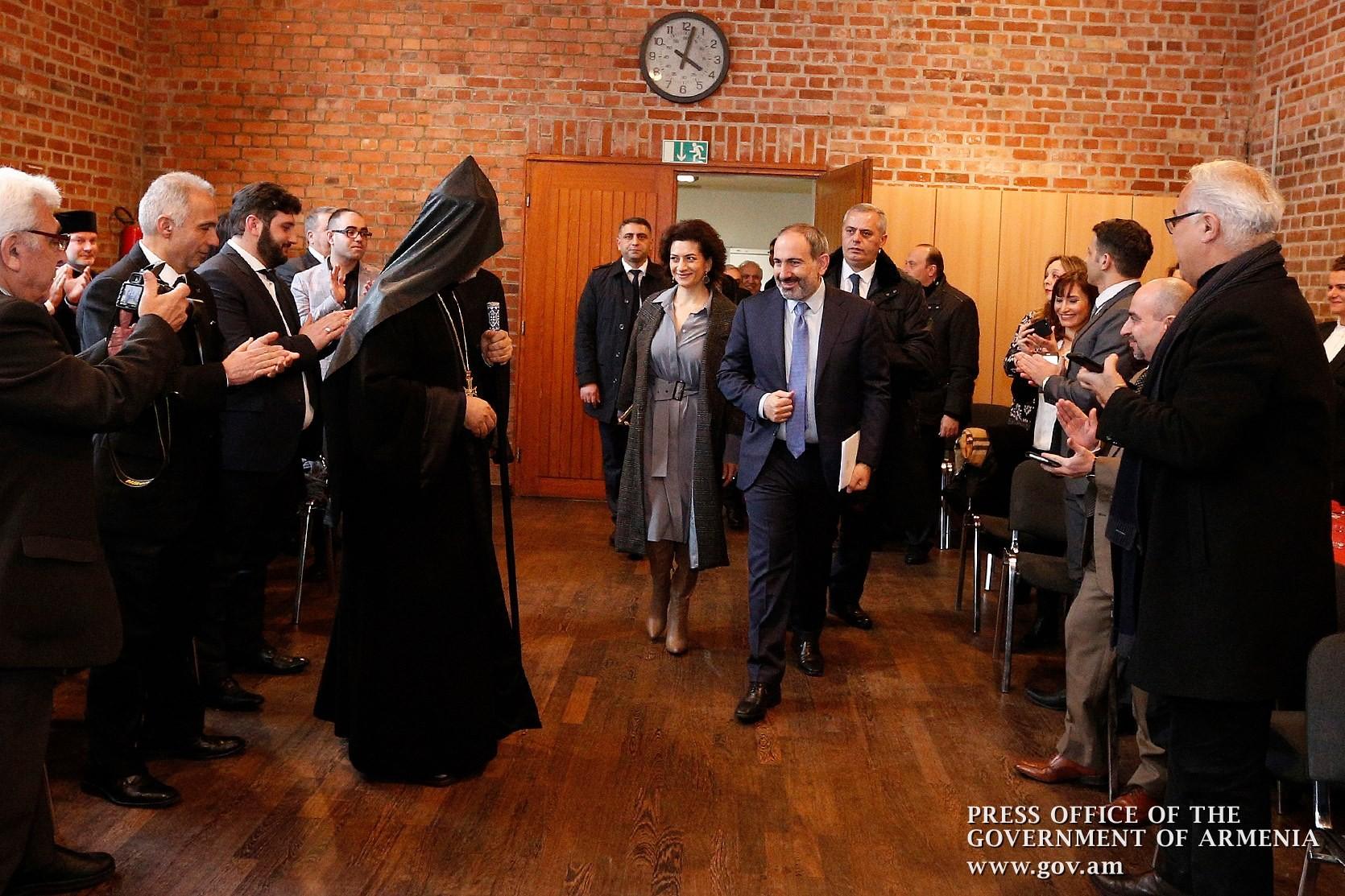 Pashinyan Meets With German-Armenian Community Members: Says Armenia Will Have a Diaspora Ambassador
Armenian Prime Minister Nikol Pashinyan today met with Armenian community representatives and members of local community organizations at the Diocese of the Armenian Apostolic Church in Cologne.
Here are excerpts of Pashinyan's speech as released by the Armenian government.
Your Grace, Reverend Father,
Distinguished representatives of German-Armenian community organizations,
Dear Compatriots,
It is a great honor for me to be in the Prelacy of the Diocese of the Armenian Apostolic Church in Germany. In essence, we can say that Cologne is the capital of the Armenians of Germany, and it was not accidental that we started the official visit here.
It is a great pleasure for me to have such a meeting today, and I want to dwell on those major changes that have taken place in Armenia, around Armenia and in the world.
The Republic of Armenia has become more visible and more audible for the civilized world after the well-known changes. This is the reality, in fact. I sometimes face an inconvenient situation when representatives of different powerful civilized countries in the world tell us straight away during discussions and contacts that they have much to learn from us.
This is quite a strange situation, and frankly speaking, sometimes I cannot find the correct answer as I feel somewhat embarrassed. However, when one, two, three or four such phrases are repeated, I think we should not hesitate to record it. Yes, we have problems in many areas, but there is a sphere in which we are truly considered a leader in the world today. I mean the building of a society free of violence without resorting to violence. For this very reason, we can say yes, we are a country of great importance in the world.
Making political changes and keeping public life safe from violence are a serious challenge, and today the world acknowledges that we have achieved great success in that field.
I want to emphasize that this is not an occasion for boasting: I just wish to record the situation so that each of us, and we as a team could feel greater confidence in building our future, our homeland and our state
Today we can state that we are at least on the path to joining civilized nations to the family or are already among them. As Paruyr Sevak correctly put it once, and we are true to this formula: we do not put ourselves above anyone. However, we should understand what we have, what we say and do in the modern world. These tasks are positive, they are endowed with universal logic, and they are interesting to the world and civilization.
This is a very important statement: I do believe that what happened in Armenia could not have happened through the efforts of a single group, person or party. This is the result of our nationwide efforts. In April-May, we demonstrated an unprecedented example of national cooperation, and, in fact, every Armenian contributed to the transformations that took place in Armenia.
Prime Minister Nikol Pashinyan next answered a few questions about the process of peace talks on the Artsakh conflict, the structural changes related to the Ministry of Diaspora, Armenia's energy security, the activities of the Armenian community in Germany, etc.
Concerning the settlement of the Nagorno-Karabakh conflict, Prime Minister Pashinyan said: "I have stated several times in the National Assembly that I wonder why many are asking us whether we are ready for compromise or not. We are not the primary respondent of this question. Why does mot anyone ask Azerbaijan if they wish a compromise? And as a result, I have repeatedly stated publicly that we will not answer this question until Azerbaijan has responded."
Answering a question about the Diaspora Ministry, Nikol Pashinyan said: "The Staff of the Prime Minister of the Republic of Armenia will have an ambassador with special missions for the Diaspora. Our vision is that the functions of the Ministry of the Diaspora should be redistributed. The ambassador will be responsible for issues related to the Diaspora. He or she will suggest solutions and will have them implemented with the Prime Minister's assistance. As a result, we have decided to redistribute the functions of the Ministry of Diaspora among other line ministries.
Read MORE