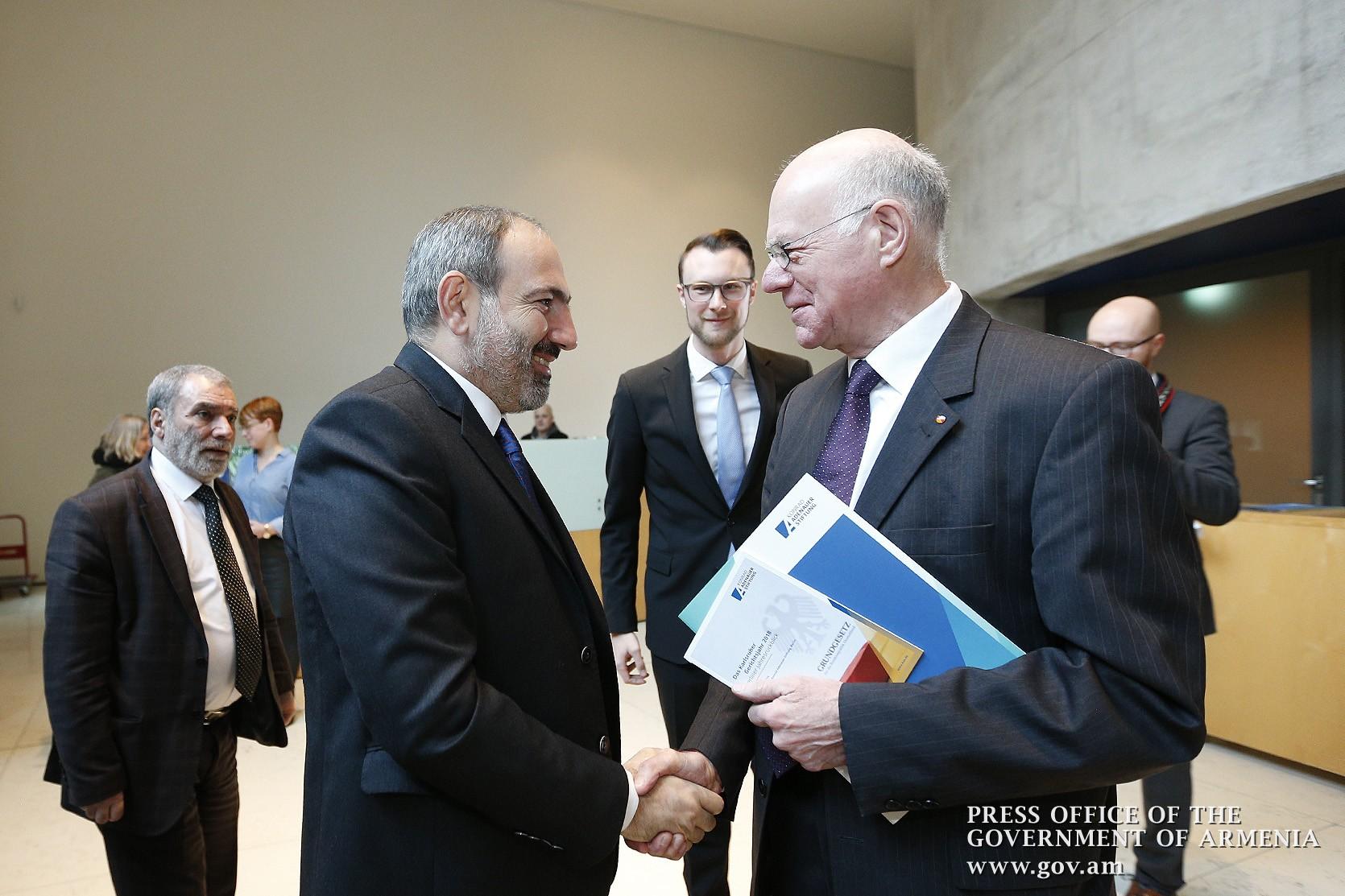 Pashinyan Travels to Germany; Declares "Democracy No Longer Endangered in Armenia"
Armenian Prime Minister Nikol Pashinyan touched down in Berlin yesterday to start an official trip to Germany. Pashinyan is scheduled to meet with top German government officials today.
Pashinyan first visited the Konrad Adenauer Foundation in Germany, where he was welcomed by President of the Foundation Norbert Lammert. Representatives from the German Bundestag, German Chancellor's Staff, German political and public circles were in attendance.

The Armenian government has published the following transcript of Pashinyan's speech at the Foundation.
Dear Professor Lammert,
Distinguished Bundestag Members,
Dear Guests,
I am glad to be hosted today by the leading German political foundation within the framework of my first official visit to your country.
Principles of freedom, justice and solidarity have been placed at the core of the activities of the Konrad Adenauer Stiftung, and I am honored to be speaking here, viewing this somehow as a symbolic and momentous event.
It is symbolic because, today's Armenia, like Germany seven decades ago, is experiencing a democratic reconstruction. It is symbolic because the velvet revolution, which took place in Armenia last year, was built on the ideas and principles promoted by the Foundation.
Last year historic changes happened in Armenia. We restored democracy which has been abused and distorted since the times when we rose in a nation-wide popular movement against the communist regime. Today, I am proud to declare that democracy is no longer endangered in Armenia.
The logical pinnacle of these positive developments was the snap parliamentary elections held in last December. They were assessed by the international observation missions as consistent with international standards, and hailed as democratic, free, fair and transparent.
As a matter of fact, they were the only uncontested elections ever conducted in Armenia since the elections held in 1991 - just on the eve of the collapse of the Soviet Union.

The recent elections reinforced our achievements and proved that our people do not see any alternative to democracy. Political forces representing new Armenia won a landslide victory. The forces representing the former elite were overwhelmingly rejected.
The Armenian voter denied those, whose names were associated with corruption, restrictions in exercising fundamental freedoms, poor governance, economic inefficiency and stagnation. Instead, they casted their ballot for a deep transformation, and a society based on the rule of law and an accountable governance. In recognition of our democratic achievements, the "The Economist" declared Armenia as the country of the year.
Read MORE