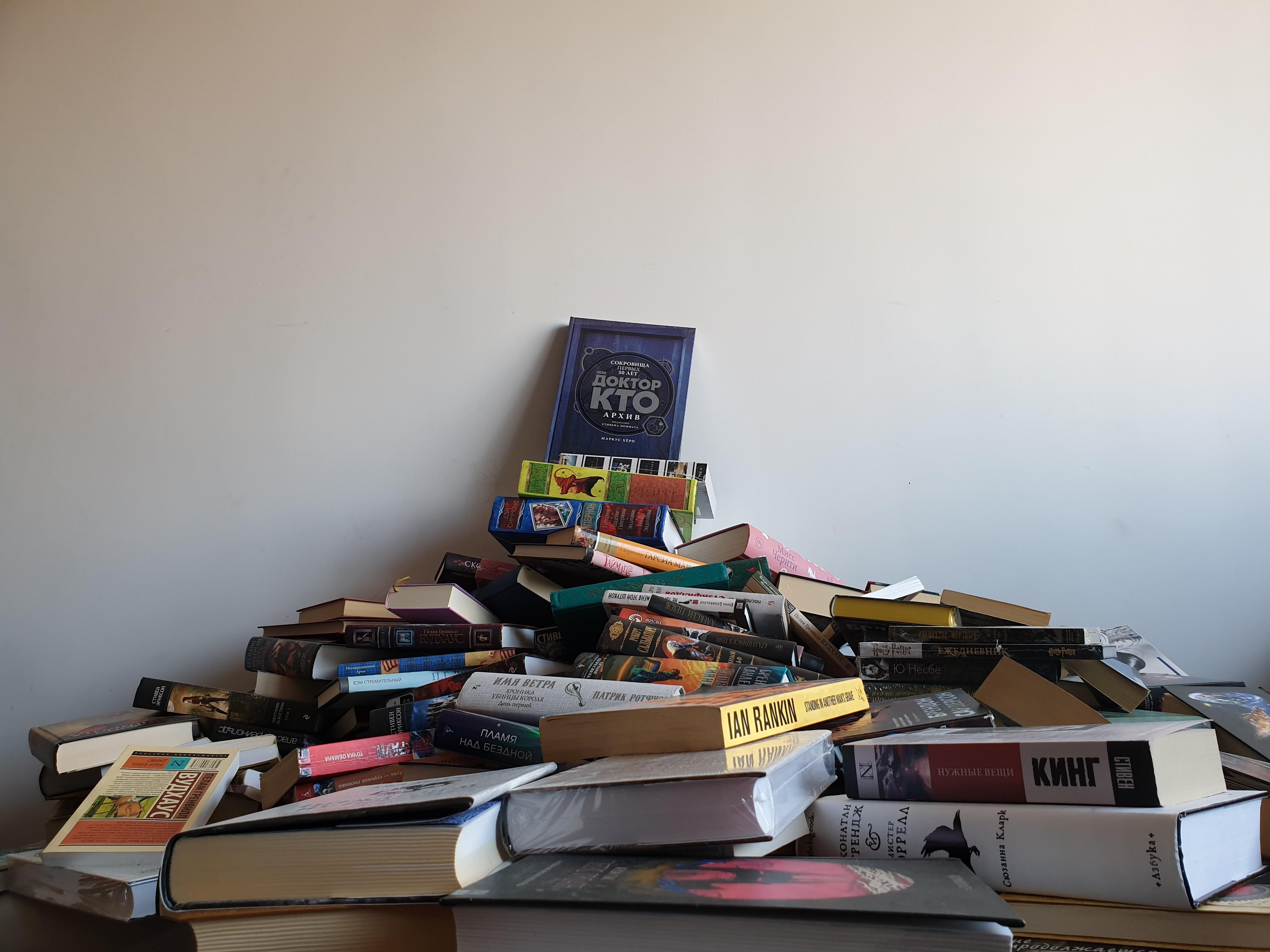 Readers of Armenia: How 3 People Contribute to Armenia's Book Community
By Anahid Akkam
Reading for Armenians is such an admired past-time activity that we have a well-known saying that goes "A book thief is not a thief."
Most people take up reading at a younger age because instilling this in children is an essential part of their upbringing. But, in the age of fast-growing technology and constant hustle, it's possible that people think that reading isn't as popular as it used to be.
Proving them wrong is Khachik Vardanyan, director of Yerevan's Bookinist store, who says book sales have increased in the recent years. The numbers get even higher when they organize "book nights" when all books are discounted 30% and the store stays open till midnight. Although it's still debatable whether people read more or less nowadays, the fact that our generation is using new approaches and methods to have more engagement with reading is undeniable.
Astghik Araratyan: The silver-haired girl behind the book blog @ast_dw
Astghik Araratyan, a 21-year old Armenian book blogger who has read over 250 novels, had never thought that reading could become a full-time interest. For her, books were always associated with school and homework and she perceived reading as a responsibility rather than a hobby. Astghik changed her mind when she was given a book at 8th grade that left quite an impression on her.
"The book I received as a gift wasn't a famous best-seller or anything of the sort, but it made me understand that reading is not mandatory school work. That book became the reason I fell in love with reading."
Flipping one page after the other, Astghik soon immersed herself in the world of books. Discovering more and more authors, she embarked her journey on exploring literary genres, with fantasy, science fiction, and detective books becoming her favorites. Authors like Jerome K. Jerome, Alastair Reynolds, Terry Pratchett, and Agatha Christie were the ones she preferred to read, but was open to exploring more.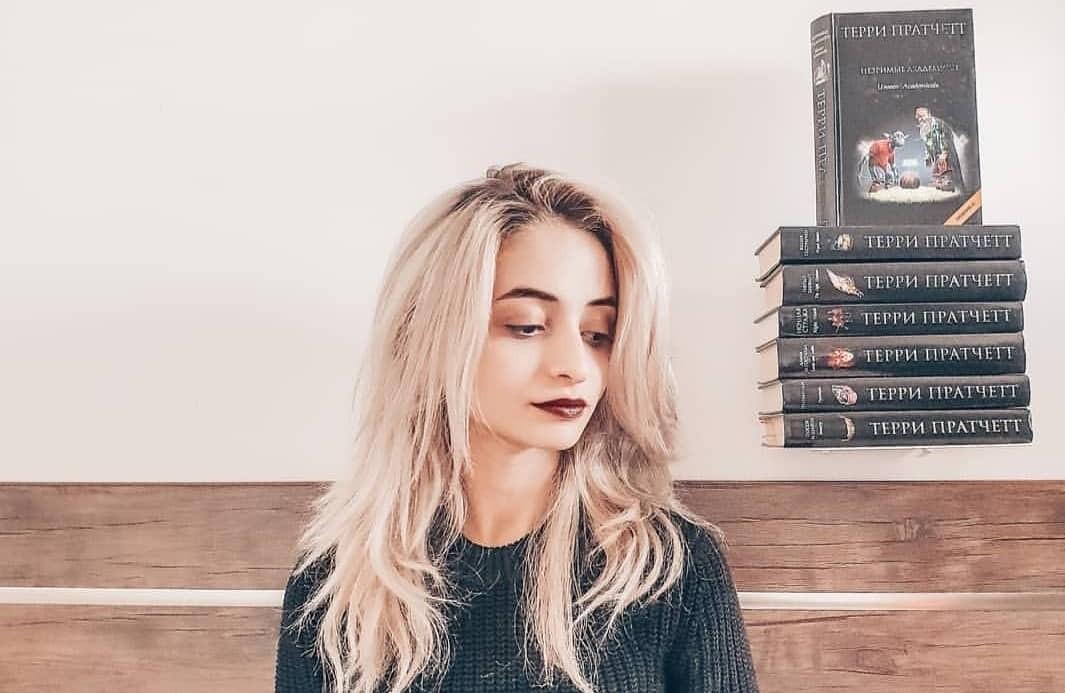 "Three Men in a Boat by Jerome K. Jerome is my all-time favorite. It's the book that will make me laugh out loud every single time I read it, even if I end up reading it a million times. Usually, I avoid novels that revolve around war or love stories, I find them dull and cheesy."
Astghik decided to start amateur blogging on Instagram in 10th grade and quickly gained a following of 6000 people.
"The reason why I started it was I wanted to know what books to read. I'd go to bookstores all the time and the abundance of book reviews didn't exactly help me figure out what to read. It was hard to find someone who understood my taste in books to tell me what to read and what to avoid, so I decided to become that person for others."
Due to high school graduation, entrance exams, and the hardships of studying at law school, Astghik stopped blogging for some period of time, but didn't exactly abandon her hobby. She took up a new interest, social media marketing, and combined it with her love for books and restarted book blogging under the username @ast_dw. This time around, she had a bunch of ideas that made her Instagram book blog stand out. She wrote book reviews in Russian since most of the Armenian youth reads in that language.
"Not only did I write book reviews, but I also started telling stories visually. For example, if I were reviewing a horror story, the pictures posted would have scary illustrations in darker tones. I present it in a way as if I'm a character of the book I'm reviewing. This is one of the simplest ways I get people to read my reviews because Instagram heavily relies on visuals."
Upon regaining a follower of readers, Astghik decided to launch a science fiction reading marathon that would last around 10 days. Each evening, she would announce a sci-fi short story that participants had to read and finish by the next day and then publish a review. She decided to do it with short stories because she'd be able to cover a larger amount of literature in a short period of time. At the end of the marathon, participants vote which short story they found the best and which author they liked the most.
"The sci-fi short story marathon was very successful. 700 people were following, and 400 people participated. Because this became very popular from the first try, I decided to launch a second marathon, this time with horror short stories. This will also include gift bags filled with bookmarks, stickers, and similar small presents for the most active participants. I'm going to have these marathons once a month. I also started selling book boxes on my platform with certain themes. For example, if someone orders a one of Bradbury's Fahrenheit 451, the book box will include details like matches, lighters, candles, and every other thing related to the book and the characters. The more engaging my blog becomes, the more people will become involved with reading."
Whenever she hears the phrase "People don't read as much as they used to", Astghik strongly speaks against it. She says if anything, people now read more than the previous generation.
"The amount of people reading hasn't decreased, the means of reading has. Books don't come only in paper form nowadays; any device can be used for reading. Other than that, we now have movie and TV show adaptations of books which prompts people to read and compare the two. If anything could stop someone from reading, it's the lack of time. Everyone is in a hurry. If there's a movie adaptation, they watch it instead of reading it."
Astghik doesn't believe that there are people who do not like reading, she's convinced that they simply haven't found the right book for them.
Shaghig Agulian: Founder of Tsundoku book club
Born in Aleppo, Syria, 30-year old Shaghig Aguilian has been living in Armenia since 2004. She started reading at an older age and regrets not having started earlier, but says better late than never. She found herself in a new circle of friends who were discussing different books and authors and decided to read one of their suggestions and see for herself why they were so obsessed with it. That marked the beginning of her book adventures.
"The book that got me into reading was The Hitchhiker's Guide to the Galaxy by Douglas Adams."
As much as she enjoys reading, Shaghig says it's not a stable activity for her. Sometimes, she can go months without reading because she's unable to concentrate, other times she can't put a book down. Because reading developed much later for her, she says she has enjoyed almost every book she has read. She started with the classics and soon discovered that fiction is what she prefers, more specifically sci-fi. Haruki Murakami's works are among her favorites. After a while, she had an idea.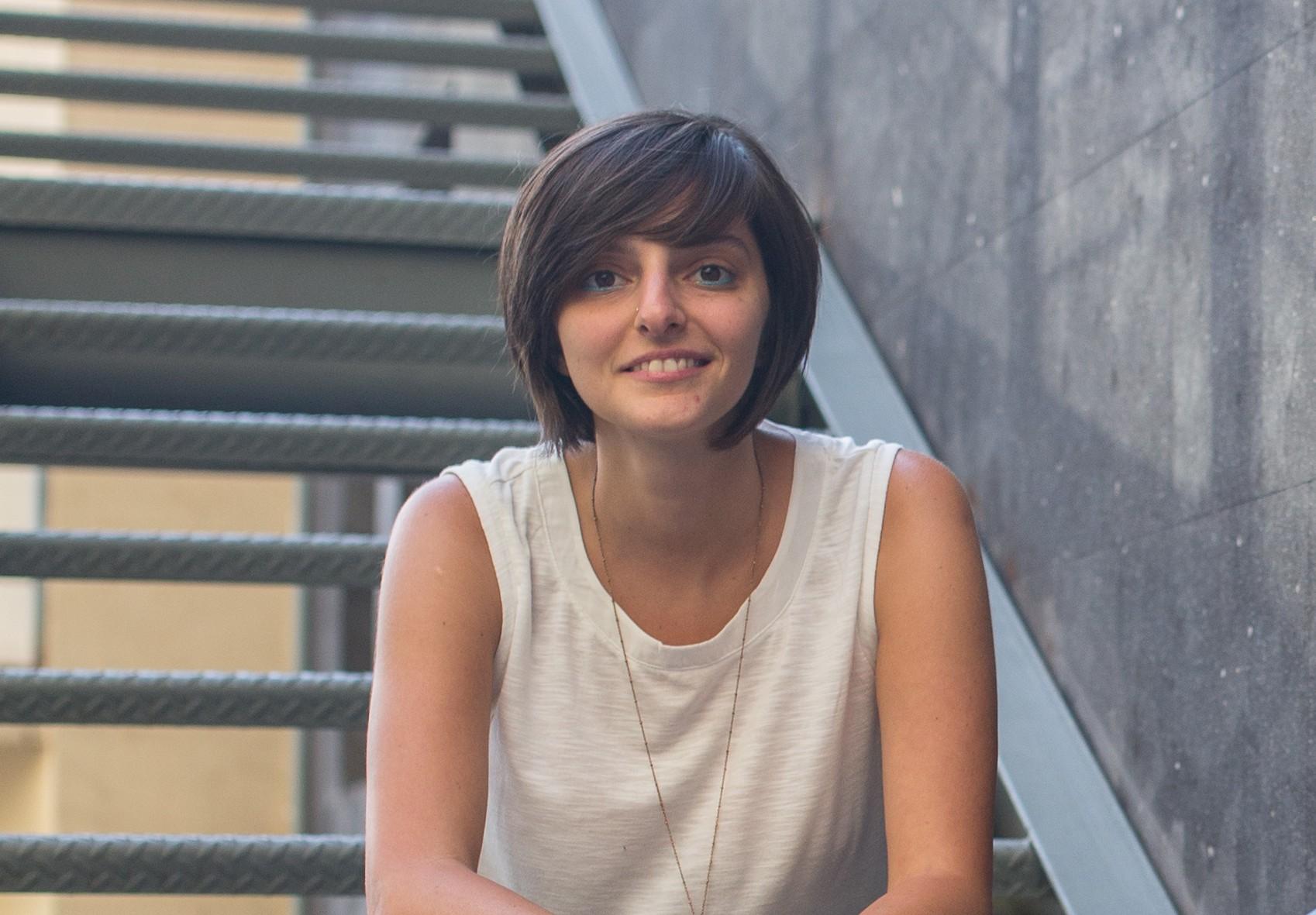 "I had always wanted to be a part of a group where we could have discussions on an intellectual level. I didn't want to rely on someone else starting a book club so I can be a part of it. I didn't want to have to look for one to join. I talked about starting one with my friend and he thought it was a wonderful idea. The next day, I posted it on Facebook and decided to organize it myself. The first meeting had 15 members."
The book club meetings take place once a month or once every 40 days. They named it "Tsundoku", which is Japanese for the state of buying books, but never reading them. To make it fair for all, Shaghig gives everyone the opportunity to pick a book. In the beginning, she would have everyone's name written on small pieces of paper and pick on a random basis. Later, when she had regular attendees, she would see who hadn't picked a book in a while and would give them another chance to pick one.
Tsundoku book club is very diverse; there are students, adults, Armenians, non-Armenians, there are newcomers all the time along with the regular members. The number of attendees is never stable. Although the book club is open to everyone on Facebook to join, Shaghig usually does a "face control" whenever someone looks suspicious. The group discussions are informal and everyone gets to vote where they're meeting.
"In the beginning, I would prepare or find questions online regarding the books to start the discussion, and then everything else would occur naturally. We usually have certain themes in mind to discuss and we usually take an idea from the book and talk about it. Sometimes, we have a very quick discussion about the plot and then move on to very specific details or excerpts we find interesting. When you're having a face-to-face discussion and you disagree with certain ideas, your reaction would be a lot more different when you're sitting behind your computer and typing it. We don't always have unanimous ideas. Sometimes, they're routine, sometimes spontaneous, but it's always a healthy discussion."
Tsundoku is more than a book club, it's also a place to network and meet people of different ages from different fields. Shaghig says it's a place where you get out of your comfort zone. When you're surrounded by different people, you're more prone to be exposed to new things. Everyone has their own preferences, but at Tsundoku, you get to read other people's choices. When it comes to whether people read less now, Shaghig agrees to an extent. She herself has read around 80 books.
"I do agree when people say there are fewer readers now, but I do see the new generation starting a movement. People now read more than they did 20 years ago, I can see they have it in them. But I do understand that buying books in Armenia can be difficult. First of all, books in Armenia are expensive. Second, we have a problem with accessibility. Certain books may not have Armenian translations, or that book isn't sold in Armenia and you have to order it online which is a hassle."
Shaghig advises parents to teach their children to love books and not take the easy path. If there's a book, read it instead of watching the movie. She encourages everyone to indulge themselves in literature at a younger age so the love towards books is preserved as they grow older.
"It's only by having discussions with others that we expand our horizon."
Ashot Stepanyan: Co-creator and co-host of #BookChallenge
For 24-year old Ashot Stepanyan, reading used to be a complicated activity. Having studied management at university, he found that the vocational books were too dry and dull, and reading was overall dreary. It was only when he had to serve in the army that he started reading.
"There wasn't much to do there. I started writing, which soon turned into reading. I wrote about my daily routine and activities: the good, the bad and the ugly. It was like a diary, but it was more descriptive in its literary sense than a regular journal. I eventually burnt my writings."
Reading Franz Kafka's, Gabriel García Márquez's, Friedrich Nietzsche's, Herman Hesse's, and Fyodor Dostoevsky's works, Ashot came to understand what he liked: he enjoyed reading long descriptive paragraphs and existentialist books. He ended up reading over 250 books and realized he wanted to do something that involved books.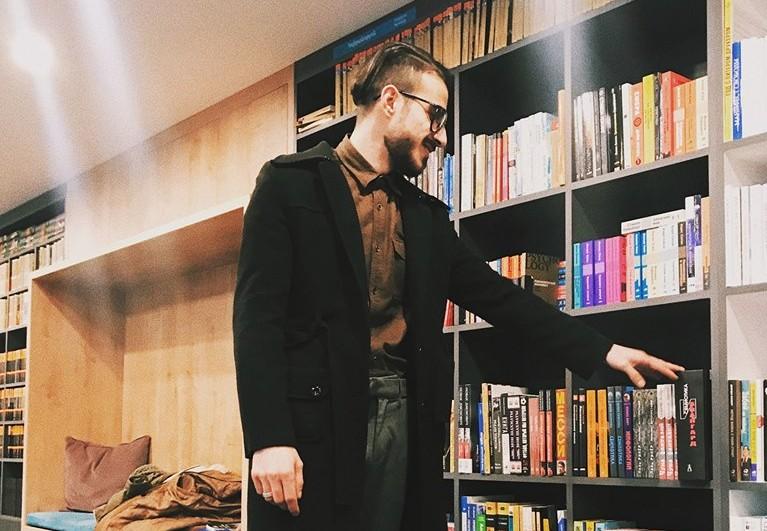 "My friend, Lukash Medoyan, is not exactly a bookworm, he doesn't read at all, we're complete opposites. We were pitching ideas and the book challenge program was one of the last things I wanted to bring up, but I automatically started talking about it, and it got selected."
The two friends started writing the script in October 2018. Ashot says it took a while to get it right because if they had decided to only sit down and talk about their opinions on the show, it would have been just another banal TV show. They didn't want to talk just about the plot, they wanted to see what they learned from it, what their first impression was and it ended up changing. They wanted to provide a critical review of the book.
"We thought about who would be our guests and which books we'd talk about. Our first guest picked Khaled Hosseini's The Kite Runner. What happens on #BookChallenge is the guest challenges 3 people to read a book of his choice, and one of those 3 become the next guest and challenge 3 others and so on. Lukash and I see whether Armenians have read that book and why they should or should not read it. The thing is I read the books from cover to cover, and Lukash either reads summaries or only a few pages. We get 2 contradicting opinions, and it gives color to the show. #BookChallenge is set to air in about a month"
Ashot believes that Armenians are starting to read more and are trying to make it more accessible to buy books. People now have Facebook groups where they can exchange, sell and buy books for very little money. He believes that bookstores like Zangak and Bookinist are successfully maintaining and increasing people's interest in reading, but he also emphasizes that books cost a lot, which can be a problem for many. Ashot also says that accessibility is an issue not only in Armenia, but in Nagorno-Karabakh as well. His friends and acquaintances there often have to get someone to send them books, which is an inconvenience for all parties involved. Ashot also partially blames the education system for making people not read.
"I didn't read at school. The reason why most students don't read is that most teachers tell students to learn everything by heart instead of analyzing them. I would read Charents's works but I wouldn't understand anything. I have only just begun doing so. Cramming students with information using this method is wrong, which is why they associate books with homework. But to those who don't read, even the most boring book can teach you something. All you have to do is start. The only way you can fully educate a person is through a book, and I hope to encourage more people to read."
Anahid Akkam is an Armenian writer born and raised in the UAE. After moving to Armenia in 2008, she found joy in reading which soon turned into writing. She is currently studying English and Journalism at Yerevan State University of Languages and Social Sciences.