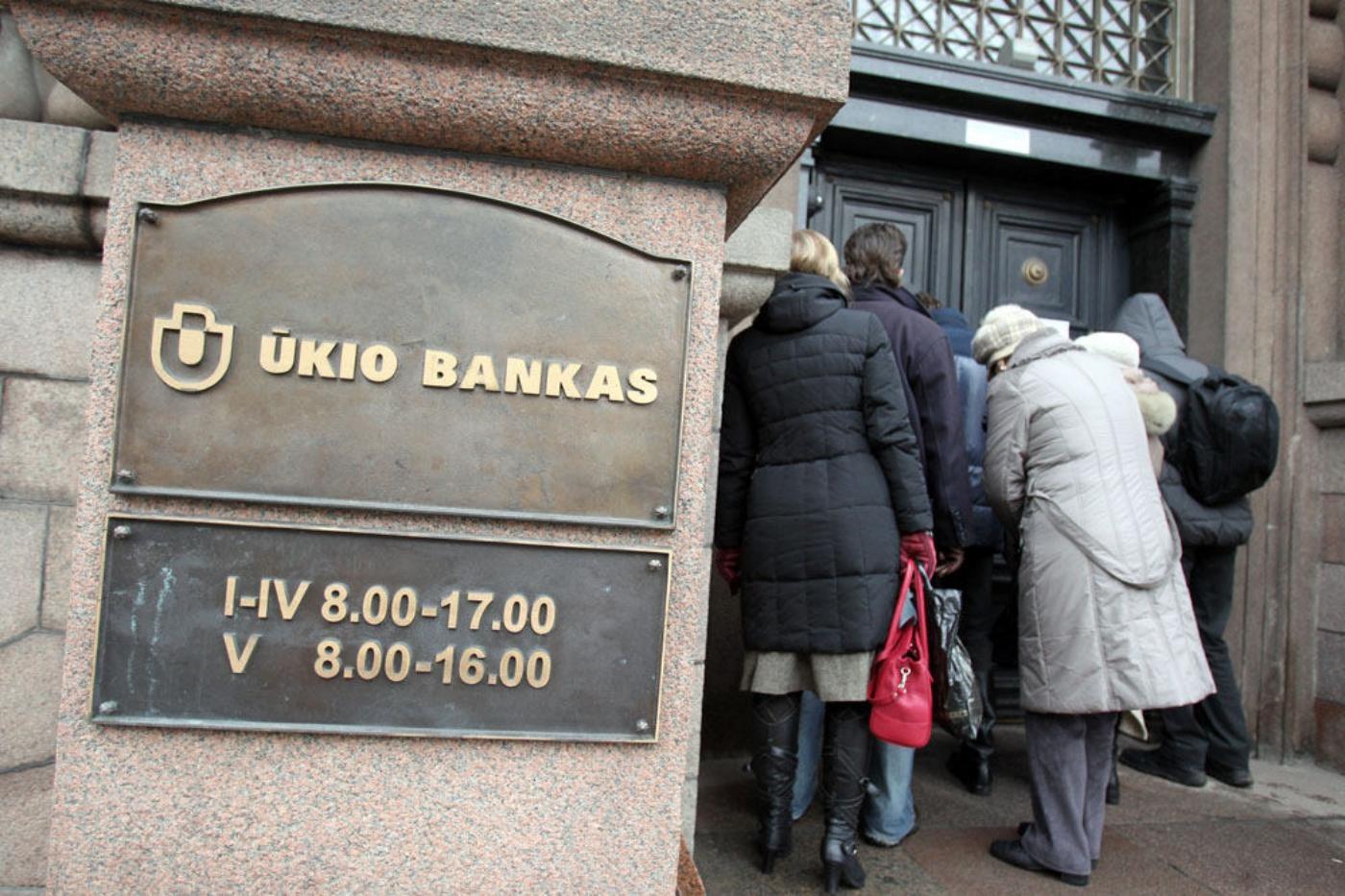 The Troika Laundromat's Friendly EU Banker
Most money laundering is done through a bank. The more lax the institution, the easier the process.
Troika Dialog was the Russian investment bank that set up and ran the Troika Laundromat, a massive offshore network used by oligarchs, business tycoons, and criminals in part to evade taxes and move money out of Russia, as well as to launder illicit funds.
But the bank and its clients operated in a country that is heavily scrutinized by both regulators and Western banking partners. For the Laundromat to succeed, its operators needed a foreign bank that would allow proxies to sign up for accounts and wouldn't ask a lot of questions. They needed a bank whose compliance department would allow tens of thousands of highly suspicious transactions that made no business sense.
Enter Ukio Bankas
Starting in 2006, Troika set up at least 75 companies in the British Virgin Islands, Panama, and other offshore jurisdictions through an Irish offshore registration agent. Of these, at least 35 (and likely more) are known to have opened bank accounts at Ukio, which was based in Kaunas, Lithuania's second-largest city.
These accounts were then used to conduct the Laundromat's financial activities. Typically, money would be wired into the offshore account of a shell company, split into smaller amounts and transferred to other shell companies under the guise of non-existent trade deals.
Bogus paperwork supported it all. For example, transaction documents from Quantus Division Ltd., one of the core Laundromat companies, variously describes the firm as trading "food goods," "furniture," "vent grilles," "polished goods," "lighting goods," "metal goods," and just plain "goods."
After being changed into euros, the money could then enter the European banking system through Ukio's correspondent accounts at Raiffeissen Bank International in Austria, Commerzbank in Germany, and other Western lenders.
The Lithuanian bank served as a key cog in the Laundromat from the scheme's start until the Bank of Lithuania shut it in 2013 for what regulators said were risky lending practices, poor quality assets, and noncompliance with regulations. They would later accuse its owner, Vladimir Romanov, of looting his own bank's accounts.
In a written response to OCCRP and 15min.lt, Romanov said that the money laundering allegations are nothing but "a myth" and accused journalists of taking part of a foreign plot against Lithuania. He accused the Lithuanian state of stealing his bank and using money laundering allegations to justify it.
"They simply robbed the only bank that was capable of earning money and investing it in Lithuania's economy, culture and sports," Romanov said in a written statement.
From Russia to Lithuania
Romanov, 71, is a charismatic Russian businessman who — in addition to leading Ukio — owned several sports teams and ran a political party in his adopted homeland before running afoul of regulators. After being accused of stealing money from Ukio, he fled Lithuania and has been hiding in Russia since 2014, claiming to have lost his fortune.
Romanov opened Ukio in Kaunas in 1989, making it one of the country's oldest commercial banks. His move into banking proved successful, and by the time it was shut down, Ukio had become the country's fifth largest lender.
Romanov combined his assets into a global conglomerate called Ukio Banko Investicine Grupe (UBIG), which started in Lithuania but soon branched out to several other countries in the region.
In 2011, less than two years before Ukio's collapse, Romanov was reportedlyLithuania's 21st richest person. His net worth was estimated at 165 million lita ($67.6 million).
The Dancing Banker
While still in Lithuania, Romanov cut a colorful image in his adopted home country, showing a penchant for winning in dramatic — if sometimes questionable — style.
In 2007, by then already a wealthy businessman, he appeared on the Lithuanian TV show "Dancing With the Stars." His skills on the dance floor didn't impress critics, but he managed to win by capturing the vast majority of votes from mobile phone text messages. Arunas Valinskas, a politician and one of Lithuania's most famous television hosts, referred to Romanov as "Buratino" — the Russian version of Pinocchio — suggesting fakery and dishonesty.
Romanov seemed to embrace the title: "Learn from me, Buratino," he boasted in 2010.
Nothing inspired or angered Lithuanians more than Romanov's tenure as the owner of some of the country's most prominent sports clubs.
In 2009, he bought the Kaunas-based Basketball Club Zalgiris, Lithuania's most decorated sports team and a major source of national pride. Romanov swooped in and purchased the nearly bankrupt club, to the joy of Lithuanian fans. Then just as the team's fortunes began looking up, he started to interfere.
He regularly fired staff and even axed the head coach during a 2010 championship series, a move that outraged fans. It was even reported that Romanov passed notes to the coaching staff dictating the exact number of minutes each player should spend on the court.
Romanov was just as flamboyant with his other sports investments. He became heavily involved in Lithuanian football as the owner of FBK Kaunas, one of the country's strongest teams. Heart of Midlothian, one of Scotland's strongest clubs, began wearing the Ukio Bankas logo in 2005 after Romanov invested in that team as well. Almost immediately afterward, manager George Burley left the club, reportedly at Romanov's behest. Two more senior executives left the team in the next 10 days, and Roman Romanov, the banker's son, became the club's new chairman.
Ever the showman, the elder Romanov countered the resulting bad press and what he called an "organized campaign of lies" by swimming across the famous Loch Ness in 2011.
Shortly after, the banker officially became a politician by establishing what he called the Lithuanian People's Party. He led its candidate list in the 2012 parliamentary elections; the party's other candidates included several former and current basketball players, some of them from Romanov's BC Zalgiris. Celebrity athletes were not enough, however, and the People's Party came last in the election, one of the worst political performances in Lithuania in a decade.