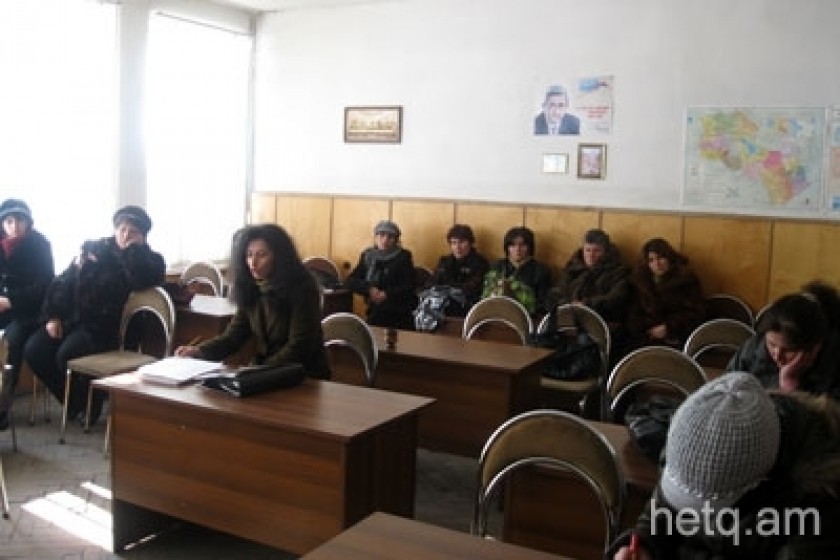 Akori Village School Still Has No Principal; Squabble Continues
Tensions continue to flare at the village school in Akori, pitting teachers and local officials over a disputed school board election for a new principal.
The winner of the election, Anahit Mousayelyan, whom the teachers did not recognize as being fairly elected, resigned on February 7, and the Lori Regional Governor appointed an interim principal until a new election could be scheduled.
Mousayelyan's departure only partially appeased the striking school teachers.
A dialogue meeting between teachers and Edik Matsakyan, Deputy Director of the Lori Regional Administration's Department of Education, Culture and Sport, which was scheduled for this morning, never took place.
While the teachers have accepted Silva Simonyan, the interim principal appointed by the Regional Governor, they are demanding the reinstatement of two school officials fired by Mousayelyan during her brief tenure.
One of the fired officials, Seda Khlopouzyan, told Hetq that Matsakyan had told teachers that the interim principal has the power to rehire her and the other official, but that Simonyan abruptly refused to serve as interim principal.
"According to my information, Simonyan stepped down after Matsakyan told her that he wanted to propose Mousayelyan as an assistant to the principal for academic matters. The woman refused and quit," Khlopouzyan told Hetq.
We got in touch with Silva Simonyan and asked her why she stepped down,
"Because I am not certain that the rehiring of the two dismissed official is the right thing to do. I have concerns that it would create unnecessary problems with my work colleagues and the local residents," said Simonyan.
As a consequence of this seemingly intractable impasse, it's the 351 pupils at the school who are suffering. Classes haven't been held on a regular basis for the past six weeks.
The question remains why officials are making a point of keeping Anahit Mousayelyan at the school in whatever capacity possible.