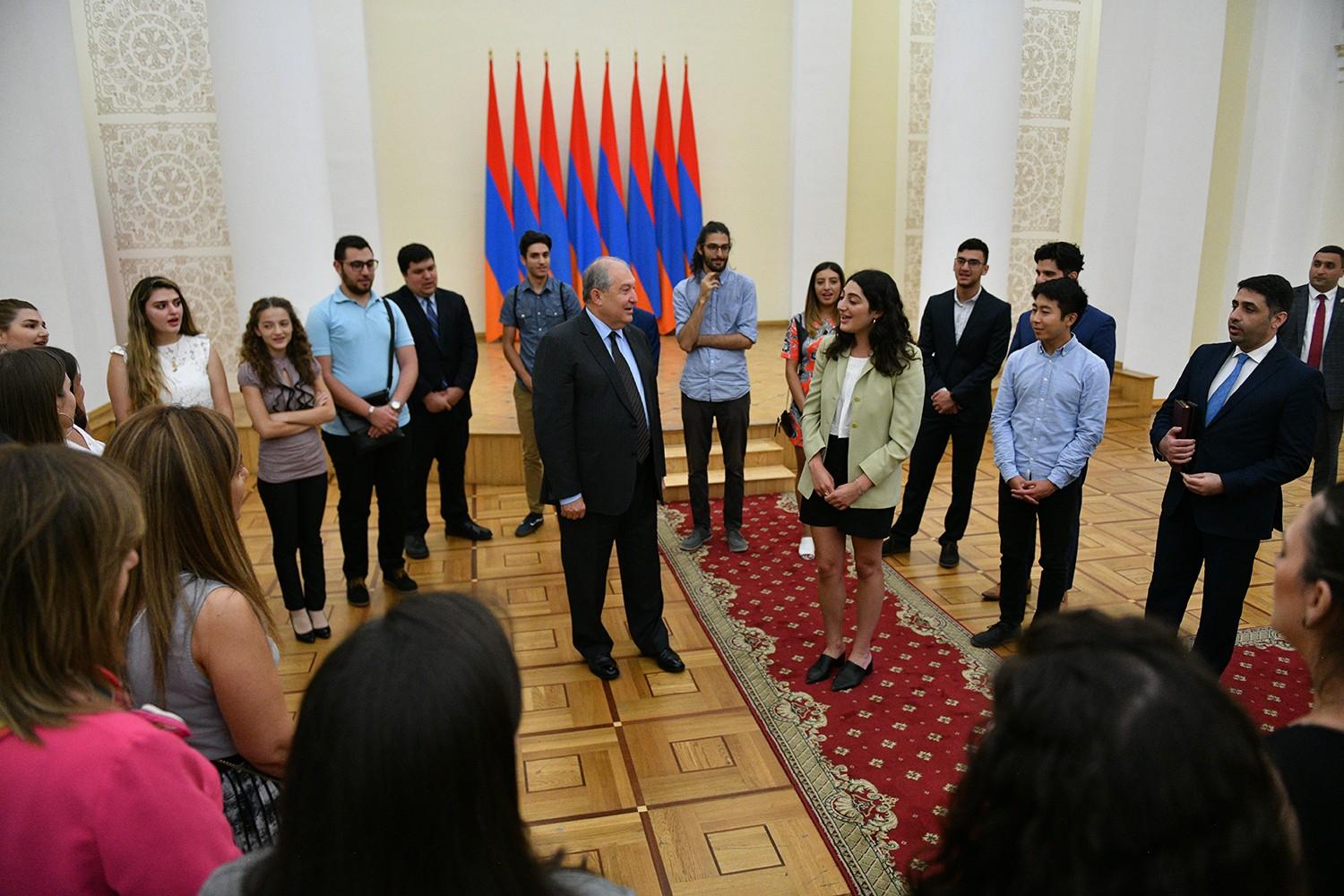 Armenian President to Diaspora Young People: "View Armenia as Your Home"
On July 11, Armenian President Armen Sarkissian hosted a number of young people from the diaspora who are visiting Armenia as part of the Armenian Benevolent General Union's (AGBU) Yerevan Summer Professional Training and Musical Armenia programs.
The Presidential Office released the following statement on the meeting.
"We need to have a vision for development, where we go, what direction we take for development," President said. "To understand what kind of country we want to have in 30 or 50 years, we need to understand where the world will be in 30 or 50 years. Our country should develop in that context. Thus, our first step should be to analyze and understand where the world is heading; second, where we want to be in the context of that development, to calculate what needs to be done for us to be in the place we want to be. It is called a vision but before vision we need to make analysis, we need to have a goal," President Sarkissian said.
"To have a vision is not enough, it might remain just a dream if there is no strategy, no ensuing program whose implementation will get us closer to our vision." Armen Sarkissian stressed the importance of a dialogue for having a vision. "Each of us has his or her understanding of vision, and it is very important to share it with each other to create a common vision. At this stage, we need a dialogue, need to exchange ideas, taking into consideration opinions in Armenia, Artsakh, and those of the Armenians living in different countries of the world. It will create a vision tailored for Armenia which can be different from the visions of other countries, because our nation is spread all over the world, and we have a unique network which is a great asset and a huge advantage in the contemporary world. We need to use our advantage to achieve success in our model, in our strategy." According to the President, what we have is not just a network; we are united through our identity, history, family, culture, and mission.
To move forward, the President highlighted the importance of making headway in a number of areas (tourism, agriculture, high technologies). "We should strive to have best results, should strive to be the best."
Addressing the young people from Diaspora, Armen Sarkissian said, "In Armenia, we need to do everything, so that you feel home here, feel that you can come back at any moment, work and make your contribution. There should be no obstacles to do that. View Armenia as you home, your country. But you also need to be the best citizens of the countries you reside in. So, I wish you feel not only home here but also become part of our nation, our country."