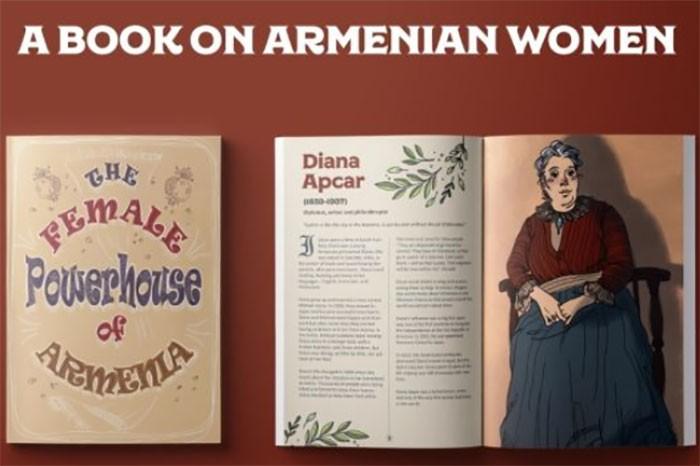 The Female Powerhouse of Armenia: Two AUA Students Launch Children's Book
Gayane Aghabalyan and Elmira Ayvazyan had been thinking for a while about the realities, dynamism, and challenges of being Armenian women in the 21st century.
Through their experiences in courses at Yerevan's American University of Armenia and their own personal backgrounds, they recently decided to go from thinking to doing.
They teamed up to start a book project titled The Female Powerhouse of Armenia—an illustrated children's book that will introduce readers to the diverse range of amazing women throughout Armenian history. Within a few days, they have already raised $3,000 on GoFundMe to help with editing, translating, designing, and publishing the book.
Elmira is a senior in the Business BA program. "We grew up with very few names of women in our textbooks," she said. "I always thought it was very unfair, especially because we have so many wonderful Armenian women who deserve the recognition."
A senior in the English and Communications program, Gayane added, "This book is very important to us because it celebrates Armenian women who were left out of history and literature textbooks."
The book will be available in Eastern and Western Armenian, as well as English. By reaching out beyond Armenia and into the diaspora, the authors hope that the book will help create a new way of seeing and imagining the role of women not just in Armenia's past, but especially in its future.
Two other talented young women, Gayane Ghazaryan (AUA) and Lili Avetyan (Yerevan State University) are assisting with the book's illustrations and text. The group is also getting advice and encouragement from various faculty members at AUA.
"I'm proud of Gayane, Elmira, Gayane, and Lili for being brave, thoughtful, and creative role models for other young women," said Dr. Arto Vaun, Program Chair of English and Communications and Director of the Center for Creative Writing. "Their book is the kind of innovative cultural production that the new Armenia needs more of. The women of this country truly are a powerhouse that has been disregarded and undervalued for too long."
"The book connects the past to the present by telling the stories of inspiring women who live among us and break gender stereotypes," Gayane said. "We believe that children will find new role models through this project, become empowered, and chase their dreams, like the heroines in the book."
Those wishing to help the project get to publication can do so here: https://www.gofundme.com/f/the-female-powerhouse-of-armenia.
If you found a typo you can notify us by selecting the text area and pressing CTRL+Enter