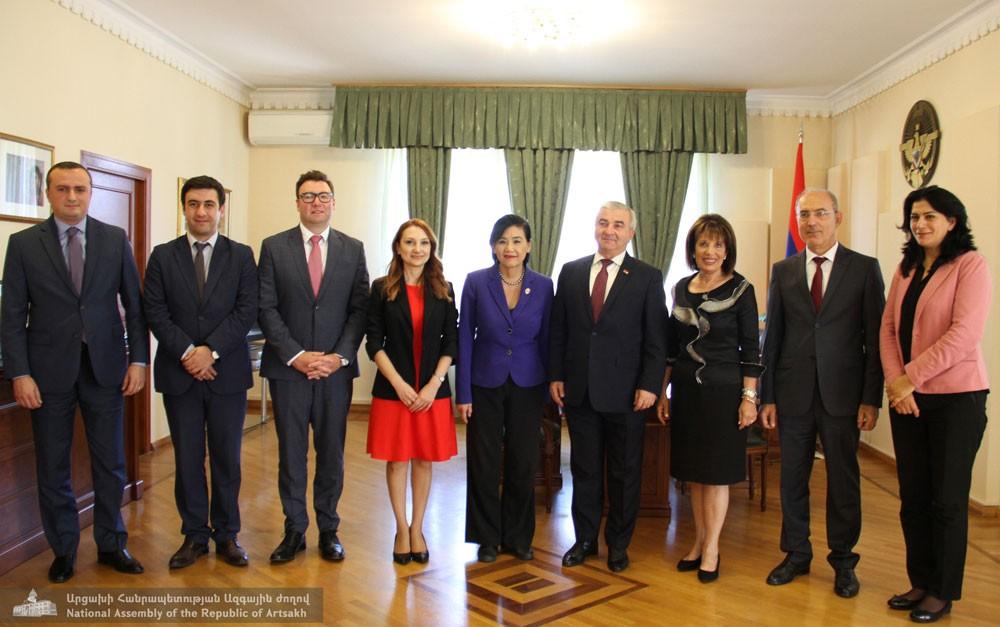 U.S. Congresswomen Jackie Speier, Judy Chu Travel to Artsakh; Meet with Parliament Speaker
On October 8, Artsakh National Assembly Speaker Ashot Ghulyan received visiting US Congresswomen, Co-Chair of the Armenian Issues Committee Jackie Speier and Judy Chu, who arrived in Stepanakert escorted by Armenian MPs Lilit Makunts and Sos Avetisyan and the Permanent Representative of the Artsakh Republic to the United States Robert Avetisyan.
Welcoming the guests, Ghulyan thanked the guests for their work aimed at solving the problems of the Armenian community of Artsakh, Armenia and the United States.
The Artsakh parliament speaker, according to an Artsakh government statement, congratulated Jackie Speier on the award given by the Armenian Assembly and remarked: "The long-term work that you have done to solve the problems of the Armenians has received a proper appreciation."
Ghulyan praised Judy Chu's work in the U.S. Congress, noting that her initiative in national defense in US law is important in maintaining security and peace in the region, which in turn is crucial to shaping the future of the peoples of the region.
"People living in Artsakh have the same rights and freedoms as people living in any country, and restrictions on political status are unacceptable. Therefore, I hope that our esteemed Congressmen will also pay attention to this important issue of security," Ghulyan noted.
Speaking about the Armenian Genocide and the genocides taking place in different parts of the world today, Jackie Speier said everything possible must be done to prevent them.
Referring to Artsakh, she noted: "I am firm in my efforts and will continue to do everything possible for you to live in your country, have a predictable future, be safe and have the future you want as a part of Armenia."
Judy Chu presented to parliamentarians of Artsakh her legislative initiative on national defense, which will be discussed in the US Senate. "We hope that the United States will help strengthen peace in the region," Chu emphasized.
If you found a typo you can notify us by selecting the text area and pressing CTRL+Enter