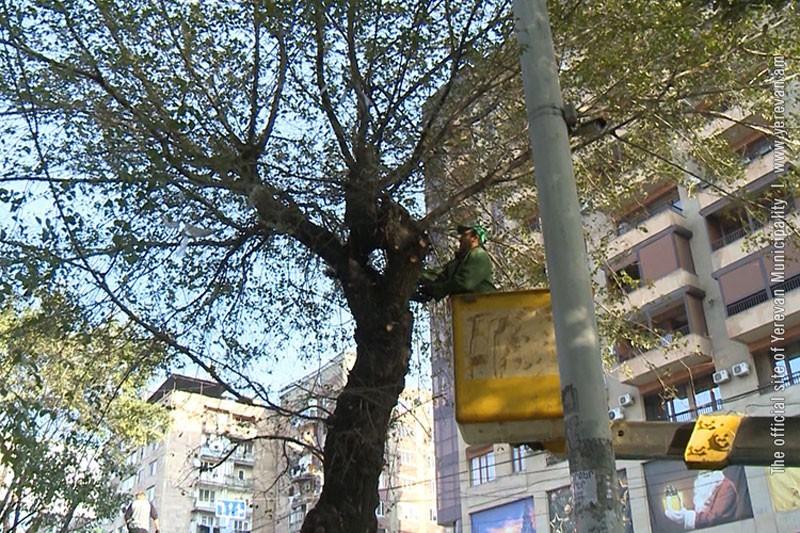 7,000 Yerevan Trees to be Pruned This Fall; Specialists Disagree on Tree Topping
The Yerevan Municipality has announced that henceforth only very old and rotten trees posing a safety risk will be either removed or heavily pruned.
The municipality, in a statement released today, assures residents the recently launched autumn pruning of trees is being performed professionally and in consultation with specialists.
"We are conducting a site surveys and present the results to the Department of Environmental Protection. Experts visit the site of each tree, deciding whether to remove it completely or prune it with the hope of rejuvenating it," the statement reads.
"Overall, about 7,000 trees are planned to be pruned in the fall. Let me also say that different methods of pruning are currently used: shaping pruning, sanitary pruning, green pruning and deep pruning," says PhD. Candidate of Agricultural Sciences Suren Maxapetyan.
Specialists attending a recent discussion on pruning held at the Yerevan Municipality failed to come up with a unified plan to care for trees in the Armenian capital.
Some specialists do not agree with the extensive tree topping practice that leaves many Yerevan trees looking like disfigured bald stumps. Others believe it's a proven way to rejuvenate ailing trees.
Some 250 trees will be removed during the autumn pruning that runs until December 25.
In the meantime, the municipality says it will form a working group to draft a unified approach to tree care for the entire city.
If you found a typo you can notify us by selecting the text area and pressing CTRL+Enter