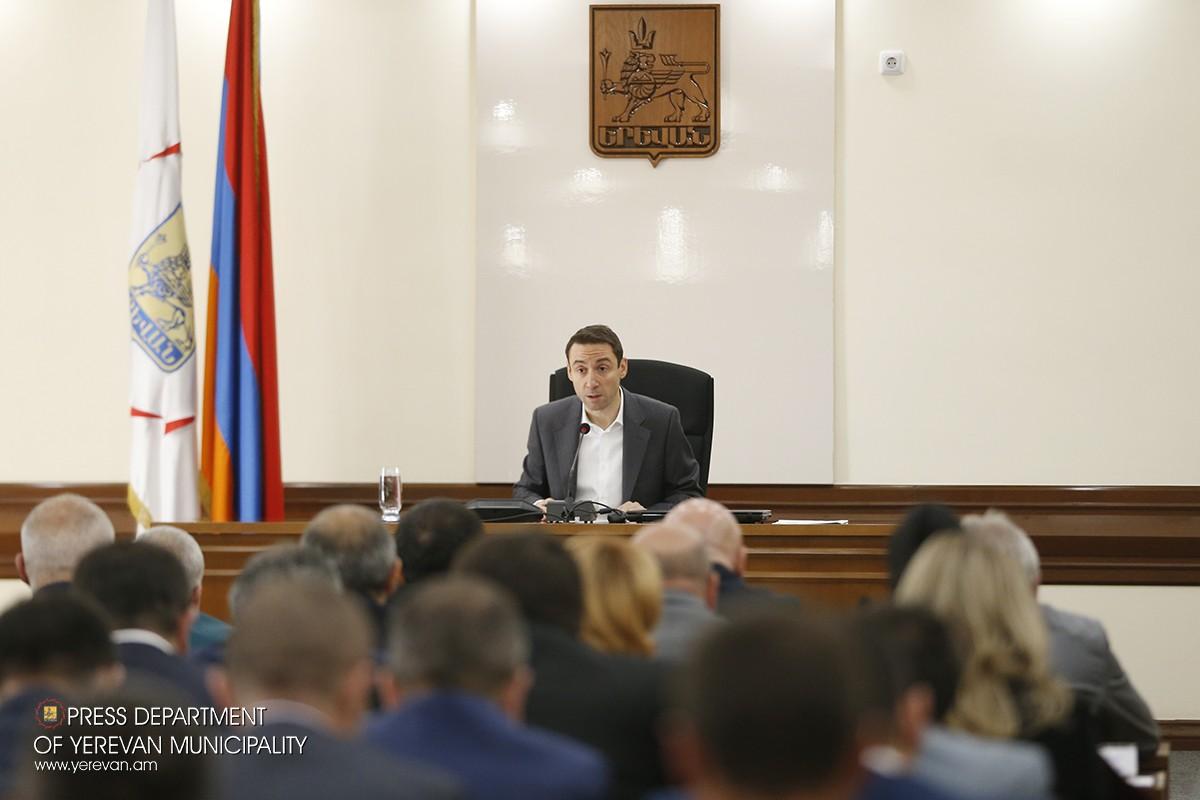 Yerevan Mayor Announces Plan to Achieve European Standards; "Work must begin today"
Yerevan Mayor Hayk Marutyan, summarizing his recent working visit to Europe at a meeting today with municipality department heads, said that Yerevan must draft an all-encompassing approach to set the Armenian capital on a path to achieving European standards across the board.
Marutyan, according to a Yerevan Municipality press release, raised issues related to street commerce, public transportation and garbage collection in Yerevan, noting that eighteen illegal stalls had been shut down during the past week.
The Yerevan mayor noted that despite its shortcomings, a bill regulating street business in the capital has reached the Armenian parliament for review.
He said that the bill would allow for mobile street commerce, but only at designated locations and during certain times.
"Despite the loopholes in the law, what is happening in the city today is not really mobile commerce. They are kiosks on wheels or stones. The city cannot tolerate this. Soon, there will be legislative changes that will regulate the sector. There will be true mobile trade. Vehicles will not always be parked in the same place. And the permitted places, hours and other standards will be determined by the city council," Marutyan said.
Marutyan also announced a trial run for the sorting of trash as part of a program designed to solve Yerevan's garbage collection and removal problem.
The city will allocate a fleet of trucks to pick up cardboard from businesses and plans to install special trash sorting receptacles for residents.
To bolster safety at Yerevan intersections, Marutyan plans to install talking traffic lights that will tell pedestrians when it's safe to cross.
Marutyan said its high time to organize a program of winter holiday events of interest to residents and tourists alike.
"The New Year should be celebrated in a unique way. We have a plan for our citizens to spend the New Year in Yerevan's Republic Square instead of searching for alternatives. During the holidays, Yerevan hosts many of our compatriots and other tourists from abroad. In this regard, it is very important to make the holiday days interesting in terms of tourism development as well," Marutyan said.
The Yerevan mayor stressed that after meeting with leading sector specialists during his trip of Europe, he realized that the needed changes to urban life in Yerevan must start today in order to reap tangible results five or ten years down the road.
If you found a typo you can notify us by selecting the text area and pressing CTRL+Enter