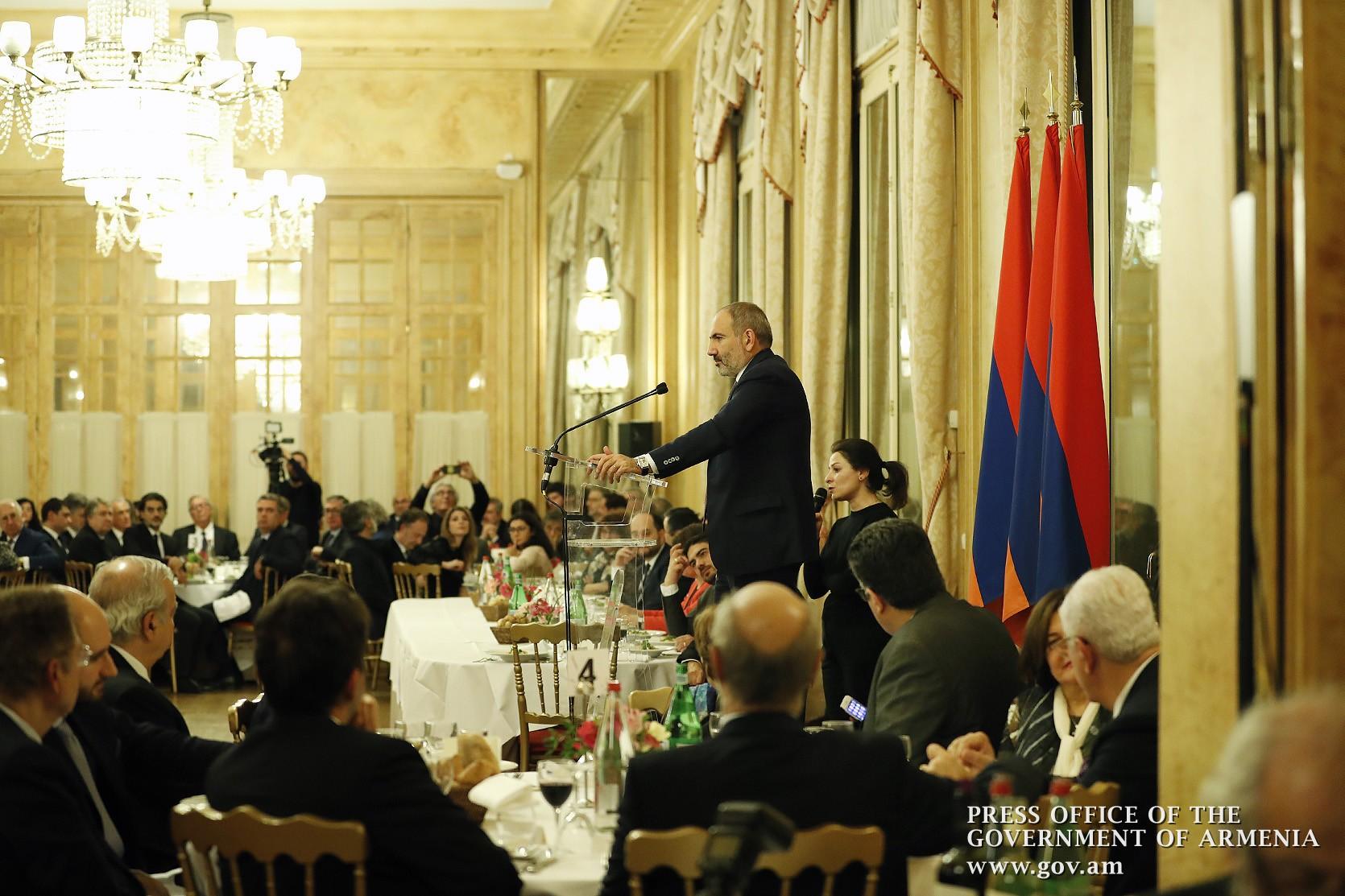 Pashinyan in Paris: "There is no border between Armenia and the Diaspora"
A reception in honor of Armenian Prime Minister Nikol Pashinyan and his spouse Anna Hakobyan, now in France on a working visit, was held on November 12 in Paris.
The event was organized with the participation of representatives of the Armenian community in France. Among them were the Armenian deputies of the French National Assembly, public, cultural figures, businessmen.
The official website of the Prime Minister reports that in his speech Nikol Pashinyan referred to his working visit to France, discussions with President Emmanuel Macron, Armenia's foreign policy, and the Karabakh conflict.
"It has become a tradition that foreign visits are necessarily accompanied by meetings with community representatives, with narrower, expanded staff. This is an important milestone and reflects the new policy pursued by the Government of the Republic of Armenia in the domain of Armenia-Diaspora relations, its meaning being the establishment of a pan-Armenian agenda," Pashinyan told the assembled guests.
Pashinyan noted that in his discussion with the French president, Macron told him just how important and influential the Armenian community in France is to public life.
The Armenian Prime Minister, talking about the notion Pan-Armenianism, stated: "There is no border between Armenia and the Diaspora, we are one whole and when we act like that, all the questions get a different picture and all the issues become resolved."
Pashinyan continued by saying that the Republic of Armenia is the representative of all Armenians and that all efforts must be made to retain Armenian statehood.
Turning to his government's foreign policy track record, Pashinyan said that as a result of his efforts the true nature of the Nagorno-Karabakh conflict has been presented to the international community, replacing the simple and incorrect representation that it is a territorial dispute between Armenia and Azerbaijan.