Self-Described Azerbaijani Blogger Interrupts Pashinyan's Milan Meeting: "Stop Armenian Occupation of Karabakh"
Armenian PM Nikol Pashinyan's meeting with members of the Armenian community of Milan was interrupted yesterday when an unknown man entered the church and began talking in Russian.
Pashinyan, now in Italy on an official visit, was meeting with community members at a local Armenian church.
The man, who introduced himself as Ata Abdullayev, a "video blogger from Azerbaijan", interupted Pashinyan's speech, saying he wanted to ask some questions.
Abdulayev, looking around nervously, kept on asking Pashinyan to guarantee his safety. "You're a democrat, aren't you," Abdulayev asked.
People in the church seemed surprised by what had happened and started booing the man. Pashinyan, however, asked everyone to calm down and let the man ask his question.
Before doing so, Abdulayev hastily mentioned some heroes of Azerbaijan, naming Mubariz Ibrahimov, Dilham Askerov and Shakhbaz Guliyev.
"As a democrat, please tell me - the whole world recognized the genocide of Azerbaijanis commited by Armenians (refering to Khajoly - an incident during the Artsakh war in which Armenian forces allegedly killed hundreds of Azeri civilians), I beg you, please, stop the war, we don't need war, we want democracy, we want our homeland and our lands back, please leave our lands. Neither Sargsyan nor Kocharyan did anything, you continue the same. Stop the occupation of our lands so that I can go and see my Shusha, my Khojaly".
Pashinyan once again reiterated that Abdulayev and a person accompanying him would be safe "let us note that you, an Azerbaijani, have entered an Armenian church, interrupted an event and are now asking a question to the Prime Minister of Armenia and you are safe. Let us also note that if the situation was reversed, an Armenian wouldn't be able to do what you are doing".
People applaused and Pashinyan continued, referring to Abdulayev's claims of a genocide as "lies" and recaled an interview of former president of Azerbaijan Ayaz Mutalibov to the Russian "Nezavisimaya Gazeta", where, as Pashinyan says, Mutallibov claimed that "Khojaly was organized by Azerbaijani opposition as coup d'etat attempt".
"In 1988 the parliament which was then called Supreme Council of Nagorno-Karabakh Autonomous Oblast (NKAO) used its legitimate right to self-determination, after which Azerbaijani authorities used force…"
"This is not true",-interrupted Abdulayev.
"...to take the lawful rights of the Supreme Council of Nagorno-Karabakh away from the latter. After Azerbaijan declared its independence from the former USSR, Nagorno-Karabakh declared its independence from Azerbaijan, and just like Azerbaijan, Nagorno-Karabakh also became an independent state. After that, Azerbaijan unleashed aggression against Nagorno-Karabakh".
"This never happened",- Abdullayev continued.
"I take pride in the people of Nagorno-Karabakh..."
"I am also proud",- Abuldayev interrupted again.
"...and the fact that they managed to defend themselves and resist the Azerbaijanis' aggression. The Azerbaijanis realized that they can't talk to the people of Nagorno-Karabakh with force, and I hope they have drawn conclusions and the President of Azerbaijan will accept my offer and make a statement that any resolution of the Nagorno-Karabakh conflict must be acceptable for Armenia, Nagorno-Karabakh and Azerbaijan".
Finally, after hearing Pashinyan, Abuldayev asked him to free military captives, claimed that "Karabakh has always been Azerbaijan", and left.
Today, Abuldayev's pictures started circulating on the internet, where it's visible how he's helped the police detain protesters in Baku. One picture shows him and Ilham Aliyev.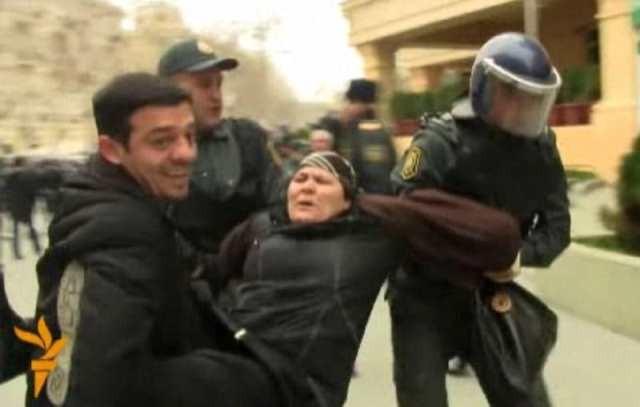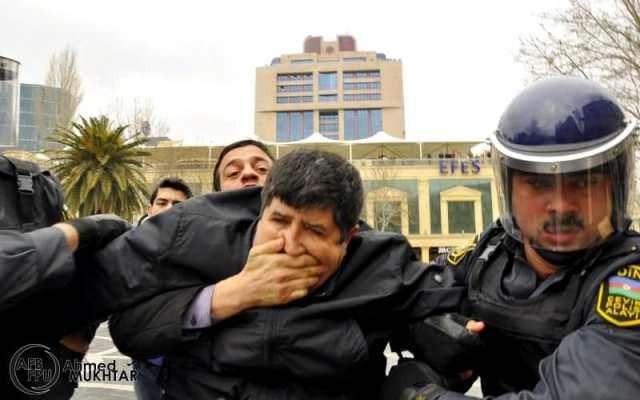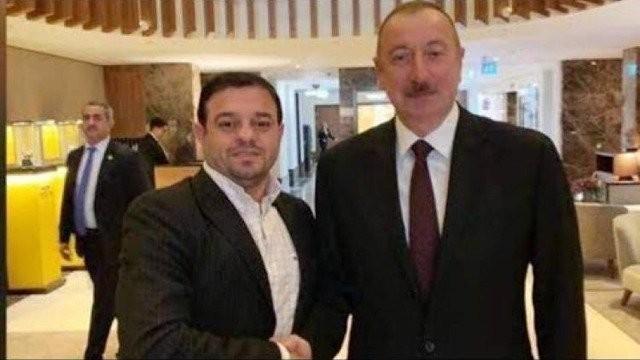 Abdulayev's Facebook page also reveals his support for Aliyev - one of his profile pictures from last year March says "go vote for Aliyev". It remains unclear whether Mr. Abdulayev was intentionally in Milan. Today, however, he posted a picture on Facebook from Milano airport saying, that his "unexpected meeting with Pashinyan" and the questions he asked "have irritated many pro-Armenian supporters".
Follow Samson Martirosyan on Twitter @mrtrsyns
If you found a typo you can notify us by selecting the text area and pressing CTRL+Enter