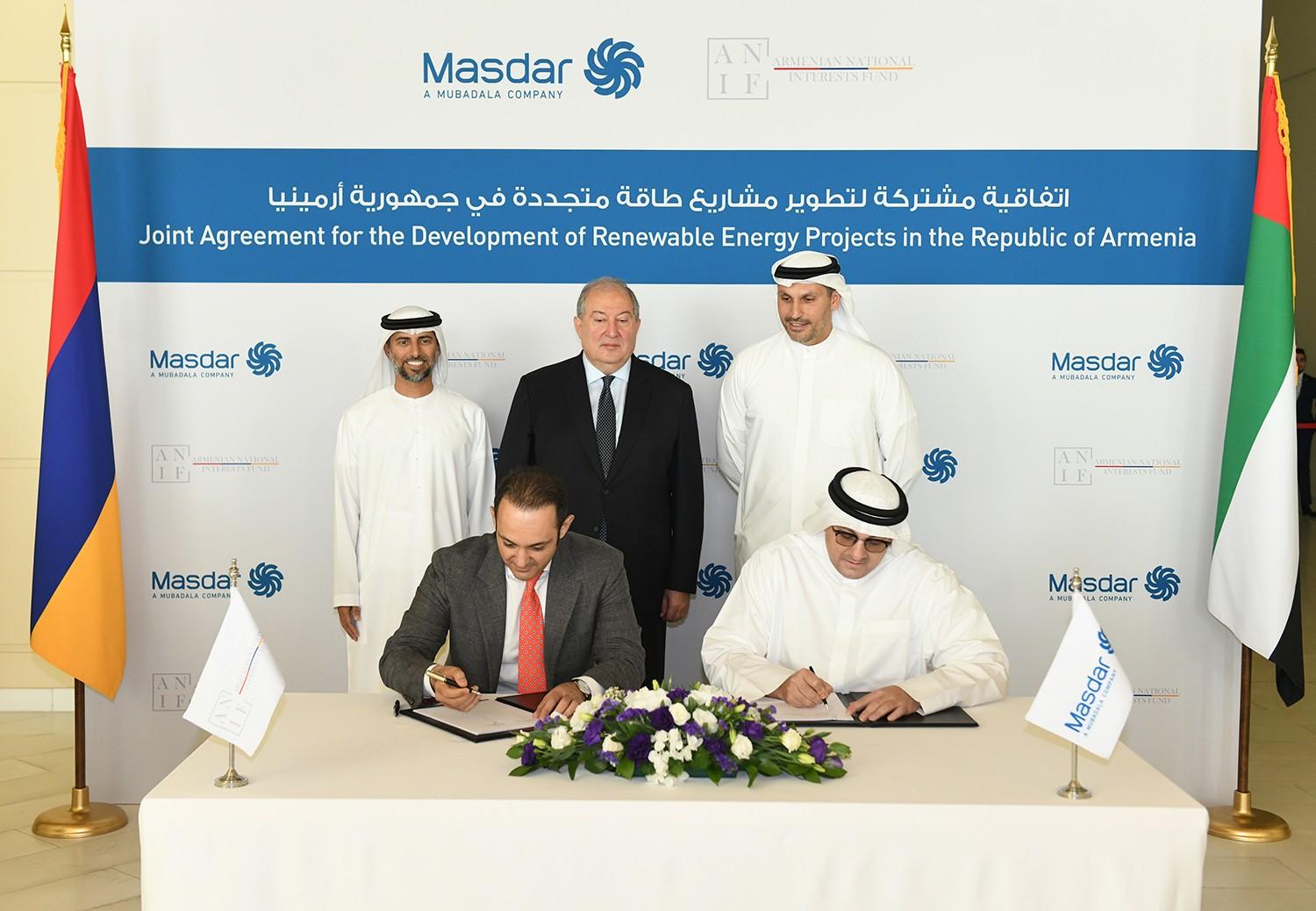 Armenia Signs Renewable Energy Deal with UAE Investment Company
Gulf News reports that Masdar, a global leader in renewable energy, yesterday signed an agreement with Armenia to develop solar power projects in the country.
Masdar will invest between US$300 million and US$320 million in the Armenian economy to draft, develop, construct and operate renewable power plants, including fixed and floating solar PV and wind energy.
The agreement was signed by Mohamed Jameel Al Ramahi, Chief Executive Officer of Masdar, a Mubadala company, and David Papazian, Chief Executive Officer of ANIF, an Armenian state-owned foreign direct investment vehicle.
The power projects will have a total capacity of 400 megawatts.
The first project envisaged under the JDA (joint development agreement) is a 200MW utility-scale solar photovoltaic (PV) plant in the west of Armenia that will use cutting-edge bifacial technology to produce electricity from both direct and reflected sunlight.
According to the Gulf News article, Armenia has pledged to generate 30% of its electricity from renewable sources by 2025 and has the potential to integrate as much as 1,000MW of solar energy.
Armenia today it has around 2,800MW of installed power capacity, evenly distributed between nuclear, hydro and thermal generation from imported natural gas.
Masdar is a unit of Mubadala Investment Company PJSC, a wholly owned investment vehicle of the government of Abu Dhabi, in the United Arab Emirates.
The top photo shows Al Ramahi and Papazian signing the agreement. The November 30 signing was witnessed by Armenian President Armen Sarkissian, UAE Minister of Energy and Industry Suhail Al Mazroui, and Mubadala CEO Khaldoon Al Mubarak.
Photo: WAM (Emirates News Agency)
If you found a typo you can notify us by selecting the text area and pressing CTRL+Enter