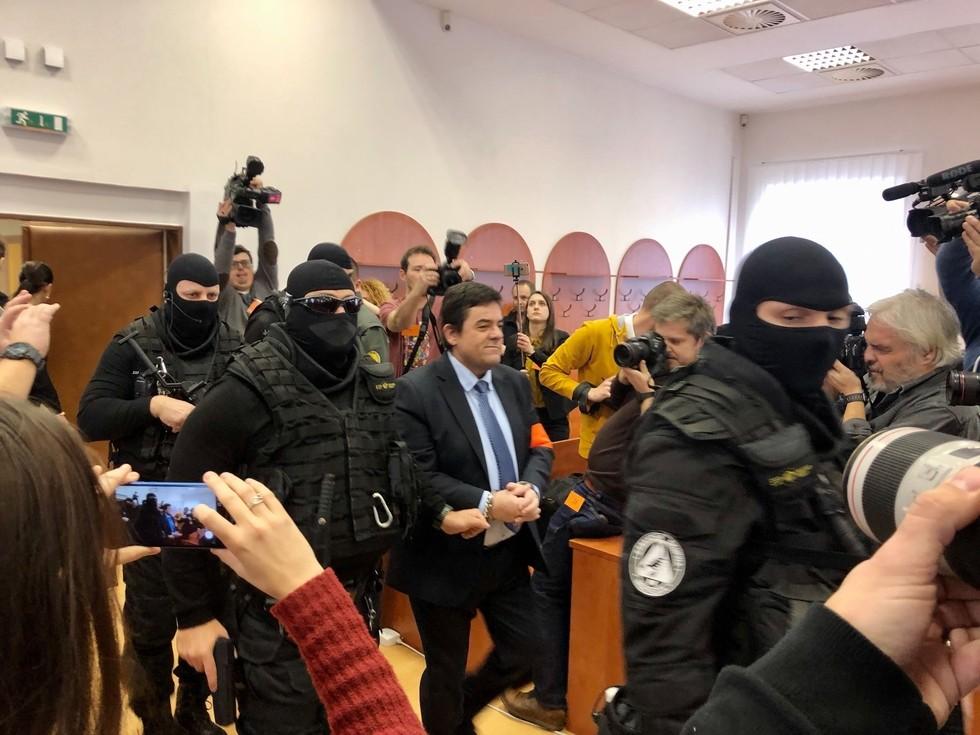 Slovakia: One of Four Kuciak Murder Suspects Pleads Guilty
One of four suspects accused of killing Slovak journalist Ján Kuciak and his fianceé pleaded guilty to murder on Monday, at the start of a landmark trial seen as a test of Slovakia's readiness to try alleged organized crime figures with political connections.
Miroslav Marček pleaded guilty to illegally carrying a weapon and murdering Kuciak and Martina Kušnírová in February 2018, killings which triggered a massive wave of protests across the country and toppled the then-government. He also offered new details about how the murder was carried out and named himself as the person who fired the weapon, contrary to previous Slovak police reports.
The key defendant, infamous Slovakian businessmen Marián Kočner, pleaded not guilty to murder but admitted to illegally carrying firearms.
His ties to organized crime, as well as prominent public officials, have long been the subject of conjecture. Slovakia's police chief and the head of its financial crimes unit both resigned following media reports that information about Kuciak in police databases had been accessed prior to the murders. Former Prosecutor General Dobroslav Trnka was suspended after footage leaked to OCCRP appeared to show him setting up a camera in what looks like his office with someone who appears to be Kočner.
Last year OCCRP detailed how Kočner's close associate Alena Zsuzsová hired Zoltán Andruskó, a former pizzeria operator, to kill Kuciak for 50,000 euros and to clear 20,000 euros of debt. Not a killer himself, Andruskó hired his friend, Szabo, and cousin, Miroslav Marček, to carry out the murder.
Zsuzsova pleaded innocent on Monday, while Szabo did not deliver a statement. Andruskó was sentenced to 15 years in jail late last year.
The murder of 27-year-old Kuciak - the first journalist to be killed in European Union member Slovakia since it became an independent country in 1993 - sparked domestic and international outrage. Bratislava found itself under intense pressure to solve the case, which is seen as a key test of the justice system's willingness to hold the powerful to account.
Monday's trial kicked off in the town of Pezinok where the prosecutor read out parts of a 93-page indictment, the result of an 18-month investigation, to Slovakia's Special Criminal Court, which handles high corruption and organized crime.
More than 120 journalists gathered to cover the trial of the four suspects, who each face sentences of between 25 years to life in prison if convicted.
Kuciak's mother wept as the indictment describing her son's killing was read out to the court, where she sat with her husband and Kušnírová's mother. Lawyers for both families are claiming €1 million ($1.1 million) in damages each, as well for the funeral costs to be covered.
Zsuzsová's lawyer objected to the indictment, saying police had been pressured into bringing the case by the public protests and the charges relied on the account of Andruskó, who "changed his testimony several times." Her lawyer claimed the police's evidence was obtained illegally and should be disregarded.
The lawyers of the other defendants echoed those arguments.
The trial will continue with the testimonies of the defendants.
If you found a typo you can notify us by selecting the text area and pressing CTRL+Enter