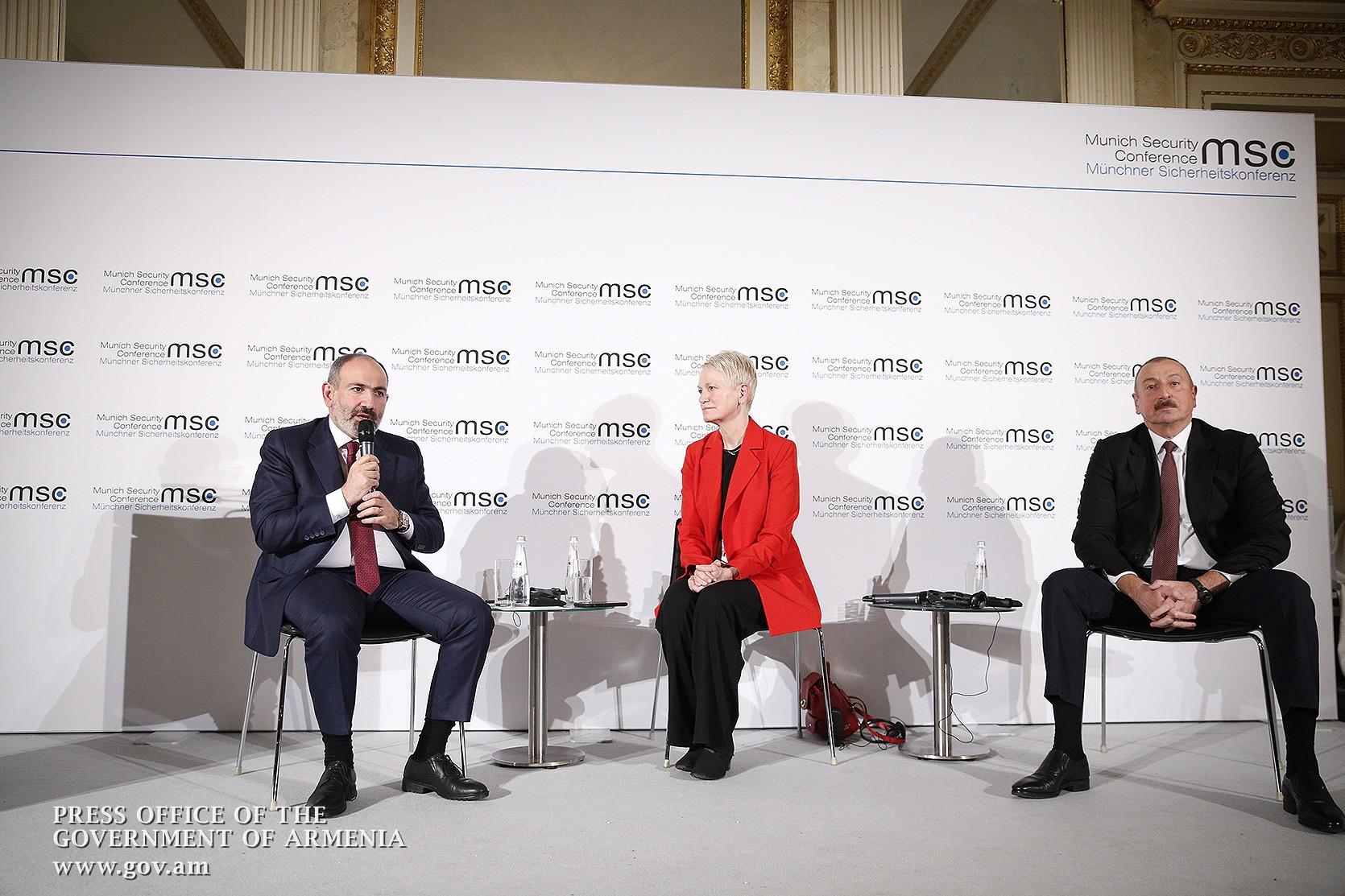 Pashinyan in Munich: "Armenia and Nagorno Karabakh are ready to make real efforts to resolve this conflict"
The following is the unofficial translation of a transcript released by the Armenian government on the February 15 panel discussion, featuring Armenian Prime Minister Nikol Pashinyan and Azerbaijani President Ilham Aliyev, on the sidelines of the Munich Security Conference regarding the Karabakh conflict. The two leaders briefly conversed before the start of the panel discussion moderated by Celeste Wallander, President and CEO of the U.S.-Russia Foundation.
The moderator first allowed President Aliyev, followed by Prime Minister Pashinyan.
"I would advise President Aliyev not to go so far back into history. Because when Armenian King Tigran the Great negotiated with the Roman military leader Pompeii, there was no state called Azerbaijan in the South Caucasus and in the whole world. So, I don't think it's the right approach to go that far, because I can go even further and start, for example, in 405 BC. But I won't, because I don't think it's the right approach.
As for Nagorno-Karabakh as a state, you know I have to say that I disagree with President Aliyev. Because the Caucasus Bureau decided to make Karabakh part of Armenia, and after that decision, which was a completely legal decision, on the personal initiative of Joseph Stalin, that decision was changed in Moscow. It seemed like a conspiracy, an agreement between Stalin, Lenin and Ataturk. Karabakh has never been part of an independent Azerbaijan state. Karabakh was put into Azerbaijan only in the process of forming the Soviet Union. And when we are talking about territorial integrity, we must decide which country we are talking about.
My question is, if Azerbaijan respected the territorial integrity of the Soviet Union as an independent state, how would it respect that territorial integrity if Azerbaijan withdrew from the Soviet Union in the same way that Nagorno Karabakh withdrew from the Soviet Union? You can say that I am now talking about a state that does not exist, that is, the Soviet Union, but the Soviet republic that comprised Nagorno-Karabakh does not exist either. There is no Soviet Socialist Republic of Azerbaijan, and that is the truth. And just as Azerbaijan gained independence from the Soviet Union, so too did Karabakh gain independence from both the Soviet Union and Soviet Azerbaijan.
As for Khojaly, in the mid-1990s, former Azerbaijani President Ayas Mutalibov interviewed the Russian "Nezavisimaya Gazeta" newspaper, saying that it was the Azerbaijani opposition that provoked the Khojaly incident in order to oust him from power. And because of that event, Mutalibov was dismissed from the post of President of Azerbaijan. As for the UN Security Council documents, what was the overall meaning of those documents? The general meaning of these documents is to unconditionally and immediately establish a ceasefire, that is, to stop violence and hostilities. And when we look at UN Security Council Resolution 8.8.4, we see that it says that Azerbaijan has violated the ceasefire and as a result, Azerbaijan has lost territories. Azerbaijan has not respected the terms of the Security Council document, and it is very important to note that.
You know however, I do not think it is the right approach for the leaders of Armenia and Azerbaijan to repeat the same thing every time. Unfortunately, 25 times in 30 years we have been saying the same things, and I am afraid that the international community may be tired of hearing the same thing. I think we need to put forward new ideas.
When I became Prime Minister of Armenia through a non-violent, velvet, popular revolution, I realized that it was impossible to resolve the 30-year conflict in one or two steps. And I thought we needed revolutions to solve this problem, and I started the process of micro-revolutions. The next time I have the opportunity, I will present to you the importance of micro-revolutions in the negotiation process of Nagorno-Karabakh that I have initiated.
Audience Question - You are in this international audience, there are many experienced negotiators, many have been working on this challenge for almost 30 years, trying to help a peaceful settlement of the dispute. What would you like the international community to do to help you advance the version that you believe is a just and peaceful solution to the Nagorno-Karabakh conflict?
Pashinyan - Yes, there is something very concrete that the international community can do. To state clearly, to emphasize that the Nagorno-Karabakh conflict has no military solution, the international community must clearly and unequivocally emphasize and say it. If anyone thinks otherwise and says that there is a military solution to the Nagorno-Karabakh conflict, I think the people of Nagorno-Karabakh would respond that in that case we can say that this conflict is already resolved. But I think we need lasting, lasting peace.
Armenia does not represent Nagorno Karabakh in the negotiation process, but I know that Armenia and Nagorno Karabakh are ready to make real efforts to create lasting peace in our region. And as the Prime Minister of Armenia, I consider this situation not only my responsibility for the security of my country, but I also realize my responsibility for the security of the region, for global security. And I propose to President Aliyev to perceive this situation as our mutual task. That is, to create lasting peace and stability and to view this situation not only as a matter of our national agenda, but also as a matter of global and regional security. And our responsibility, our duty is to exert our efforts, to make our contribution to global, global security. And I assure you that Armenia and Nagorno Karabakh are ready for it.
Audience Question - I'm a researcher at the Max Planck Institute for International Law. President Aliyev has already mentioned the role of international law. My question is addressed to both speakers. Why not present this dispute to the International Court of Justice by special agreement?
Pashinyan - We are also committed to the negotiation process, to the peace process, as I said, and I think the negotiations should take place in the format of the OSCE Minsk Group and we are working very intensively on this path. As I said, we are ready to make real efforts to achieve change, to reach a solution to the conflict. But no one has asked me about the mini revolutions I made in the negotiation process.
My basic idea is, as I have already said, is that is not possible to resolve this long-standing conflict in one or two steps. Why do I say we need micro revolutions? I think we need micro revolutions if we use the word conditional to replace them with mini revolutions and then break the negotiation process. What was that micro revolution? 2018 In September, I declared that any solution to the Nagorno-Karabakh conflict must be acceptable to the people of Armenia, the people of Karabakh and the people of Azerbaijan. Why is this a micro revolution? Because I am the first Armenian leader to say that any solution should be acceptable to the people of Azerbaijan as well? And now more than a year has passed since that revolution, but I am not only the only leader of Armenia, I am the only one of the leaders of Azerbaijan and Armenia who says that any solution must be acceptable to all parties. This is a very important micro revolution.
The next revolution is that during one of my press conferences I called on Armenian and Azeri social media users not to use social media to insult and threaten each other. I called on social media to use new technologies to try to understand each other better. This is also an approach, and I think, and I have tried to speak directly to the people of Azerbaijan. If Ilham Aliyev agrees, I will not be against President Aliyev speaking to the Armenian people. But we have a very strange fact. President Aliyev refuses to speak to the representatives of Nagorno Karabakh, which is a very strange fact. How is it possible to resolve the Nagorno-Karabakh conflict without talking to the representatives of Nagorno-Karabakh? By the way, Nagorno-Karabakh has been recognized as a party to the conflict and a negotiating party by the OSCE. It happened twice – March 24,1992 and in 1994 at the OSCE Summit in Budapest.
Audience Question - Russia is one of the countries trying to find a solution. One suggestion was that maybe the status issue should be left aside for now and try to do something that the parties would be more willing to agree on. For example, in connection with the areas around Nagorno-Karabakh, the creation of a corridor and other steps. Do you see any possibility of an intermediate solution that averts the status question for now and resolves other issues now at this stage?
The question was first answered by Azerbaijani President Ilham Aliyev,followed by PM Pashinyan.
Pashinyan - By the way we have a mutual micro revolution and I hope I will have the opportunity to say that. When we first met in Dushanbe, the capital of Tajikistan, after which we made a mini revolution with President Aliyev. After that meeting tensions greatly subsidized, and we were able to create a direct line for communication and information exchange.
I must admit that in this case President Aliyev is a co-author of this step with me. President Aliyev talks about the territories and from the point of view of Azerbaijan, in his opinion, they are territories, but from the point of view of Karabakh it is security.
We need to understand why today's status quo was formed, because when Nagorno-Karabakh tried to exercise its right to self-determination, hostilities began against the Armenians of Nagorno-Karabakh, and the Armenians of Nagorno-Karabakh were forced to organize their self-defense.
President Aliyev spoke about Shushi and the capital of Nagorno-Karabakh, Stepanakert. For years it was bombarded from Shushi and civilians lived in underground shelters for a long time, and that is the truth. It is impossible for anyone to compromise on security. In Karabakh it is impossible.
President Aliyev mentioned the Azerbaijani armed forces. My son does his military service in Nagorno Karabakh, but he went there as a volunteer. He went to defend his compatriots because he knows history. He knows what has been going on since 1988. I already talked about the Shahumyan region, where the population was 100% Armenian, now there is not one Armenian living there. We also know the case of Nakhichevan, where there was a huge Armenian population. Nakhichevan is an autonomous republic within Azerbaijan, and now there are no Armenians there.
One more thing. President Aliyev says that Nagorno Karabakh is not a party to negotiations and conflict, but Azerbaijan has twice signed agreements with Nagorno Karabakh. For the first time in 1994, it was a ceasefire agreement between Armenia, Nagorno Karabakh and Azerbaijan. The defense ministers signed the document. Three months after that, in 1994 In July, they reaffirmed that the ceasefire would be maintained until the conflict was resolved politically. "
At the end of the panel, responding to the Azerbaijani President's statement, PM Pashinyan said: "Mr. President, it was not very constructive, but I would say that in Tigran the Great's time there were only two nations in our entire region - Armenians and Georgians. And not only in the times of Tigran the Great, but also in the times of Bagratuni, Arshakuni. It can be found in any history book. I am very happy for this discussion. I would like to reaffirm that Armenia and Nagorno Karabakh are ready to make real efforts to resolve this conflict. "
If you found a typo you can notify us by selecting the text area and pressing CTRL+Enter