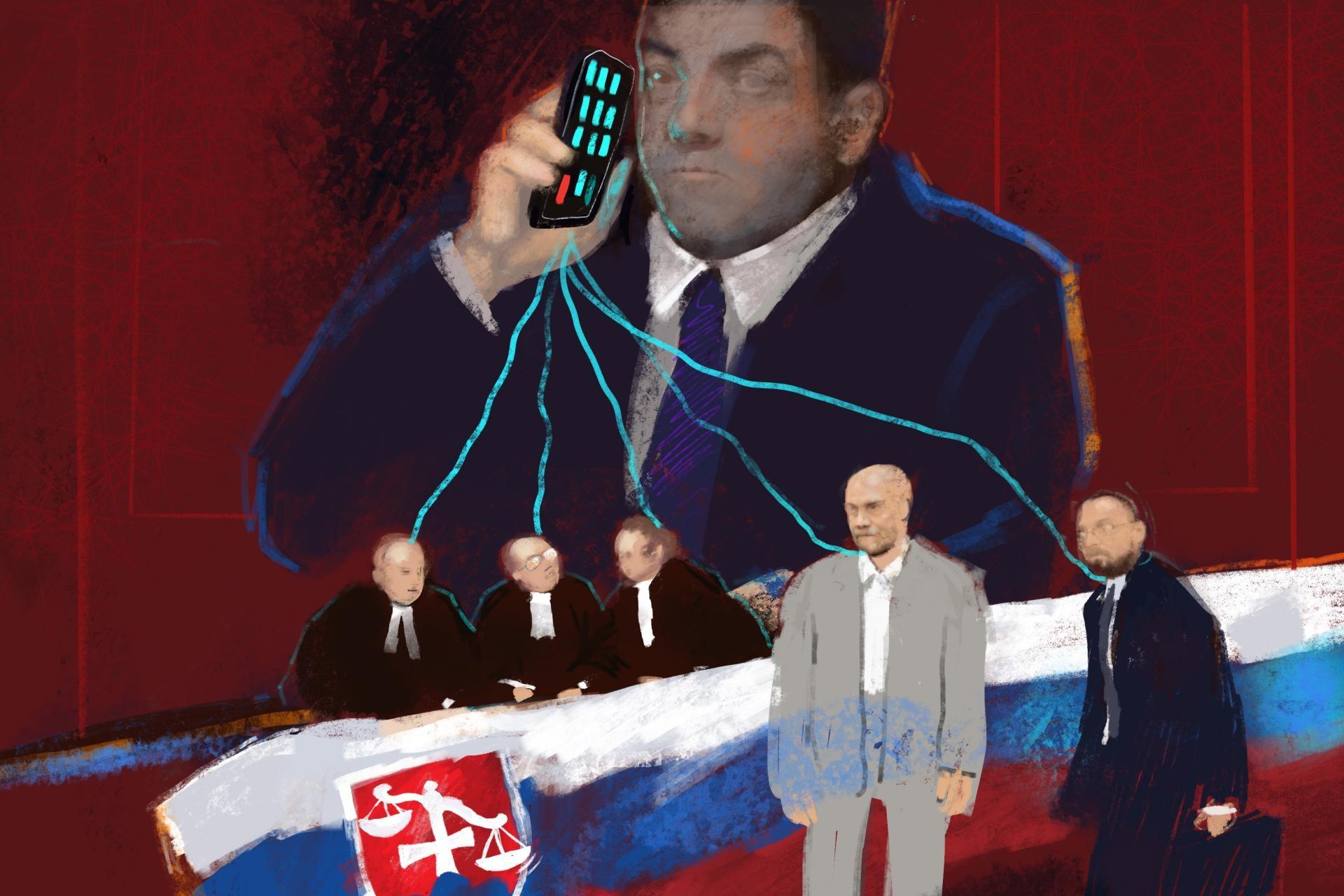 Kočner's World
For years, Marian Kočner was one of the most wealthy and powerful businessmen in Slovakia, a man whose connections with judges and prosecutors made him virtually untouchable, and whose extravagance made him a frequent fixture in local tabloids. Today, the middle-aged businessman's craggy face and prominent shock of black hair are mostly seen in dispatches from the courtroom he sits in day after day.
Kočner is the main defendant in a high-profile trial that has gripped the country since December. He is charged with ordering the brutal murder of a young investigative journalist who had been reporting on corrupt Slovak politicians, Italian mafiosi — and Kočner himself.
The journalist, 27-year-old Ján Kuciak, was shot in his home along with his fiancee, Martina Kušnírová, by an armed assailant who has since confessed to the killing. The shocking double murder made headlines round the globe in February 2018. In Slovakia, it drove tens of thousands into the streets in cities across the country to demand an independent investigation.
As the official inquiry began to seem increasingly inadequate, riddled with apparent misdirections and even outright deception, demands for change grew. Many Slovakians called for new leaders who would do the young man justice. In due course they had them. First the interior minister, then the prime minister, and finally a widely criticized police chief resigned one after the other.
By September 2018, the once moribund investigation showed new signs of life. Four co-conspirators, including the murderer himself, were taken into custody. Prosecutors soon charged Kočner, now 56, with organizing the killing, and he was formally indicted along with the others in October 2019.
Nearly a hundred journalists from around the world have registered to cover his trial, and the latest developments are regularly broadcast on Slovakia's main television channels. One-time allies now disavow the well-connected businessman. Kočner's own brother told a reporter that he was considering changing his name, should Kočner be found guilty.
But the trial is shedding light on more than the murder of a journalist. A massive trove of data collected by police during the investigation, including files from Kočner's phones and personal computer, has been made available to OCCRP journalists. The data not only reveals that Kuciak and his fiancée were murdered in cold blood for 50,000 euros, but also shows how Kočner has kept himself above the law by oiling the justice system of Slovakia's fragile young democracy with cash and kompromat.
For over 20 years, the controversial businessman was widely suspected of multiple financial crimes, including VAT fraud, forging promissory notes, and even taking over a popular independent TV station. Though police opened investigations into some of these cases, and the evidence of his crimes was publicly available and overwhelming, Kočner was never successfully prosecuted.
The data obtained by reporters shows how he got away with it for so long: Blackmail, corruption, and personal connections with pliant prosecutors, judges, and well-placed insiders. His success paints an unflattering picture of the justice system in a country that has often been touted as a poster child for successful transition from communist rule to European rule of law.
A Kočner lawyer did not comment for this story, questioning reporters' credentials. Another said he no longer represented the businessman, and a third could not be reached for comment.
"The Belly"
Marian Kočner grew up in the small northern Slovakian town of Ružomberok. Ironically, he began his career as a journalist, graduating from Bratislava's Comenius University and working as a television reporter for a state broadcaster.
But his media career wouldn't last. With the crumbling of communism in Central Europe in the late '80s, Slovakia began a painful transition away from a centralized economy that had been in place since 1948. As in the other former Eastern Bloc states, the country's society and political system struggled to adapt.
Crime began to rise as a fragile new legal regime, staffed with inexperienced prosecutors and judges, found itself unable to cope. In the new private sector, there were opportunities to make money in both scrupulous and unscrupulous ways.
It was in this context that Kočner first entered the public eye in the late '90s, no longer as a journalist but as a businessman. Though initially known only as a side player in a major financial fraud, the so-called "Technopol case," the scandals in which he was allegedly involved continued to mount over the following decades, making him a notorious figure (see boxes).
Over the same period, Kočner also began to appear in Slovakian celebrity magazines, where he was portrayed as a vain businessman who enjoyed flaunting his wealth. He was depicted driving a white Bentley around Bratislava, parking in spaces for the disabled as a display of his untouchability, and showering powerful officials with luxury handbags, watches, and other expensive gifts. The tabloids also reported that Kočner, whose nickname was "The Belly," had gastric bypass surgery to lose weight.
Much more serious were the measures Kočner appears to have taken to ensure he would never face serious scrutiny for his alleged crimes.
"All The Money Ended Up With Me"
In 2004, Dobroslav Trnka, then a deputy prosecutor general, was elected by parliament to the position of prosecutor general, giving him wide latitude to set the direction and scope of criminal investigations in the country.
The newly obtained police data makes it clear that Trnka — whom Kočner referred to familiarly as "Dobroš" — was a close ally of the controversial businessman.
In a recorded telephone conversation, Kočner reiterates to Trnka that he had Kočner to thank for at least some of the parliamentary votes in his favor during his 2011 reelection attempt, when he fell just one vote short.
In the 70-minute-long recording, the businessman upbraids the former prosecutor general for allegedly making a copy of a secret police file known as the "Gorilla Case" (see box) and using it to blackmail a businessman involved.
"Why did you go and blackmail Haščák [a businessman who figures in the Gorilla Case]?" Kočner demands to know. "You fucking know he's my friend. Fuck, do you know he is a man who, apart from other things, helped to fucking bribe the MPs when you were about to be [reelected as] prosecutor general?"
"Unfortunately we were one [vote] short," Kočner continues. "But he was the one who deposited money and gave a million euros on your behalf. Exactly the same way I gave a million myself. The fact that we were one vote short, fuck, is not my fault."
Trnka protests that he had not made a copy of the file and had not used it to blackmail anyone.
In response, Kočner continues to berate Trnka, demanding that he tell the truth about the audio and threatening him with retribution: "Only the truth will save you, and perhaps your son," he says. "Because if you screw up … you'll go to jail, and your son's life will be ruined. … If you deceive me, you'll see what I'll do with you."
"It will cost you, you will see what at the end," Kočner says ominously.
In response, Trnka meekly acknowledges that the businessman had threatened his life: "Well, a bullet. Thirty-two [Slovak] crowns," he replies. He had gotten the point.
In the same conversation, Kočner mentions funds he kept on Trnka's behalf. Judging from their conversation, in which they mention the names of two Kočner allies, at least one of whom had an ongoing criminal case, the money may have been intended to buy legal favors.
"No, you never took anything," Kočner says. "All the money that ended up with me. You never wanted to know how much and for what, and you said that I should hold it. You never asked how much you got there, you always came and said you needed this and that, and I always withdrew [the money] and gave it to you. Is that so?"
"It is," Trnka replies.
In addition to this audio recording, the newly obtained data contains a video that shows Kočner personally installing a hidden camera in Trnka's office to record confidential conversations.
If you found a typo you can notify us by selecting the text area and pressing CTRL+Enter