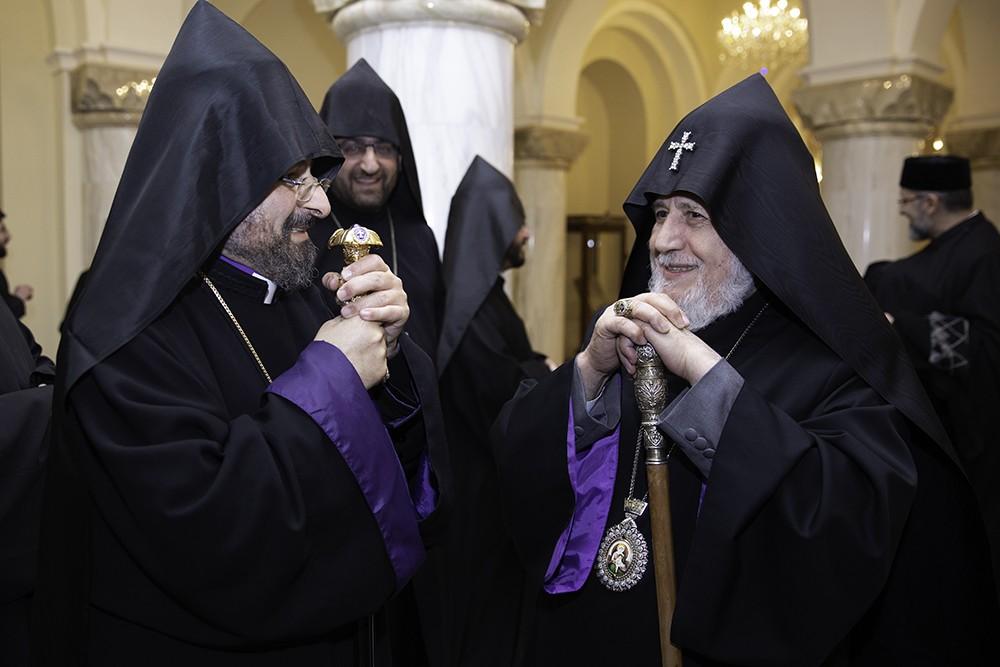 Newly Elected Armenian Patriarch of Constantinople Visits Etchmiadzin
Newly elected Armenian Patriarch of Constantinople Archbishop Sahak Mashalian arrived in Armenia yesterday and was received at the Mother See of Holy Etchmiadzin by Vicar Bishop Hovnan Hakobyan who welcomed Patriarch Mashalian on behalf of the Etchmiadzin Brotherhood.
Patriarch Mashalian and his entourage, consisting of Very Rev. Father Tatoul Anoushian (Head of the Religious Assembly of the Armenian Patriarch of Constantinople), Rev. Father Drtad Ouzounian and Rev. Father Shirvan Myurzian, were then received by His Holiness Garegin II, Supreme Patriarch and Catholicos of All Armenians.
Catholicos Garegin II, according to a statement released by the Mother See, expressed his joy that the Armenian Patriarchate of Constantinople finally has a spiritual leader that can tackle the important work that has gone undone for so long.
Catholicos Garegin II also expressed his appreciation to newly elected Patriarch Mashalian for his devoted service in the Mother See for many years, urging him to strengthen and grow with the same zeal and selfless work at the Armenian Patriarchate of Constantinople.
Patriarch Mashalian thanked His Holiness for the warm reception and conveyed the heartfelt greetings and respect of the Armenians of Constantinople.
"You are always in our prayers. Our gaze is always on Holy Etchmiadzin, and we, remembering Holy Etchmiadzin and you, are empowered, getting the life blood from our roots to survive in the Diaspora. This day is very precious to me. I have lived with you during many important passages of my life," Patriarch Mashalian said, recalling his years of service in the Mother See under the paternal care of His Holiness.
Patriarch Mashalian will also attend the upcoming convocation of the Supreme Spiritual Council in Etchmiadzin.
If you found a typo you can notify us by selecting the text area and pressing CTRL+Enter