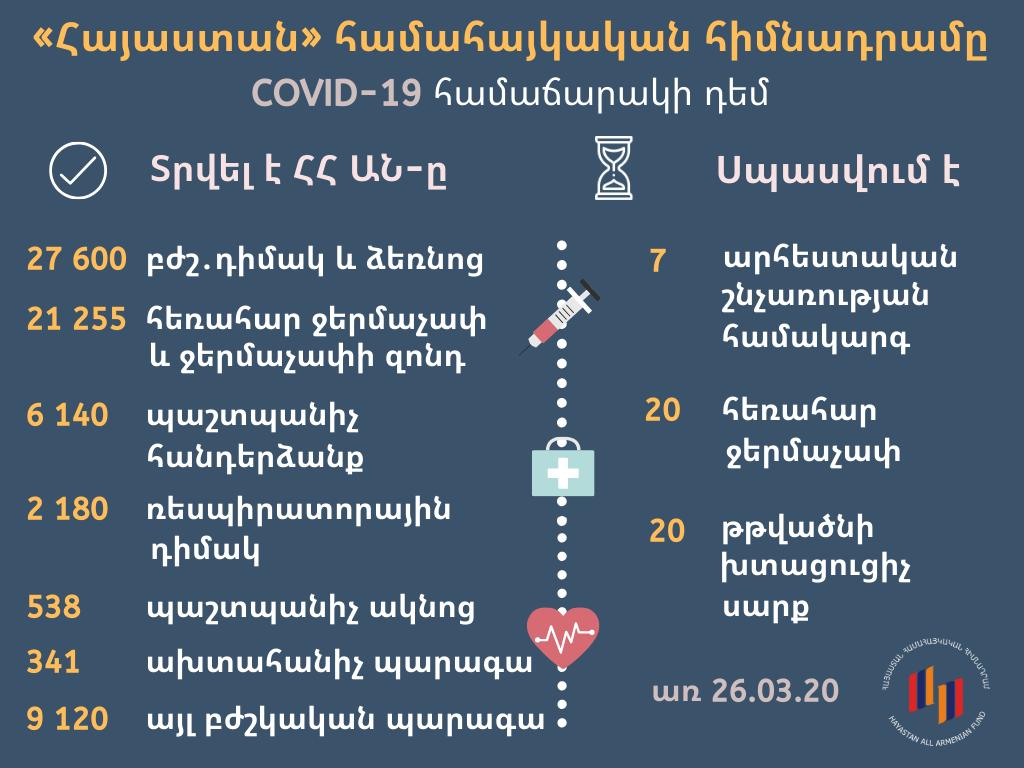 Hayastan All Armenian Fund Rushes Medical Aid to Armenia
The Hayastan All Armenian Fund, in a press release, reports that seven much needed artificial respirators are on their way to Armenia and that 800 high quality 3M masks have already been delivered to Yerevan's Nork Infectious Disease Hospital.
Another 1,000 masks and 100 specialized medical scrubs will soon be delivered to Armenia.
The Fund says it will be sending twenty remote thermometers and oxygen concentrators to Armenia as well, and that half are destined for Artsakh.
With the assistance of the Fund's Western USA Branch and the Chevy Chase Surgery Center, some 800kg in total preventive, protective as well as disinfectant medical supplies, including medical protective gear, facial respirator masks, special bottles for disinfectants, disinfectants, protective eyewear, etc. has already been sent to Armenia's Ministry of Health.
The Fund has set up an online fundraiser on its website to assist Armenia in its fights against the coronavirus pandemic.
Close to US$63,000 has already been raised. All funds collected through this initiative will be used to provide urgently required medical supplies to the Healthcare Sector and families who need help to weather this storm.
If you found a typo you can notify us by selecting the text area and pressing CTRL+Enter