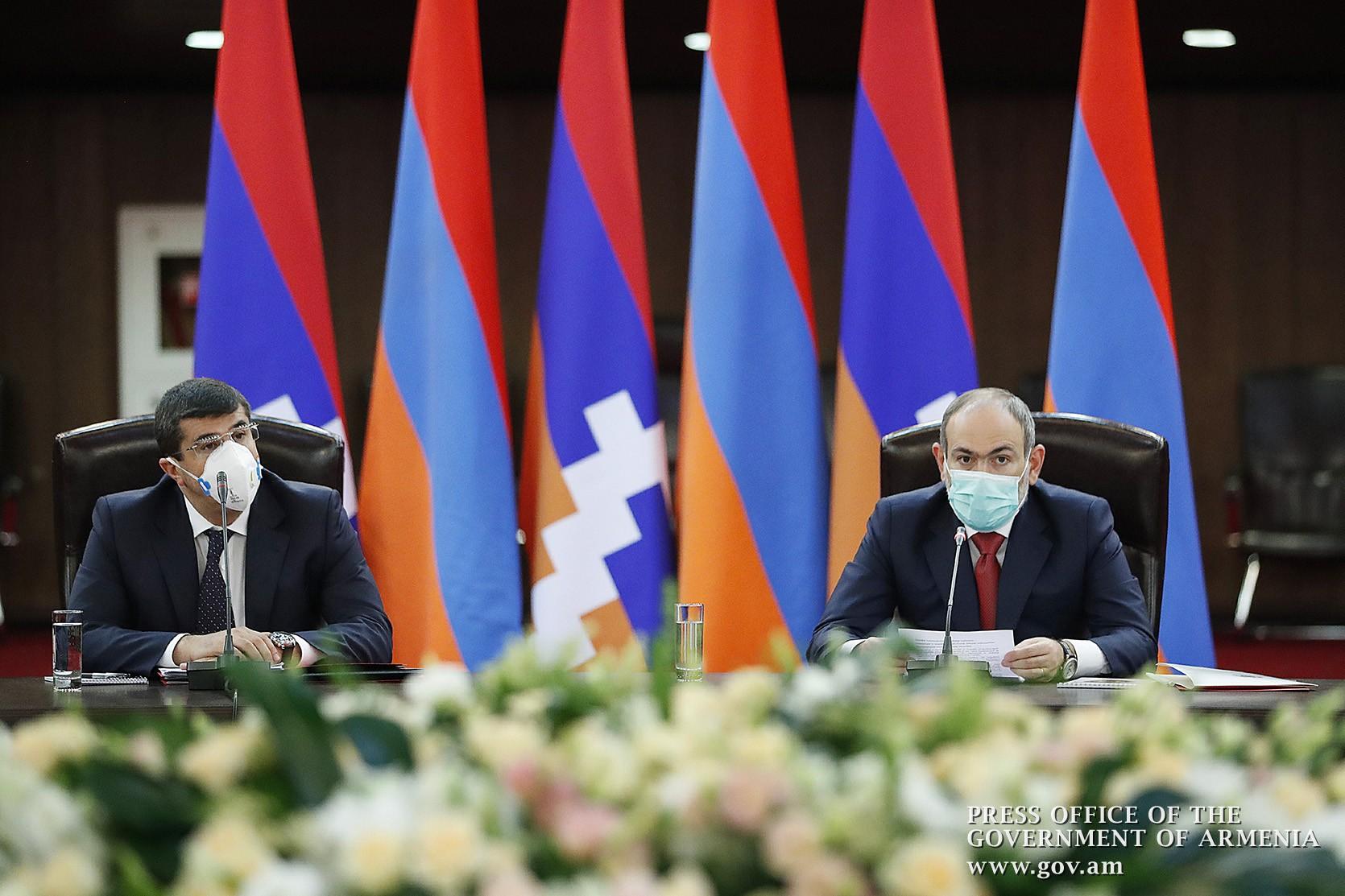 Armenian Prime Minister and Artsakh President Chair Joint Security Council Session
Armenian PM Nikol Pashinyan and Artsakh President Arayik Harutyunyan are co-chairing a joint sitting of the Security Councils of Armenia and Artsakh now being held in Yerevan.
The sitting was also attended by the Speakers of the Armenian and Artsakh Parliaments, Ararat Mirzoyan and Arthur Tovmasyan.
In his remarks, Pashinyan noted:
During our joint sitting on December 23 last year, I especially emphasized the upcoming national elections in Artsakh. The elections in Artsakh pursued three priority goals. First, to give the people of Artsakh a chance to elect the authorities that will organize the political and social life of the country by exercising their human rights. Second, to give the people of Artsakh the opportunity to elect the authorities that must ensure their security. Of course, the Republic of Armenia will continue to support the Artsakh authorities in their commitment to protect the people of Artsakh, continuing to be the guarantor of Artsakh's security. Third, because of the presidential and parliamentary elections, the people of Artsakh had to give a mandate to their authorities to represent Artsakh at the negotiating table.
Now that the election is over and the authorities have been formed, it must be stated that these three goals have been achieved. As a result of the competition and democratic elections, Artsakh has a government that expresses the aspirations of the people of Artsakh for political reforms, economic and infrastructural development. As a result of the elections and the formation of the authorities that accompanied them, a major process of solidarity and consolidation of political forces took place in Artsakh, which I am sure strengthened Artsakh's security.
Artsakh President Harutyunyan said:
Today, the united Armenian homeland lives amongst unprecedented security challenges primarily due to the uncertainty caused by the coronavirus, and uncertainty itself is the main security threat everywhere.
Among the long-term risks that have become commonplace, we must now not only effectively protect public life and health, but also to neutralize external risks in all areas. From that point of view, I consider it important to pursue harmonious and united work between all possible subjects, starting with the departments of the Republics of Armenia and the Republic of Artsakh to citizens and various organizations. I am confident that only with the effective coordination of the state authorities and the collective efforts of the society will we be able to face the existing challenges, using the opportunities provided by the crisis at the same time.
If you found a typo you can notify us by selecting the text area and pressing CTRL+Enter