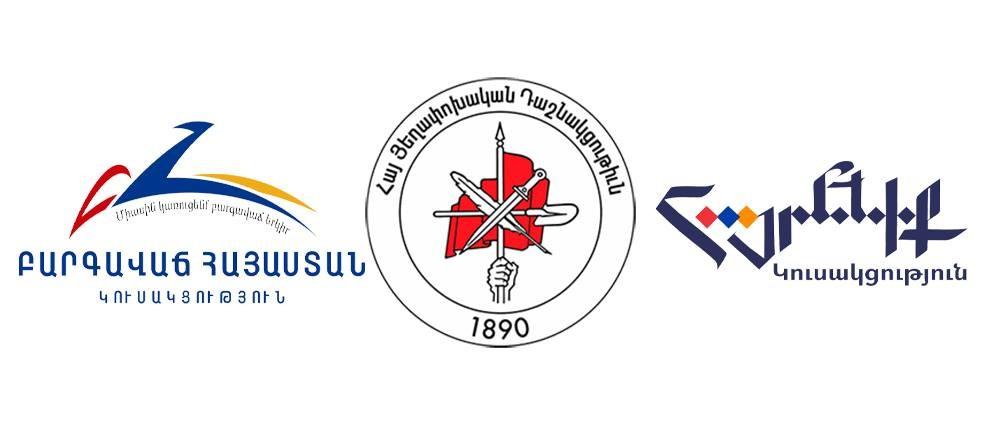 Armenia: 3 Opposition Parties Condemn Government's Move to Modify Constitutional Court
Three political parties in Armenia (Prosperous Armenia, Hayrenik, Armenian Revolutionary Federation) today issued a joint statement condemning, as a violation of the principle of the separation of powers, the Armenian government's campaign to oust certain Constitutional Court judges and to replace the court's chairman.
A government-backed bill to force all Constitutional Court judges serving more than twelve years to resign was approved by the parliament in June.
The three parties have petitioned the Prosecutor General's Office to look into the matter, arguing that the executive branch of the government has ovestepped its authority and has violated several clauses of the Criminal Code in its attempt to alter the make-up of the court.
Armenian Prime Minister Nikol Pashinyan has argued that some court judges are holdovers of the former regime and must go.
Opposition political forces believe that Pashinyan wants to fill the highest court in the land with his own supporters.
In their statement issued today, the three parties argue that Articles 300, 301 and 309 of the Criminal Code have been violated (Usurping state power, Public calls for changing the constitutional order of the Republic of Armenia, Exceeding official authorities).
If you found a typo you can notify us by selecting the text area and pressing CTRL+Enter