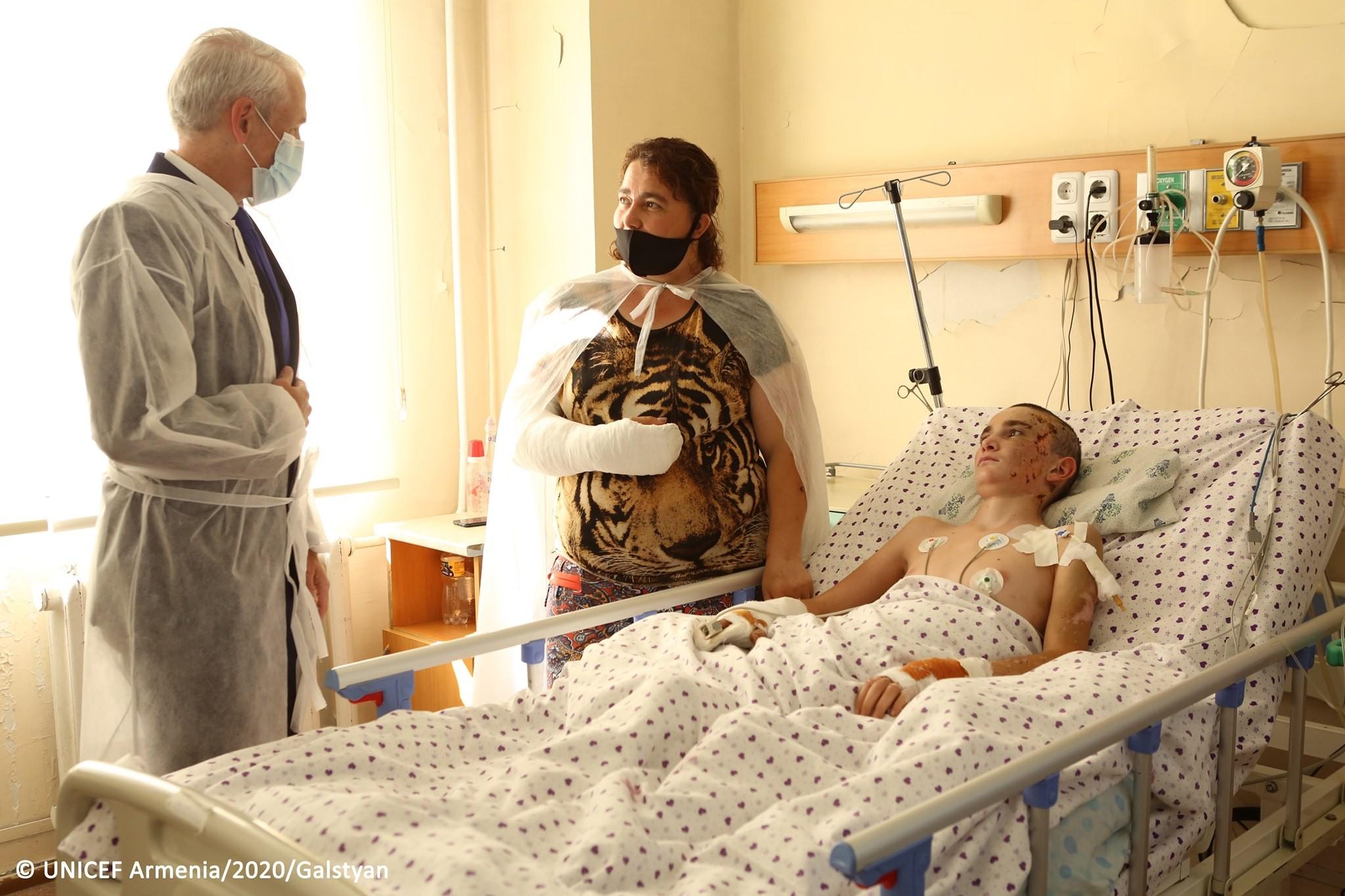 UN Resident Coordinator Visits Children Injured in Armenia and Nagorno-Karabakh Conflict Zone
On 16 October, the UN Resident Coordinator in Armenia, Shombi Sharp, UNICEF Armenia's Early Childhood Development Officer, Maya Simonyan and Nutrition Programme Officer Mihran Hakobyan visited children injured in Armenia and the Nagorno-Karabakh conflict zone at the "Surb Astvacamayr" medical center.
They were greeted and accompanied during the visit by the the representative of the Ministry of Health, Head of the Resuscitation Unit of the medical center, Anna Chobanyan, and medical staff.
During the visit, Mr. Sharp had the opportunity to meet and engage with Narek, Ruben and Artsvik, all of varying ages from 2 to 14 years old. Narek told the UN RC about the circumstances in which he was injured. He also shared stories about his hobbies – including chess and mathematics. The two of them discovered a mutual love of dogs, exchanging pictures of their pets, and agreed to a chess match when Narek is recovered.
Since Ruben is only beginning to be able to talk again as a result of his injuries, Mr. Sharp spoke at length with his mother, who was also injured. She talked about the tragedy and shared insights into her son's passions, including football, which he hopes to return to when fully recovered.
Little Artsvik laughed for the first time in days, according to the medical staff, enjoying some toys brought by the UNICEF colleagues.
"I and the UN country team condemn any targeting of civilians, and the UN Secretary-General urges an immediate and lasting ceasefire as there is no military solution to the conflict." – Mr. Sharp noted during the visit - "Every child has a fundamental right to a peaceful childhood no matter where they are from."
The visit was a result of a close cooperation of the UN Armenia Country Team with the Deputy Prime Minister, Mher Grigoryan's office and the Minsitry of Health.
The UN in Armenia stand ready, should the situation require and it be called upon, to provide humanitarian support to those who have had to leave their homes or are otherwise affected.
If you found a typo you can notify us by selecting the text area and pressing CTRL+Enter