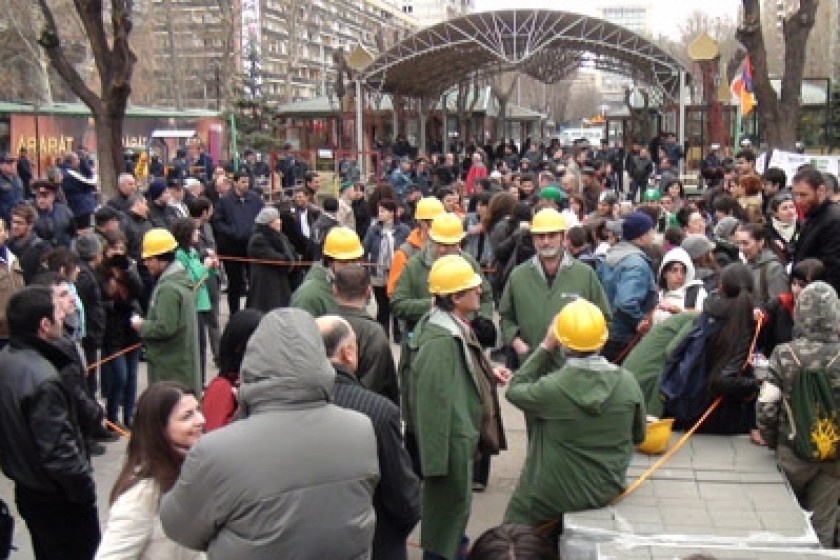 "We, Armenians of Danmark, convey our fullest support to your green activism"
Dear activists of Mashtots Park,
Dear residents of Yerevan,
With this letter we, Armenians of Danmark, convey our fullest support to your green activism. We are concerned with the complicated situation around the Mashtots Park, and Teghut forest and always follow the developments around these issues. We join your claim to stop the construction in the park, remove the trade booths and leave the park to its owners – the residents of Yerevan.
We find it unacceptable and unlawful to use the public park in favor to the private rather than the public interests, even if it is said to be temporary. This is particularly alarming, because the green territories become more and more endangered in Yerevan, and in Armenia as a whole. We are well-aware of violations of law regarding the construction in the park, and condemn the police actions as being not legitimate. Meanwhile, your demands on stopping the process of construction and dismantling the booths are proposed within the framework of law.
On the other hand, we express our sincere appreciation for the civic activism of those people, mostly the younger generation, who are involved in the park initiative, express their voice and strive for a better, greener, more lawful country of concerned people, who prefer to sleep in an open-air park in winter, rather than remain impartial in their closed apartments. We consider this activism as a precedent and a good example of protecting public property and voicing out injustice. Undoubtedly, Mashtots Park case can be a good motivator to raise civic voice and feeling of public belonging in the society, which is so crucial nowadays.
We also address the international organizations in Armenia and diaspora groups to pursue the issue and express thier support to the public activism. You are greatly involved with the development of Armenia, hence, you cannot be impartial, and not to follow what are your cooperation outcomes with different concerned structures in Armenia.
It was with great pleasure that we read about a $1.2 million grant to Armenia Tree Project (ATP) by the Norwegian Ministry of Foreign Affairs. However, we are concerned that while the Norway funding will provide partial support of an expansion of reforestation programs in northern Armenia, it is in the very same northern Armenia that the already existing massive and virgin forest of Teghut is being logged for the sake of mining industry that will benefit only a few, but harm the majority.
To conclude, we hope that the responsible authorities will make right decisions, and you will celebrate your deserved victory of voice very soon.
Best regards,
The Undersigned
Date 30/3-2012
Mina Keheyan Hasmik Serobyan
Nara Kchatorian Hasmik Zatikyan
Sevak Karapetyan Armine Poghosyan
Nune Izraelyan Anna Voskanyan
Marine Khachatryan Eugenia Jørgensen
Andreas Nikolyan Salah El Matari
Marine Nikolyan Nikolina Jørgensen
Veronika Keheyan Hans Christiansen
Andy Movsisyan Gitte Mortensen
Armen Movsisyan Alik Babayan
Verginia Keheyan Marine Babayan
Tatevik Nikolya Tigran Dunts
Suzanna Pashiyan Marianna Jensen
Ev Mer Danya/Hay Hamaike.
If you found a typo you can notify us by selecting the text area and pressing CTRL+Enter