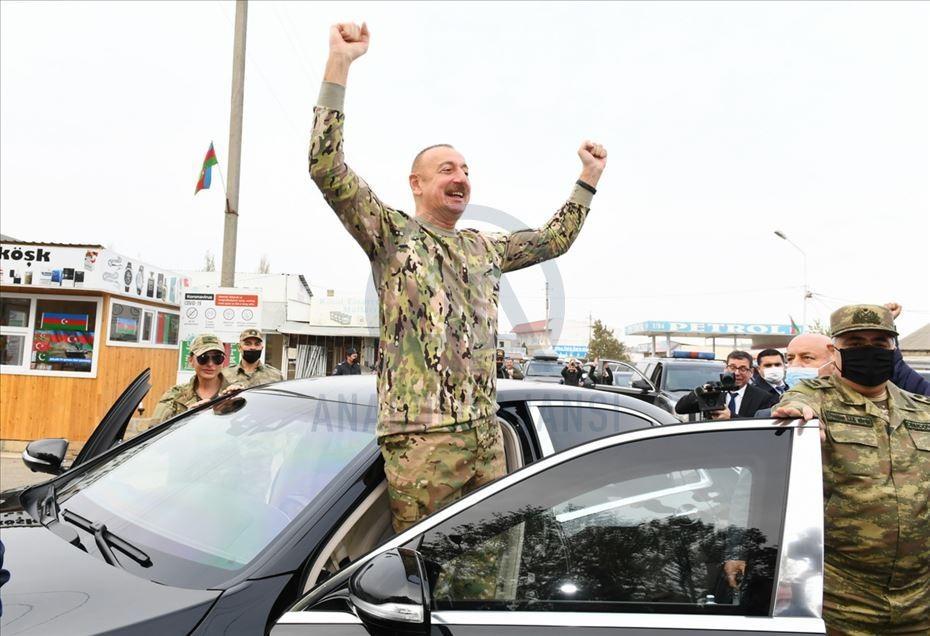 Azerbaijani Workers Forced to Donate to Nagorno-Karabakh Restoration Funds
Azerbaijani citizens are complaining that they are forced to donate money to newly established public funds aimed at supporting the military, veterans, and restoration of territories of Nagorno-Karabakh now under Azerbaijani control.
Many Azerbaijani workers reported the incidents on social media. They say that employers either simply cut a part of the salaries and transfer money directly to funds, or force employees to donate after receiving the salary.
So far, there have been numerous such cases reported in the media. Both state-run and private companies have been accused of using fear tactics and manipulating patriotic sentiments to intimidate workers to donate.
Three funds have been established in Azerbaijan since the beginning of the year - Azerbaijani Army Relief Fund, Yashat, and Karabakh Revival Fund. Azerbaijani authorities have said 2.2 billion Azerbaijani manats ($ 1.3 billion) will be allocated for the restoration of infrastructure and reconstruction after the war this year alone. So far, it is unknown how much of this sum will be funded directly from the state budget and from these public funds.
"Those opposed might as well say they are not Azerbaijani and that's why they do not want to pay", Jahangir Aliyev, Chairman of the Workers' Union Of Oil and Gas Industry of Azerbaijan, told Microscope Media. His comment was widely criticized on Azerbaijani social media.
Jahangir Aliyev approved an employers' decision to deduct salaries and transfer money to the funds. He said that on the initiative of the union, 10% of the salaries of Azerkimya Production Association employees were transferred to Yashat. Aliyev says some companies transferred 50% of salaries and more.
An employee at a private company with close ties to Azerbaijani authorities told Caucasian Knot that management suggested transferring 1% of the salaries to the Yashat fund, which was later raised to 50%.
"At first we all agreed. Of course, the families of the victims and wounded veterans must be supported. But it [donating 50% of the salary] is beyond me. I have a big family and I can't give that much right away," said the employee. Their boss threatened to fire them for disagreeing.
A nurse at one of the public hospitals said their yearly bonus was transferred to Yashat. She said she and her colleagues sent cigarettes, candies and warm socks to the frontline through volunteers during the war. But she thinks "everyone should determine the amount of the donation themselves and not according to the directions of officials".
Many workers talk to reporters on the condition of staying anonymous because they fear losing their jobs.
According to Nastoyashee Vremya, Azerbaijan raised funds in a similar way last year to fight COVID-19 and that many employees reported they were forced to donate to the Coronavirus Response Fund. Azerbaijani President Aliyev initiated its establishment last year. It received around 114 million manats ($67 million) in donations. Aliyev himself transferred his annual salary - 126,900 manats ($75,000) to the fund.
Rena Safarlieva, a member of the Yashat Board of Trustees, said that making employees donate money against their will is illegal and that all the donations are exclusively voluntary. "I'd recommend fighting against this practice collectively", Safarlieva told Caucasian Knot.
According to Yashat's website, it has received 28 million manats (~$ 16.5 million) of which 2.4 million manats (~ $ 1.5 million) has been spent.
Despite extensive coverage, such acts of intimidation remain commonplace in Azerbaijan.
If you found a typo you can notify us by selecting the text area and pressing CTRL+Enter