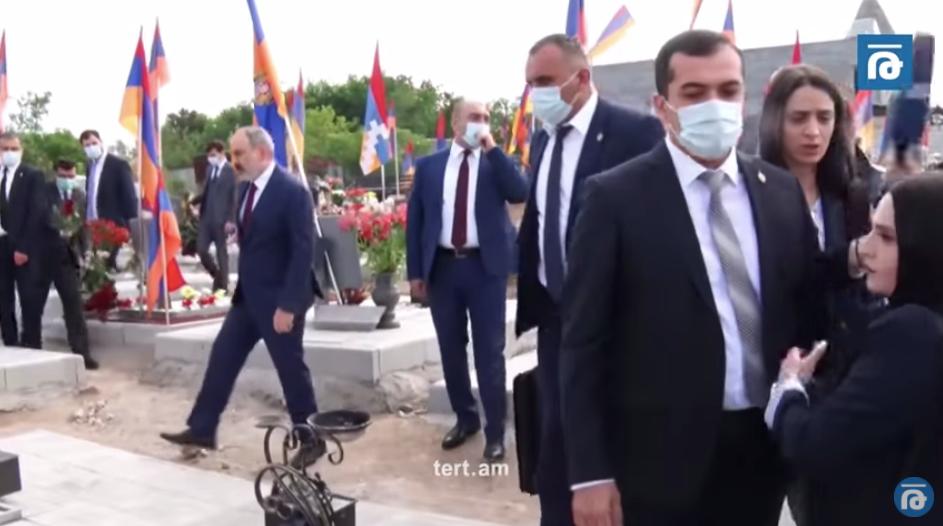 Media Organizations Accuse Pashinyan's Press Secreatry of Hindering Reporter's Work
Several media organizations in Armenia have publicly criticized Maneh Grigoryan, Nikol Pashinyan's press secretary, for obstructing a local reporter who attempted to approach Pashinyan on May 9 at Yerevan's Yerablur Military Pantheon.
Ani Gevorgyan, the reporter in question, wanted to ask Pashinyan a question who had visited Yerablur on Victory and Peace Day.
The press organizations say law enforcement employees and Grigoryan blocked Gevoryan's path, describing the incident as "unacceptable", especially when committed by someone responsible for media outreach.
"Taking into account the forthcoming special parliamentary elections and the planned public events, it can be safely assumed that the conditions of journalists' activities will be significantly complicated. Therefore, we call on state officials, law enforcement agencies and all political forces participating in the electoral process to show restraint and tolerance towards media representatives. We call on the latter to carry out their professional activities in accordance with the law and journalistic ethics," reads the statement signed by the following organizations.
COMMITTEE FOR THE PROTECTION OF FREEDOM OF SPEECH, YEREVAN PRESS CLUB, MEDIA INITIATIVES CENTER, "AREA" JOURNALISTS CLUB, FREEDOM CENTER FOR INFORMATION, MULTILATERAL INFORMATION INSTITUTE - ARMENIA, PUBLIC JOURNALISM CLUB, "JOURNALISTS FOR THE FUTURE" NGO, "JOURNALISTS FOR HUMAN RIGHTS" NGO, GORIS PRESS CLUB, "FEMIDA" NGO
If you found a typo you can notify us by selecting the text area and pressing CTRL+Enter