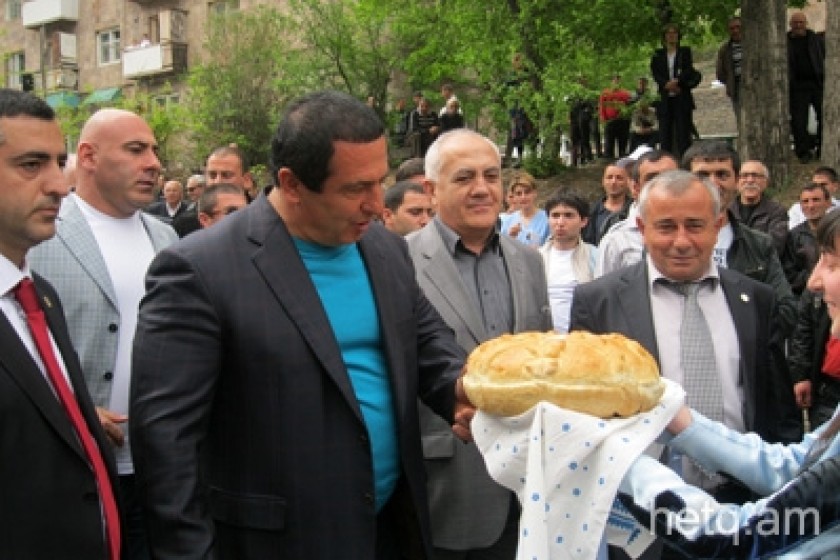 Tsarukyan Campaigns in Alaverdi: People Want Cash, not Promises
Around 1,000 people turned out to see Prosperous Armenia Party leader Gagik Tsarukyan at a campaign stop in Alaverdi.
This reporter went around asking some of the spectators what they thought about Tsarukyan and his party.
"I'm voting for Tsarukyan. I find everything he does is top notch. Just look at his face. It's enough to convince me," said Alaverdi resident Marousya Sargsyan.
She then turned and whispered to me, "I have written a letter for Tsarukyan. Who can I give it to?"
I asked her what the letter was about.
"Well, I need some money. My son died. We have the gravestone and all, but we need money to get it sculpted and installed."
There were hundreds of such letters clutched in the hands of those waiting for a private audience with Tsarukyan, reported to be one of the richest men in Armenia.
I saw invalids, old ladies, unemployed men, all waiting to shake Tsarukyan's hand and ask a favour or two.
When Tsarukyan spoke he came across with that "everyman", "down home" style that he's honed to near perfection since the beginning of the parliamentary campaign.
He talks about sincerity and how he doesn't feed the people grandiose promises like the rest of the politicians.
A recent addition to his campaign stump speech is when Tsarukyan notes that he hasn't got into politics to make money, alluding to the fact that he's already filthy rich.
No, Tsarukyan argues that he's entered the political fray to work for a better future for the children, for the country and its people.
He told the crowd that his Prosperous Armenia Party has crafted a platform that addresses all the sectors of Armenian life and that it is based on reality.
Tsarukyan also touched on the importance of sustainable economic development outside of Yerevan that does not damage the environment.
But it seemed to me that such talk went over the heads of the people.
All they were concerned about was getting the ear of Tsarukyan and placing their letters in his hand.