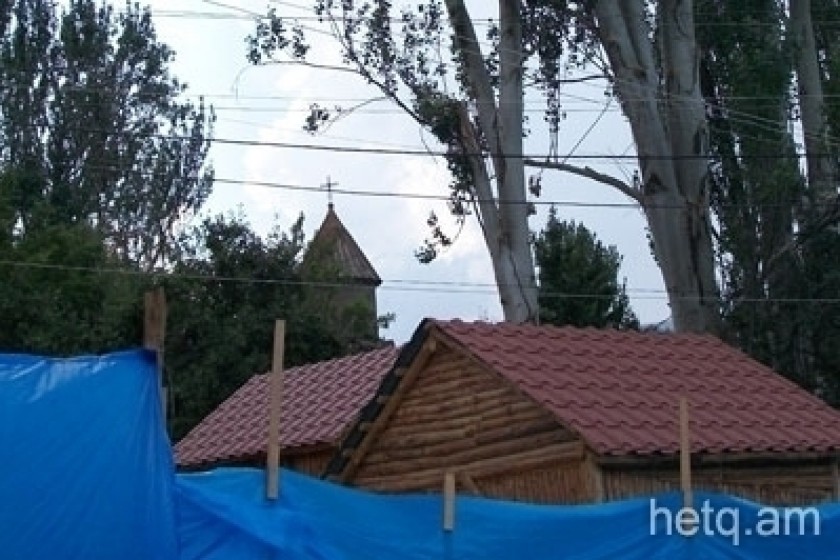 Kotayk Diocese - Restaurant at Kecharis Monastery to be Dismantled
Yesterday, the Armenian Apostolic Church Diocese of Kotayk issued a press statement that construction of a restaurant adjacent to the Kecharis Monastery had been halted and that the eatery was in the process of being dismantled.
The Diocese said it was spreading the news in the hope that this would put an end to the complaints received from people who were arguing that the Church should not allow such a disgrace in the first place.
Readers will remember that Davit Ghazinyan,who owns the company constructing the restaurant, got the architectural plans approved in just one day last year.
The work had started without a work permit from the local Tzaghkadzor municipality.
The architectural blueprint hadn't been approved by the Ministry of Culture's Cultural Monuments Preservation Agency.
It also turned out that Catholicos Garegin II was aware of the restaurant construction and that the church wasn't opposed to it.
Hetq got in touch with Tzaghkadzor Mayor Garoun Mirzoyan who verified that all construction material was being removed from the site.
We tried to pose some questions to Kotayk Primate Archbishop Karamyan and Etchmiadzin Public Affairs Director Father Vahram Melikyan.
We were told that a clergy meeting was underway and that no one was available to speak to us.
Father Melikyan promised to get back to us after the meeting ended.