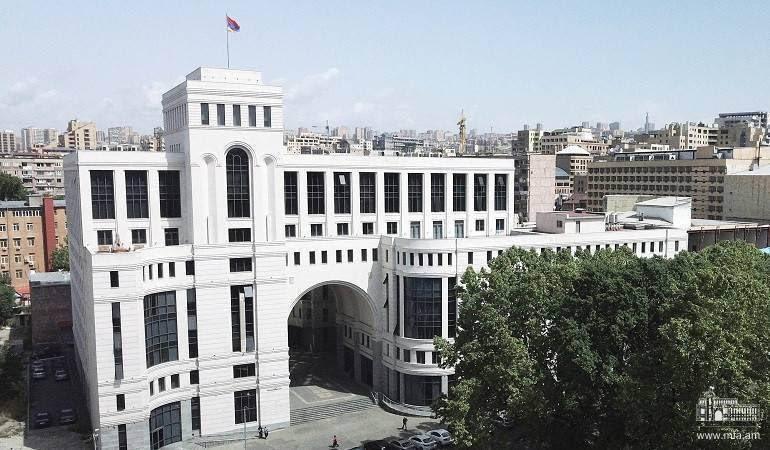 Yerevan Slams Aliyev for Describing Armenia as "Western Azerbaijan"
The Armenian Foreign Ministry, in a statement today, condemned Azerbaijani President Ilham Aliyev for describing present-day Armenia as part of "Western Azerbaijan, arguing such language is a clear manifestation of Baku's territorial claims against the Republic of Armenia.
Aliyev made the remark during a speech on March 16 during the summit of the Heads of State of the Organization of Turkic States in Ankara.
"As in Karabakh and East Zangezur, Armenia has also destroyed our cultural heritage, mosques and historical sites in present-day Armenia – in Western Azerbaijan. The Azerbaijani community has repeatedly appealed to UNESCO to send a fact-finding mission to monitor the Azerbaijani people's cultural heritage in present-day Armenia and expects a positive response from UNESCO," Aliyev said at the summit according to his office.
"Presenting the sovereign territory of the Republic of Armenia under the fictitious name Western Azerbaijan, the President of Azerbaijan grossly violates the UN Charter, the UN GA Declaration on Principles of International Law concerning Friendly Relations and Cooperation among States in accordance with the UN Charter, the Alma-Ata Declaration, but also his own commitments undertaken by the Prague and Sochi statements to which he is referring in this exact speech," the Armenian Foreign Ministry shot back.
Aliyev said Azerbaijanis "were driven out forcefully of the territory of present-day Armenia" in 1991 and seek the right to return to their "historical lands".
"Just as we, the state of Azerbaijan, will guarantee the individual rights and security of the Armenian residents living in Karabakh, Armenia must guarantee the rights and security of the Western Azerbaijanis based on the principle of reciprocity," Aliyev said in Ankara.
The Armenian Foreign Ministry accused Baku of preventing the return of displaced Nagorno Karabakh Armenians to their homes now under Azerbaijani control, "while at the same time announcing that it is going to resettle the territories that came under its control as a result of the deportation of the Armenians of Nagorno-Karabakh."
The ministry writes Baku is violating all the points of the November 2020 tripartite ceasefire statement and undermining ongoing peace negotiations between Yerevan and Baku.
If you found a typo you can notify us by selecting the text area and pressing CTRL+Enter