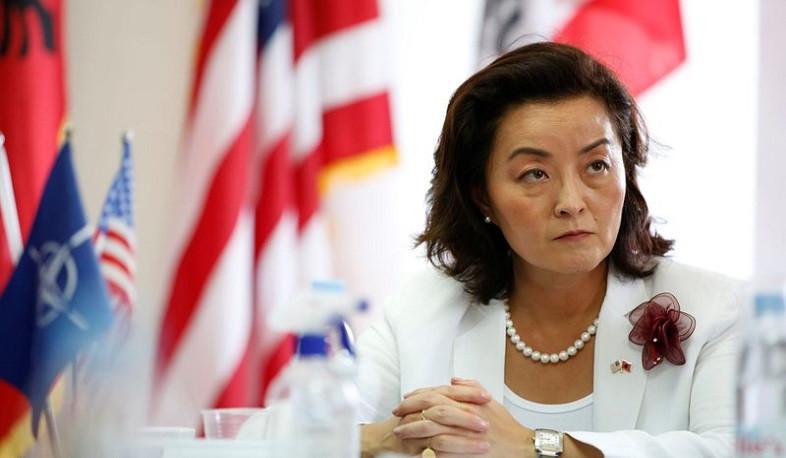 U.S. Official Says Washington Will Not "Countenance" Ethnic Cleansing in Karabakh
U.S. Acting Assistant Secretary of State for European Affairs Yuri Kim, at a September 14 hearing of the Senate Foreign Relations Committee on the crisis in Nagorno Karabakh, said "the U.S. will not countenance any action or effort—short-term or long-term—to ethnically cleanse or commit other atrocities against the Armenian population of Nagorno-Karabakh."
"Azerbaijan must provide internationally verifiable assurances of respect for their rights and their ability to remain in their homes and live without fear," Kim said at the hearing.
Kim's use of the verb "countenance" is somewhat vague given that she failed to specify what exactly the U.S. response would be to any attempts by Baku to ethnically cleanse Karabakh of its indigenous Armenians.
One also wonders if Kim regards Baku's blockade of the Lachin Corridor as a long-term effort to force Armenians to leave Karabakh.
Kim called on Azerbaijan to reopen the Lachin Corridor, calling the current situation "unacceptable."
"We have consistently said the corridor must be open to commercial, humanitarian, and private traffic. We have conveyed this message both publicly and privately to all levels of the government of Azerbaijan on numerous occasions. Access to food, medicine, baby formula, and energy should never be held hostage," Kim said in her testimony.
Kim said the U.S. is also working to get much needed humanitarian aid to Karabakh via other routes and urged Karabakh authorities to accept assistance through the Aghdam checkpoint.
The U.S. official said peace in the South Caucasus "has the potential to transform the region and advance U.S. interests."
"We now have a strategic opportunity to combat malign influence in the region from actors like Russia, China, and Iran by achieving a durable peace that will expand our bilateral economic and security cooperation and provide greater energy security for European partners and allies," Kim said.
She said the efforts of U.S. Secretary of State Antony Blinken to get Armenia and Azerbaijan to agree on a peace deal have yielded results.
"We have invested in this effort because we believe peace between Armenia and Azerbaijan would have cascading benefits for the region that are in the U.S. national security interest. A dignified and durable peace could facilitate regional energy security and boost regional transportation links, in turn improving economic prospects of all countries in the region and improving the lives of millions. The United States could increase our security cooperation in the region and build the confidence and capacity of each country to preserve and protect its sovereignty and independence," Kim told committee members.
According to a statement released by the Armenian National Committee of America (ANCA): "Kim repeatedly dodged direct questions about the State Department's failure to break Azerbaijan's genocidal blockade of Artsakh – even refusing, on national security grounds, to answer Chairman Robert Menendez's (D-NJ) straightforward query about Azerbaijani President Ilham Aliyev's motives for starving 120,000 indigenous Christian Armenians."
If you found a typo you can notify us by selecting the text area and pressing CTRL+Enter