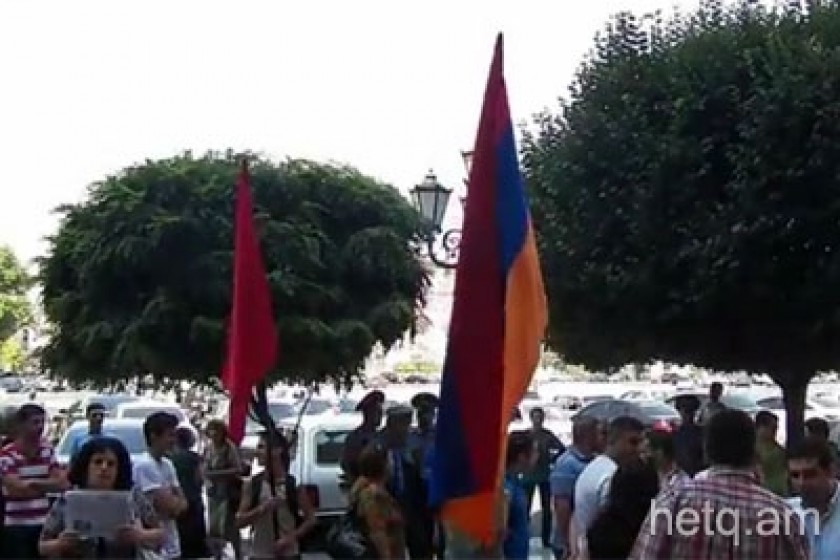 Rally Urges More Government Assistance for Syrian-Armenians Seeking to Relocate
Syrian-Armenians and their supporters rallied today in front of the Government Building in Yerevan calling for greater assistance on a national level to those Armenians fleeing Syria and wishing to relocate in Armenia.
Saying that they expected more from the Armenian government, the Syrian-Armenians pointed out that, on the contrary, they have encountered a number of obstacles.
A group calling itself the Hayazn Civic Organization claimed that the Armenian government has done precious little to facilitate the relocation of Syrian-Armenians in Armenia.
The organization also criticized Armavia Airlines for seeking to exploit the situation by hiking airline ticket prices on its Aleppo to Yerevan flights.
Hayazn representatives Armen Mkrtchyan and Davit Khosrovyan handed a letter to government officials voicing their concerns about the inadequacies of the government regarding the plight of Syrian-Armenians.
The protestors then marched to the Ministry of the Diaspora and the Foreign Ministry to voice their concerns.
One Syrian Armenian, Antranig Vartanian, told reporters at the scene that Armenia had an obligation not only to those seeking to relocate but to the Syrian Armenian community as a whole.