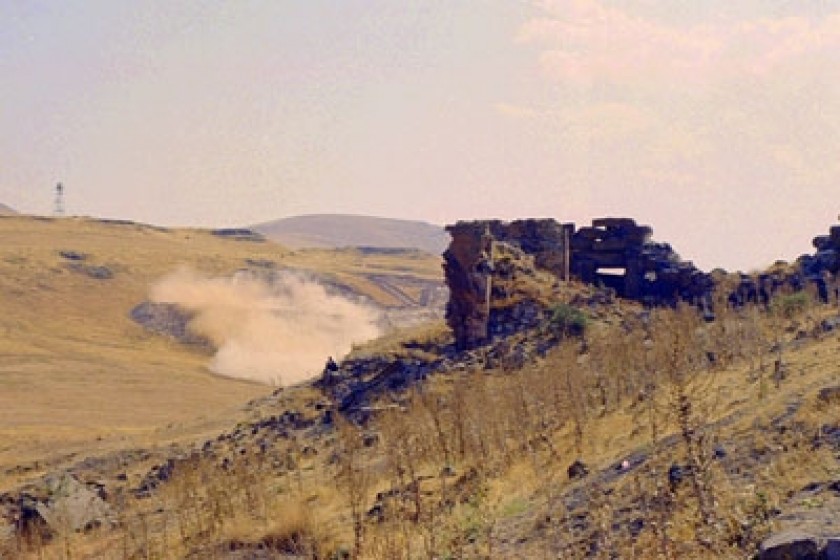 Samvel Karapetyan: "Armenians also guilty of causing damage to Ani"
In the following video, Samvel Karapetyan, who heads the Yerevan branch of the NGO Research on Armenian Architecture, recounts his first visit to Ani in 2000 and what he and his team experienced when they felt the force of explosions emanating from a touf stone quarry across the Akhourian River in Armenia.
Karapetyan and his team had joined a pilgrimage organized by Archbishop Mesrob Ashjian, now deceased.
Karapetyan relates that he was approached by Turkish police and soldiers who requested that he return to Armenia and urge the government to stop such explosions that were damaging Ani.
The Armenian researcher says he first thought this to be a ploy by the Turks but after feeling the power of two blasts in the span of thirty minutes, he was convinced that the explosions were indeed causing damage to Ani.
He even convinced Turkish police to allow him to take photos of the smoke rising over the touf quarry on the Armenian side of the border.
Karapetyan points out that even though, during his several subsequent trips to Ani, he has witnessed the premeditated and wanton destruction of Ani's architectural legacy by the Turks, the fact that Armenia continued the quarry explosions till 2004-2005 played into the hands of Turkey.
"Whenever we protested their destructive actions, the Turks always countered by pointing to our own negligent actions," Karapetyan notes in the video, adding that this just goes to prove that Armenia, and many Armenians, are less than sincere when they speak about the need to protect and preserve their own cultural patrimony.
If you found a typo you can notify us by selecting the text area and pressing CTRL+Enter