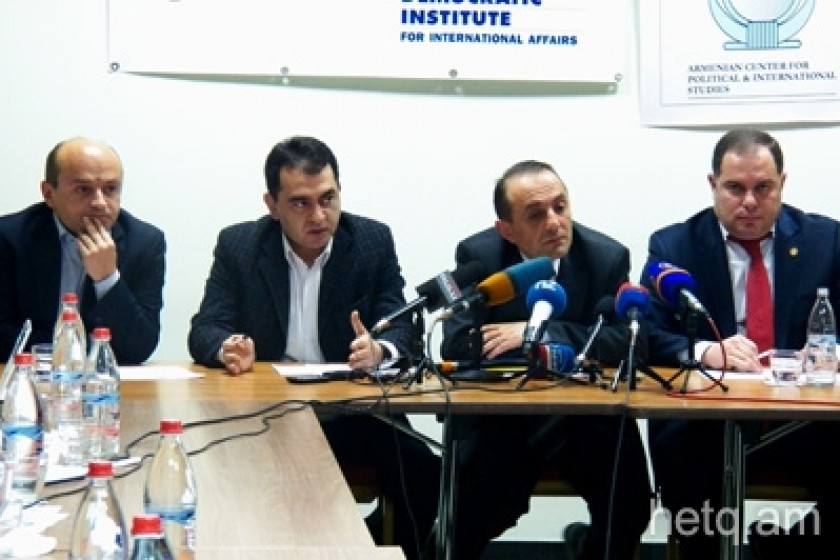 Stopya Safaryan: Tsarukyan's Move Akin to "Stay away, I'm out"
Heritage Party representative Styopa Safaryan today stated that the decision of Prosperous Armenia Party head Gagik Tsarukyan not to run for president would lead to greater voter apathy and thus open the door for more election fraud.
Safaryan described Tsarukyan's decision to remain on the sidelines and his party's announcement that it wouldn't support any other candidate as a case of "Stay away, I'm out".
At the press conference, representatives of the ARF, Republican Party and Heritage talked about what Tsarukyan's move would mean for next February's presidential election.
ARF representative Arsen Hambardzoumyan said it would be nice if one of the presidential candidates was from his party, but that this wasn't an aim in itself.
"There's a need to conduct not only a free and fair election, but a competitive one as well," Hambardzoumyan stated.
Republican Party representative Hovhannes Sahakyan said that while the larger and more powerful parties had already announced their candidates, the rest were still jockeying for position and to see who they might ally with.
The ruling Republican Party announced two years ago that current President Sargsyan would be its candidate in the 2013 election. Heritage has also announced its candidate will be party leader Raffi Hovannisian. The HAK (ANC) has yet to announce its candidate for president.