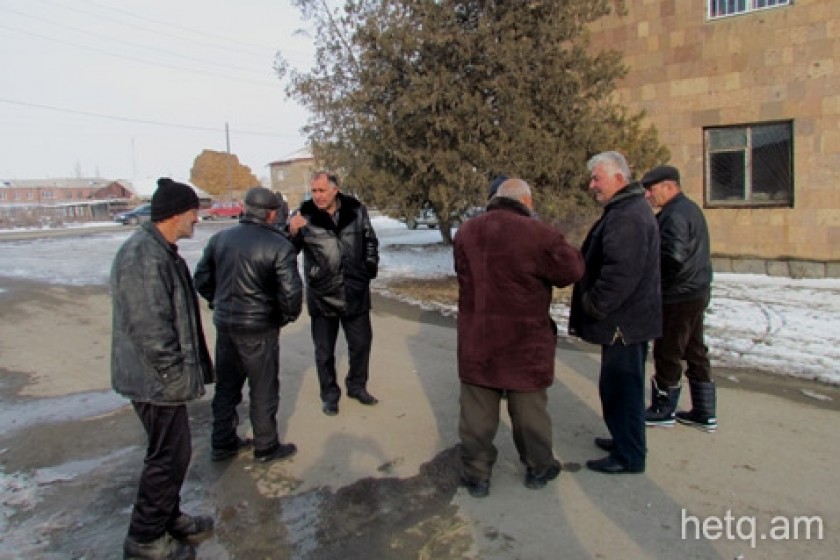 The Men of Margara: Playing Cards, not Politics, is the Favorite Pastime
The men of Margara, a village some 500 meters from the Turkish border, wait patiently for the sun's rays to shine so they can play cards on a small table they've placed outside the mayor's office.
The village has no functioning cultural center, even though the large building is a reminder that the village once had a vibrant cultural life.
The building itself is in bad shape. There are no windows and there are practically no traces of the former roof.
When we visited Margara, we encountered a group of men playing cards. Across the street were some others who told us about their youth during the Soviet period.
Grandpa Avetik told us about how the police used to beat him for illegally crossing the Armenian-Georgian border and how they placed him in a monkey cage. His friends heaved a sigh, wishing for a return to those "glory days".
I tried to get them to talk about the situation in Armenia and the upcoming presidential elections, but they didn't seem interested. Most had no faith in any of the candidates; in fact, they didn't know who was running. Nevertheless, the name of current President Serzh Sargsyan seemed to be the popular favorite.
The villagers told me that they didn't expect conditions to improve in the next five years, regardless of who the president is. Rather, they argued that things are getting worse.
They complained that they could no longer work the land and that, as a result, most of Margara's holdings had turned into a jungle.
Grandpa Avetik was the most vocal of the bunch. The others were much more tight-lipped. Perhaps this was because there was a employee of the mayor's office standing alongside.
Avetik told me that only 30-40 hectares of the village's 300 is under cultivation.
The villagers want the government to review their policies regarding the country's rural communities. In particular, they want a decrease in the rates for irrigation water because the village draws its water from the Araz River. They also want authorities to repair the Etchmiadzin-Margara road. They complain that their cars have been damaged beyond repair by plying this road and that they cannot get the sick to the hospital in time.