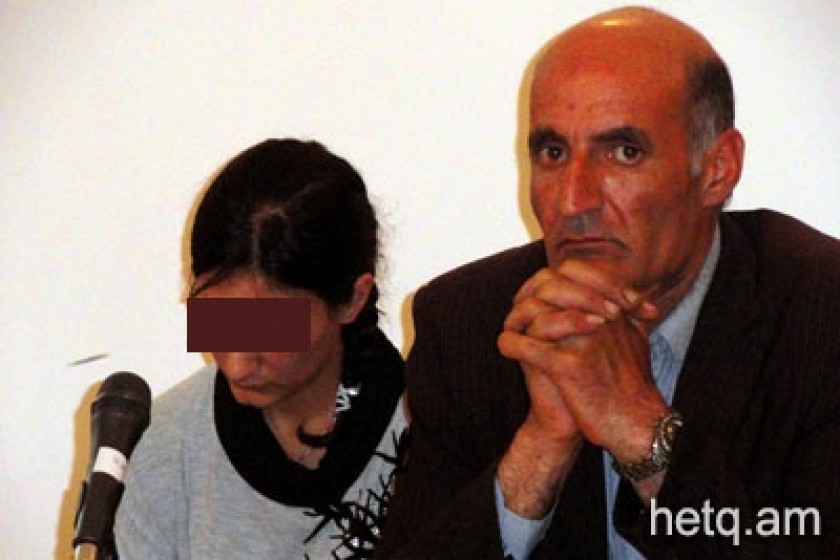 Mother Kills Newborn Baby; Gets Court Pardon
The court case of a woman giving birth to a baby boy in the toilet and then allegedly beating the newborn to death got underway on June 6 in the Shirak Regional Court.
Lusineh Torosyan, a resident of the village of Akhouryan, is being charged with the horrific murder that is said to have taken place on the night of February 14, 2011.
Razmik Shiroyan, the woman's lawyer, had petitioned the court for a speedy trial given that his client has confessed to the crime. Judge Martin Saroyan has sustained the motion.
In his summary, Prosecutor Artyom Avetisyan writes that Lusineh Torosyan entered into a relationship with one H. Mkrtchyan, a resident of Gyumri in January, 2010. She later found out that he was marries and wasn't ready to leave his wife. Thus, Torosyan broke off the affair.
She later accepted a proposal of marriage from another man, Sh. Ghazaryan, a resident of her village. They were married on February 11, 2011.
A few days later, on February 14, after having consummated the marriage, Lusineh fell ill with severe stomach pains. She was given some pills by her mother-in-law that turned out to be a powerful analgesic and antipyretic.
Lusineh then retired to the bathroom, relieved herself, and then gave birth to the baby boy.
And here is where the story gets gruesome.
Attempting to conceal all traces of the birth, Lusineh proceeded to stuff the newborn down the toilet and then instructed her mother-in-law to start up the water pump. She also hit the baby with a stick to push it through the waste pipe.
Getting concerned, the mother-in-law demanded that Lusineh open the bathroom door. Seeing all the blood, she asked what had happened.
Lusineh lied, saying it was a case of hemorrhoids. The woman too Lusineh to the bedroom and changes her soiled clothes.
Returning to the bathroom, the mother-in-law tried to unclog the toilet with a brush but wasn't successful. She then wrapped her hand with a towel, stuck it down the bowel, and retrieved the cause of the stoppage – the newborn's body.
She quickly notified the village police.
The young mother was looking at 3 years in prison for the crime.
Lusineh Torosyan will serve no time in an Armenian penitentiary for her horrific crime
The mother was found guilty by the court but was immediately set free under provisions of the recent general amnesty declared by the National Assembly on May 26, 2011 to coincide with the 20th anniversary of Armenia's independence.