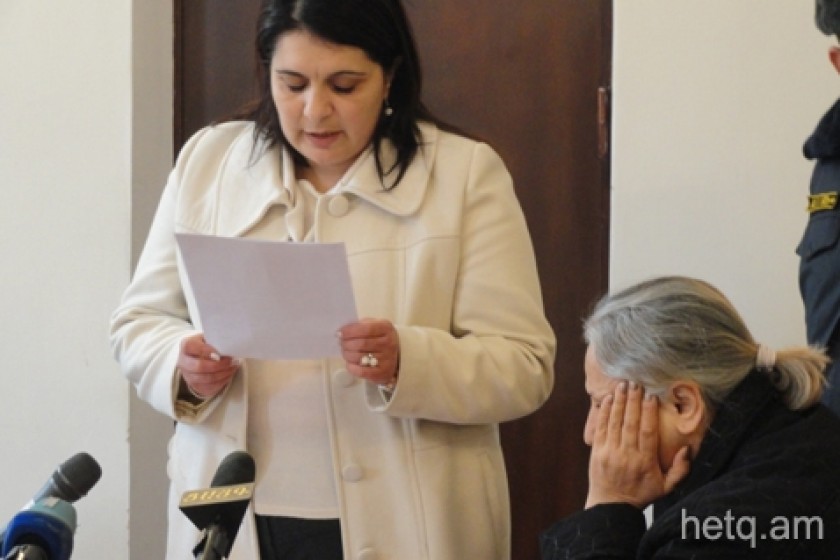 Trafficking Trial: Accused Gets Queasy in Court and is Hospitalized
Once again, the trial of Gyumri resident Sousanna M., convicted of tracking in Trebizon, Turkey, had to be postponed on January 15. At the last minute, the accused decided she wanted to switch her defense attorney.
Sousanna's trial was scheduled to start back in November at the Shirak Court of First Instance. Several sessions had to be postponed since her lawyer at the time, Melanya Sargsyan, had constantly called in sick.
On January 15, Judge Manoukyan asked Sousanna why she wanted to switch lawyers at this point in the trial. The accused answered that differences of opinion had cropped up between the two of them. She also complained about the lawyer's prolonged absence from court as damaging to her defense.
"My daughter has found another lawyer and I want her to defend me," Sousanna told the judge.
The new lawyer, Karapet Aghadjanyan, told the court that he had just arrived from Yerevan and that he even hadn't drawn up a contract with Sousanna nor sufficient time to get aquainted with the case. Aghadjanyan asked for a minimum of four days to do so. Judge Manoukyan rescheduled the trial for January 16 and requested that Sousanna's former attorney be present as well.
Yesterday, Sousanna changed her mind again, saying she would let Melanya Sargsyan continue defending her.
Sargsyan motioned the court to drop the charges against her client.
Sousanna suddenly felt queasy and was taken to hospital.
Judge Manoukyan postponed the trial until January 30.
Top Photo: Attorney Sargsyan and the accused.
If you found a typo you can notify us by selecting the text area and pressing CTRL+Enter